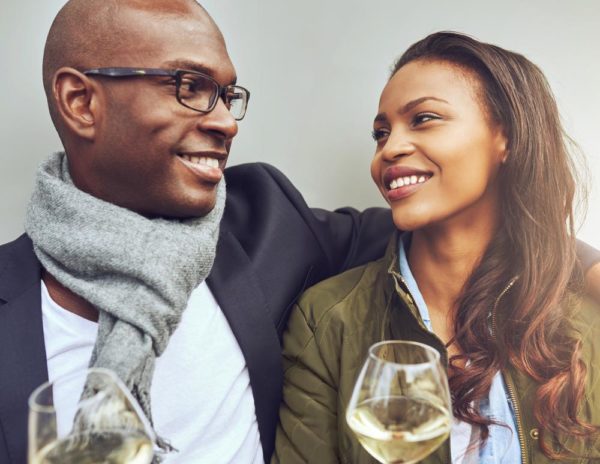 I watched him as he sat in my living room; the crossed legs, the erect bearing and his aloof mien spoke of breeding that appealed to my heart. I used to think you had to have been born with those carefully distilled aristocratic genes to be able to achieve that look. His long fingers drummed on the arm rest of the settee, looking for the entire world like he owned the place. He had that kind of self-confidence: The sort that immediately commanded his environment but put you at ease with him at the same time. I looked up. His languid look was upon me and I felt that flutter as it slowly warmed my belly. I wondered again for the umpteenth time how someone who-
"I don't want a sex from you."
Had he read my mind?
I had stopped flinching long ago. I was used to the way he spoke by now.
"It's "I don't want sex from you". I corrected.
He paused. "Thank you." He said. "Miss. Yemi, he continued, I don't want sex from you. Listen up; I studied you for many months so that I can know what's up. I mean, it doesn't matter to me if you are dating someone or you are engaged. Until I see say you go church and they put ring on ya finger I can still speak my mind to you. But you don't want to give me a chance and you know this thing will work. You know."
I turned away from the tortured look on his face and gave an exasperated chuckle.
I had found someone I wanted to be with only he had come in a very funny looking box.
I met Nnamdi at my Office. He was one of the new Corps Members who had been attached to service our unit. Yes, a Corps Member. One day I looked up from what I was doing and found him staring at me. From hs relaxed pose, I could tell he had been at it for a while. I looked at him askance but his look remained bold and unflinching. I turned away first, feeling a little harassed and confused. This Corps Member that went out of his way to avoid me; that mumbled when I spoke to him; that acted oblivious when we happened to work together. Little did I know that that was the day he had decided he was ready to make his feelings known.
To say that I was shocked is putting it mildly. I spluttered and blinked so many times, it took remembering all I had read in "How to Be a Lady" (by Candace Simpson–Giles) in school not to burst out in hysterical laughter. Of course I was just waiting for him to finish so I could tell him a flat out "No". I had three professional qualifications, two Master's Degree, was fluent in 3 languages and had graduated from one of the best Finishing Schools in Belgium. And him, a bloody Corper with the shirt of many colors/patterns' shirts he liked to wear? Let's not even go into the two years age difference. But the fervency and self-confidence with which he spoke dared me to. I held his steady gaze and heard myself say, "I would think about it".
Nnamdi kept up the silent vigil and not so silent ones. Like when I was ill and for some reason he found a way to be stationed in my office throughout the day, watching over me. Like when my Unit decided to go for lunch together and my earring gave way and fell into a puddle of water. Nnamdi bent without pausing to search it out for me. Or when on the day of his CD he called to tell me he made egusi soup and was bringing some over to the office after work for me.
Untill one day, I caught myself thinking about it. I began to look at the man; beyond the badly spoken English, the blinding shirts and the lack of pedigree. It was now my turn to observe him. I watched the way he interacted with other people. The way the motherly ones would light up with smiles when he came around, the way my Unit Head depended on him more and more, often forgetting he was a Corps Member. How the females would preen when he was around; the way the security men would hail and shake his hands. But most of all, I began to observe, how he made me feel and what I learnt humbled me.
I had been of the mistaken thought that my pedigree made me flawless; but all I had to do was to look at Nnamdi for them to shine in glorious impudence.
I sat here now, thinking about the social implications of the decision I had made. He is Igbo and a born hustler. His father was dead and his mom was in the village but very well taken care of. I was well known in my Office and our branches. My solitary life had provided enough fodder for office gossip for years. I wondered what my colleagues would think. Yemi is marrying a Corper?! I could just hear the Head Cleaner Iya Fawaz saying "Ase Corper loma fe gbehin", making it sound like an act of desperation.
My parents were dead but I was not short of family. My cousins would never recover from the shock. Aunt Anna, who had married into a defunct Russian Aristocracy would surely never invite us for dinner; simply because for her, there was nothing to brag about. Not a Hedge Fund Manager like Susie had; not a Nigerian Senator like Kike. Just a regular hardworking man with Mandilas and Alaba affiliates.
Being Yoruba, there were cultural implications I had to deal with personally. Would I have to tie wrapper and go for women meetings? I once saw him eating eba. The way Nnamdi practically molested the mound had made me want to throw up. If he predeceased me, and I ask this with every sense of responsibility, would I have to cut this natural hair that had taken me years to finally find a rhythm to grow? Then, this habit of bringing "cousins" to live in the house. Hmm…
What happens when corrections begin to wear thin, what happens when we go out in public and he commits some monumental social gaffe? Would my carefree spiritedness be enough to save face? Afurumginaya may not be as potent then.
He moved closer on the couch and I turned to look at him again.
All that is gold does not glitter.
The line came to my mind unbidden and hit me with such truth that I shut my eyes against it. I reached out blindly and laced our fingers together. When I opened my eyes, there were visible tears in the corners of his eyes. "My darling" he murmured as he brought our joined hands to his lips and kissed them tenderly.
I drew in closer and held him tightly. "I'm going to visit my Aunt Anna tomorrow, I started, I want you to come with me".
Photo Credit: Dreamstime