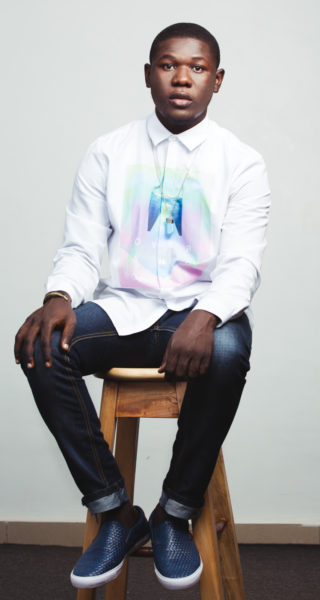 Welcome to my world!
My name is Richard Akuson. My friends call me Richie and the more notorious ones – RiRi (even though I literally have nothing on Rihanna). I am 6-ft tall and probably the darkest person in every gathering. I used to mind, but now I don't. It has become inconsequential to my being.
I'm in my 5th year studying for a Law degree and will be turning 22 on July 26th. And honestly? I'm truly apprehensive about that. Generally because I'd imagined that at 22: I'd have probably conquered the global fashion industry and most probably intimately dined with Karl Lagerfeld and Anna Wintour after my CFDA award win or the MET Gala – not because they're the coolest persons on earth – but simply because I'd have gotten that much important.
But alas, I'll be 22 in a matter of months, and really, the closest I've come to that is an exclusive interview with Karrueche Tran. See why time is of the essence and getting older is a lot harder for me than for most people I know?
I was born and brought up in Nasarawa State. I'm the second of 3 boys, my mum – an educator and my dad a public servant. My earliest meet with fashion would most definitely be those – ThisDay Style and Leadership's Le Vogue magazines that were complimentary to my dad's newspapers. With them I felt completely at home – and completely understood. I could finally tell what I wanted and who I wanted to be; an authority in fashion. They were escapism of sorts, until I could finally lay hands on Vogue (courtesy my good friend Ade Bakare at some point) and its likes.
Although I'm yet to win my CFDA award (or any award for that matter) or have that all-important dinner with Anna and Karl, 2016 has started-off on a properly good note for me. Add a new full-time job at BellaNaija to my periodic writing commitments at Marie Claire South Africa, Cosmopolitan Nigeria and Haute Fashion Africa, which in my opinion are all leading-up to that global domination.
So, until that dinner or award win, I'll keep you updated with all of my life's happenings: from my journey through self discovery, pursuit of happiness to global fashion domination
***
Dear Diary,
I was invited for a fashion party that was put together by a luxury store in Abuja on the 30th of November, and somewhere in my mind, I expected it to be a stylish gathering (forgetting completely what Abuja's style sense is like: white kaftan-wearing rich kids with disturbingly distracting facial hair paired with Gucci or Chanel sandals with some ridiculously expensive wrist watch).  So, I showed up with a ready-to-slay mindset. I'd decided to wear a Nike facecap, white vest, an Asos pandora box chain, a kimono, acid washed blue Levis pants and a Bottega Chelsea boot. I wanted to standout from the crowd, but I definitely didn't bargain for that kind of stand-out.
I was definitely the odd one out, in a gathering of polished looking moneyed young to middle aged kids; not because I didn't look the part too, but largely because I clearly missed the memo by a far, far margin.
In that moment of difference, I remembered how I used to hate being different. How I used to want so badly to conform or just fit in to any norm. I remembered how it used to suck being the sore thumb that always stuck out ideologically or even behaviorally.
I remembered how while growing up I desperately wanted to love soccer; how I'd force my self to seat through Barcelona's games, because I'd to have a team and somehow I could bear Barcelona because of how mysterious Ronaldinho seemed to me. Pretending to love soccer meant that I had more "friends" to talk to (about soccer though, which always bored me).
I wanted to be that kind of cool guy who knew all about soccer, the names of the players, clubs, crew, techniques and what not. But I couldn't, even after writing them down and memorizing, they just never stuck, especially in comparison to how easily everything else did.
All through childhood there had been countless times when I had to be someone else other than, Richard. And In those moments, people acted  nicer and a lot relatable, but that'd always last for as long as I could keep with the pretence.
I can't honestly tell you when I stopped caring, when I truly learnt to be comfortable in my skin, and when I learnt to celebrate Richard – but I know I did. And at that point every other thing mattered less to me. And only then did I start meeting people who genuinely understood me – who although different in most cases, respected me for being me. Without expecting me to be someone other than who I am.
So, I looked round all the lovely looking guests and knew that I didn't give a hoot about how different I looked. Some years ago, I'd have literally wanted the ground to open so I disappear. But in that moment, all I could think of was a glass of champagne and some good familiar company – which didn't take more than a minute to find, as I kissed and hugged my way into the store.