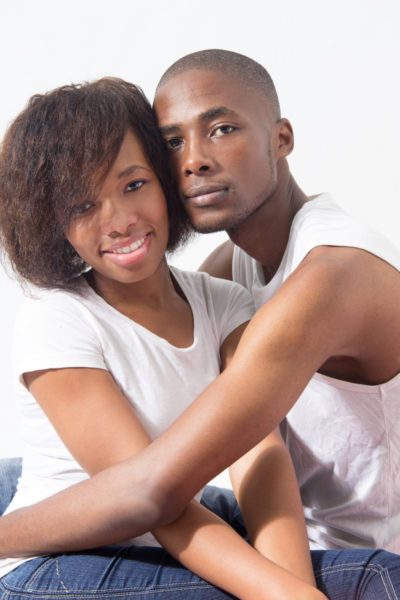 Uloma and Archie did not date for that long. Even though they were a couple for three years, they broke up so many times in that time period, they might only have been together for technically half of that time. It wasn't a long relationship, but it was an intense one. By the time they finally broke up, she was 27 years old, and sick and tired of being on such a rollercoaster. So, when he tried to make a comeback as usual, a few months later, she was finally in a place where she could say no. No, she wasn't about to do this to herself anymore. She wasn't getting any younger, and needed more stability than what their volatile relationship had to offer.
Archie was shocked that she wasn't taking him back, like she always had…and did everything he could to convince her otherwise. But her mind was made up, and they both went their separate ways. A year later, Uloma was in a relationship with a guy she'd met through friends, Ikenna, and she was blown away by how different this relationship was. Unlike Archie, Ikenna proved he was there for the long haul, even when she tried to frustrate him away. His love for her was deeper, his commitment to her was undeniable, and she knew that this was the exact kind of stability she needed. In Ikenna, Uloma had finally found, not only a lover, but a best friend and a big brother, all rolled into one gorgeous package. They were married a year after they started dating. Within months of her own wedding, Archie married one of his own ex-girlfriends.
Today, Uloma has been married for over ten years, and has 3 beautiful children. Everything is fine in her world, and she couldn't have asked for a better man. Except for one thing. She thinks about Archie, at least once, every single day of her life.
No, they haven't been in touch in the 12 years since their breakup. After the last time they spoke, they went cold turkey on each other, deleting phone numbers, and any other invincible links tying them together. But Uloma has never stopped cyber-stalking Archie. She has perused both Archie's, and his wife's Facebook pages, from top to bottom, year in, year out. She knows everything there is to know about his wife, Stella. She has seen all the pictures of their two children, and has been aware of all the career changes both Archie and Stella have made, no thanks to LinkedIn.
Every time she hears Daniel Beddingfield's 'If you're not the one', or Pharrel's 'Frontin', or Coldplay's first album 'Parachutes', she is teleported back to the time she and Archie were together, and remembers vividly every touch, every laughter, every wonderful moment they spent together.
She still loves her husband, Ikenna, and would never think of trading what they have for anything. He and their children remain the best things that ever happened to her. But she just can't stop thinking about Archie…
***
Ubong met Lonnie when they were pursuing an MBA at the University of Birmingham. Whilst he had been there since his own Undergrad days, Lonnie had only just arrived from Nigeria, after getting her own Bachelors from Unilag. They were in the same Study Group, and quickly bonded, first over their assigned tasks, and then over the fact that they had so many mutual friends back home in Nigeria. It didn't take long for them to fall hopelessly in love with each other. Ubong completely lost his heart, mind, and soul to this woman he felt was destined to be his wife. They moved into the same apartment, and were soon making plans for their future. With the end of their program fast approaching, the plan was for them to return to Nigeria once it was done, and start planning their wedding.
But when the time came to return to Nigeria, Lonnie asked for a little more time in the UK. She wanted to get some work experience, no matter how small, before going back home. Ubong reckoned this was fair enough, as he had been able to get his own work experience after his Bachelors degree. However, as Ubong had already been accepted for a job he'd applied for, in one of the top Nigerian banks, he left for Nigeria, with the understanding that Lonnie would follow suit six months later.
That never happened, as Lonnie soon met a Scottish guy called Phil, and broke up with Ubong over the phone, barely three months after his return.
That happened in 2002, and Ubong's entire world came crashing down. At first he was heartbroken, and proceeded to inundate Lonnie with phone calls and e-mails, all begging her to come back to him. When that didn't work, he embarked on a number of impulse trips to Birmingham, pleading and begging so much that Phil, who was now Lonnie's fiancé, threatened to get him arrested for harassment. Ubong had no choice but to return to Nigeria, and focus on his job, which he was already on the verge of losing. But the longing for Lonnie was soon replaced by anger and rage. And this rage consumed every fiber of his being.
Everyone around him saw him change from a good-natured, pleasant guy, with the kind of sense of humour that made him the life and soul of every gathering, to a sour, angry, and bitter person, who never had a good thing to say about women. In 2005, 3 years after breaking up with Lonnie, a mutual friend of theirs ran into him at a wedding, and she was stunned by his bitterness, which was still as raw as if the breakup had happened the day before. Lonnie, on the other hand, had already gone on to marry Phil, and had started a family with him. In 2007, Ubong eventually married Kate, who was almost the exact physical replica of Lonnie, but still, the bitterness didn't go away. He has never returned to being that happy-go-lucky guy, and still laments about what Lonnie did to him, almost 14 years later.
These are both true stories…and they both show that, truly, the first cut just might be the deepest one. Falling in love for the first time can be the most intense thing a person can go through, and could end up being the benchmark for which other relationships are based, fairly or unfairly. Sometimes, it might not even be the first cut that leaves the deepest impact, but it could be one relationship that was able to drill to deeper depths than any other…and when it ends, moving on becomes an impossible feat. We find ourselves forgetting about the bad things of that relationship, and instead amplifying the good, and, inadvertently, placing the relationship, and worse still the person, on a higher pedestal than they should be on.
The result is that moving on becomes so much harder. We might be in another relationship, but for as long as we keep on holding on to the past, we will never be able to let go.
The way forward? To truly make an effort to move forward. For as long as Uloma continues to cyber stalk Archie and his wife, she will never be able to move forward. Rather than canonizing old memories, it is time for Uloma to make new ones. For every special song she shared with Archie, she and her husband of over 10 years probably have 4 more. She needs to live in the now, and forget about the past. The same goes for Ubong. If he refuses to live in the now, and appreciate what he has with his wife, and chooses to continue regurgitating what happened 14 years ago, he will remain in the exact spot that he has been in since 2002.
As originally said by Stephen Stills, and later by Luther Vandross, if you can't be with the one you love, love the one you're with!
Photo Credit: Dreamstime