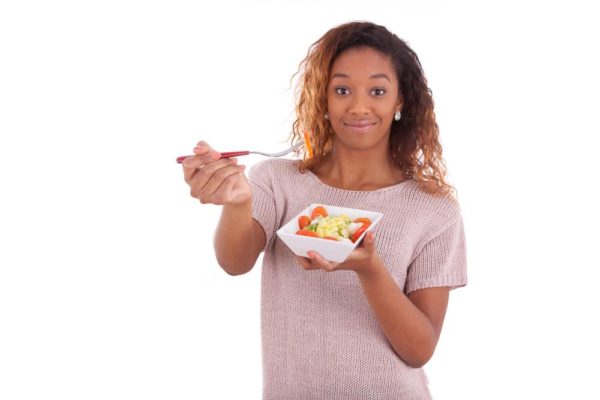 One of the biggest challenges that I've found on the weight loss journey is cravings. It's not just me, I've gotten questions about this all the time. And it's a story that all of us who've ever tried to lose weight or who've lost weight know too well. Let me paint a picture:
I had just eaten a delicious lunch of roasted sweet potatoes and stew with boiled eggs and steamed vegetables. It was the perfectly healthy lunch that checked all the boxes and I was feeling very pleased with myself and quite satisfied too. Then a colleague innocently waltzed by my cubicle announcing that there were fresh cookies in the office kitchen and all of a sudden my stomach seemed to make space for an oatmeal raisin cookie.
Does this sound familiar?
Well, this is not a hypothetical. This is real life. And what I've learned is that you can't rely on willpower to overcome situations like this because it isn't a willpower problem. In fact it's something totally unrelated to discipline; its a craving right?
A craving is defined as a "powerful desire for something."
And sometimes that craving has nothing to do with the food that you're obsessed with at the moment. And here are three of the steps that I used to figure out what was going on with my cravings. These are simple steps in a broader system that I share in an eCourse that I'm releasing in April called Skip the Diet and Lose 10 lbs and it's what I used to handle my cravings to lose over 40 lbs of baby weight in 9 months.
Step One: Embrace Your Craving
When I say embrace your craving, I don't mean you should "eat it right now." What I mean is that you should let go of the idea that it's bad to have these cravings. Most times the reason why these cravings can get so intense is because we've put these foods on the forbidden list, and it gets worse because we tell ourselves that while we're on our quest to lose weight, these foods are an absolute no-no.
But what this mindset creates is a mental struggle because a part of you truly wants to eat it and you're telling yourself that you can't have it. So you want it even more.
The alternative is to acknowledge that having it every once in awhile won't hurt you. In fact allowing yourself to have your non-negotiable foods from time to time can help keep you focused the rest of the time. This is what I mean by eating 80/20 or 90/10, and it's a central part of my VAFs eating pattern. This allows you to enjoy the foods you crave 10 – 20% of the time.
This isn't the same as a cheat day, which I'll talk about in the Skip the Diet and Lose 10 lbs eCourse. Rather, it's a small piece of cake here or a eating white rice instead of sweet potatoes or brown rice at one or two meals a week.
Step Two: Create Some Distance
Sometimes, we just need to step away from the situation that we're in at the moment when we're craving something specific. Creating distance can help you see if what you're feeling is emotional hunger or physical hunger. And there's nothing wrong with it if it's emotional hunger because acknowledging it for what it is can help you take more appropriate steps to satisfy it.
Emotional hunger or that pull to seek comfort from food has a place because it's your body's way of communicating a need that needs to be met. So acknowledge your craving like "hey, I really want to eat this thing night now. But I'm going to take a quick step back to see if that'll satisfy what I need."
And it's a matter of whether you're really physically hungry or not. And if you're not, what hunger are you trying to satisfy? Your answer will inform your next step.
Step Three: Decide if You Really Want It
At this point you might have figured out that you're physically hungry and the piece of fruit in your purse will help satisfy your hunger. Or you might have figured that your needs were more emotional and a more appropriate response will be to ask a friend for a hug or call your best friend on the phone or take other appropriate actions to satisfy your emotional needs.
One quick clue that your hunger is emotional and not physical is if you have to eat a very specific food. If it's physical hunger, almost any old meal would do. Again, digging into this will result in a much longer post than this already is so I'll save more details for the eCourse. But for now deciding if you want it will result in one of two things – you either eat what you're craving or you don't. Deciding helps you act and free up mental space to make healthier choices the rest f the day and of course the rest of your life.
Take Action
Next time you feel the driving urge to reach for sweets or junk food and you've determined that you're not hungry, I want you to take a step back and create some distance from current situation.
Take a walk if you can,
call your best friend on the phone,
or walk over to your colleagues desk to talk about something unrelated
Taking yourself away from the situation can be just what you need to get to the root of what's really going on and help you decide a more appropriate way to satisfy your craving.
And if you find that what you're craving is the only thing that'll do, going through this exercise can give you the tools you need to avoid the guilt because you've taken steps to help you move on to the rest of your day.
Photo Credit: Dreamstime