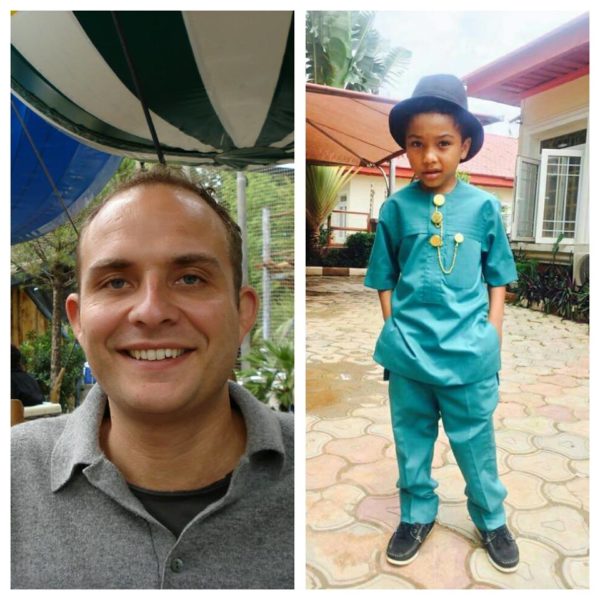 In February of this year, the story of Nwakalor Mitchelle, her son Xavier and his alleged abduction by his French father Franck Reymann was shared online. BellaNaija.com reached out to Mitchelle to hear her own side of the story and she had this to say:
How it all started: "On Wednesday 3rd February 2016, I received a call from my son's school asking me to come over immediately, because a man named Franck Reymann stormed into the school with armed police men and court bailiffs, presenting a document asking the school to hand over Xavier to them. But obviously the school insisted on waiting for me to arrive. I called a lawyer immediately and we went to the school together. They presented me and my lawyer with a court document granting Xavier's dad Franck Reymann, full unconditional custody of Xavier. I couldn't believe my eyes because I was never served nor informed. So my lawyer insisted we go to their boss in Maitama High Court first. When we got there, we entered an office and met a man there. The bailiff handed a file to him and explained the situation. He said he understands my point of view but by law when an order like that is given, we have to obey first.
Which I painfully did. And my poor little boy looked so terrified because of the armed policemen, without saying a word, he kissed me and walked towards the man he calls Uncle Franck. That was the last time I saw Xavier. What shocks me the most is we have a pending case at the human rights office and we've had several meetings with them, so basically they are the ones handling our case. I was the one that took the case there when Franck forcefully abducted Xavier for 4 months in 2013/early 2014. I remember going to BNL Gate pleading to see my son, instead I was physically assaulted by the guards at the gate. One of the uniformed men asked me to leave immediately or he will shoot at my tires. While all this was happening, Franck drove past with Xavier in the car and almost ran me down with the vehicle. I sent emails to the company head office in Paris, went to Ministry of Foreign Affairs to report, sent countless emails to the French embassy, which off course I didn't get a reply. The only reply I got was from BNL headquarters in Paris when I figured no one was interested. I then went to the Human Rights office but that case is still pending because Franck refused to appear when he was invited.
Now he is claiming he doesn't know my house or anything about me, so how did he find the school? I have called Franck on several occasions, even showed him my house, my shop and of course he also knows where my family lives. Oh I also forgot to mention I reported him at women's right office (WRAPA) at the end of 2011 because he seized Xavier's passport and threatened to leave the country with Xavier. When we visited WRAPA, he told them he wants to take Xavier to France for Christmas and he is assuring them that he will be back after Christmas and as soon as he gets back, he will return both Xavier and his passport to me. As a result of this, the lawyers at WRAPA office insisted we all sign an agreement stating he will be back January and will return the passport to me. When he got back, he brought Xavier to me, but refused to bring the passport till date! So now, I don't know wear Franck lives or works, I don't know if Xavier is still in Nigeria. I am totally devastated and need help in getting my Xavier back."
On how she feels about the back and forth going on with the case in the Nigerian Court: "His lawyers claimed they served me, but I was never served. So my lawyer filed a motion the court and we were called in for hearing 3rd of March. Franck didn't come but his lawyer came. His lawyer kept on bragging that I'm too poor to care for Xavier, saying Franck has enrolled Xavier in a 1.5 million Naira school (French school to be precise) this is a child that can't even speak French.  I understand Franck's lawyer is doing his job, but I don't think he is being professional.  Because he always attacks me with insults at any chance he gets. He says stuff like: 'You only date white men.' and how I should be grateful to Franck for taking me to France to give birth etc. In my opinion that's crossing the line. Secondly, when I met Franck I was leaving in the UK. My friend introduced me to him when I was on holiday in Abuja. Anyway the court case didn't hold again because the judge didn't come, apparently he was busy. So they postponed the hearing to 4th April. This  breaks my heart because I haven't seen or spoken to my son since 3rd February when he was taken away from me. I call Franck but he doesn't answer my calls."
On her faith with the justice system:"To be honest I feel our system has failed me, because what Franck is doing here right now, he can never do that in his own country France. So I'm really disappointed!  Franck's lawyer was pointing fingers at me saying I'm going on social media insulting the court and the judge. To be honest, I've never pointed fingers at the judge because I got to understand that he only works with the information given. And I know for sure that Franck lied his way through."
On what her desired outcome regarding this case: "I just want to be heard, I want justice to be served. I want to be reunited with my baby. Oh, I forgot to state the fact that not only did he ask the court for unconditional full custody, he also asked that I pay him 5 million Naira in damages. That's the part I find amusing to be honest."
We at BellaNaija hope the appropriate authorities come to Mitchelle's aid and help her in getting her son back.
You can keep up with Xavier's case here.