Media personality Mercy Ajisafe spent the part week of March on a whirlwind trip to South Africa. Along with celebrity friends Toolz, Liz Awoliyi, M.I, Praiz and more, they enjoyed a thrilling experience.
Read on to find out what happened.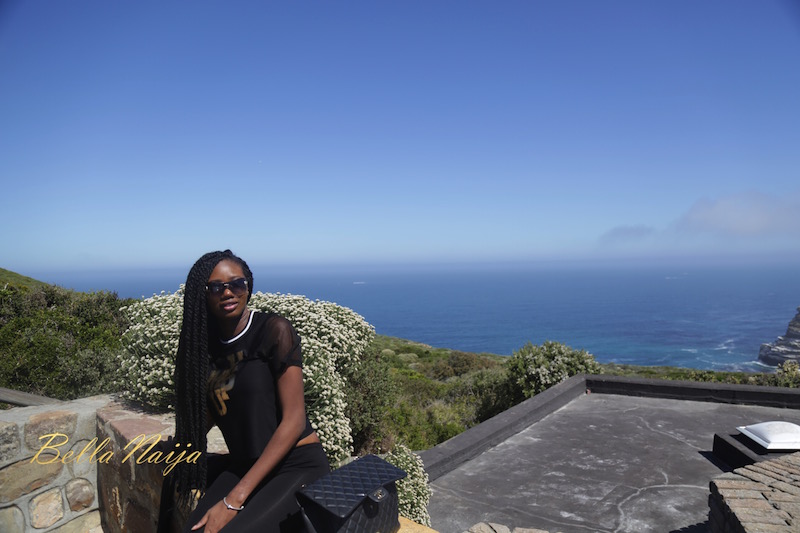 Monday 29th February
You'd think I'd know better, you'd really think by now I would have learnt my lesson. But nooo, not Mercy, after all these years of adult-ing (yes, we know, made up word, but it's just so right, it can't be wrong), you'd think I'd have learnt NOT to leave things to the last minute (no matter how good of an excuse I have). "You have no one to blame but yourself" I muttered to no one in particular as I walked through the boarding gate, "See yasef, about to enter plane on your way to the holiday of a lifetime, and you never even paint your nails. What would mummy say?" I had thought to myself.
You see it all started off so well… I opened my email approximately a week ago to find my hosts had sent me the itinerary OF LIFE! Now, of course I'd known I was going to South Africa, I organized the holiday, but what I didn't expect was the sheer opulence and adventure I would be experiencing. After dancing shoki, azonto and even milly rock sef, I quickly scanned the document again to ensure my one not so great eye, wasn't playing tricks on me. And no, there we had it in black and white; I was literally about to experience some of the very best South Africa had to offer, and I was doing so with some of your favourite West African celebs.
Excited wasn't even the word, I spent the next week in a frenzy ensuring I was prepared for THE TRIP. Uche (by the way, CONGRATULATIONS gurrrrl, you Nickledeon Kids Choice Award African Blogger of the Year you *fingersnap*, we're so freaking proud. I did a special cross handed twerk just for you) had asked if I wanted to take the wonderful BN readers and followers along with me, I delightedly agreed. I mean who doesn't lurve Bella Naija?
I initially approached the trip with some trepidation, the timing was undeniably interesting. It had been almost 5 months since my self-imposed hiatus from the industry; no social media, no events and definitely no press. The reason was simple, in October 2015, much to everyone's surprise, I decided to quit my job at Cool FM; my last trip to South Africa had changed my perspective, and forced me to examine my reality under the uncompromising light of truth. So although I was ever so slightly apprehensive about being 'out again', I was way more excited about what life altering experiences another trip to SA would yield.
Alright enough of the mushy soul searching, back to scheduled transmission on Bella Naija TV, my name is Mercy Ajisafe. And you're watching THE TRIP.
I woke up with the confidence and ease of a woman who had no idea that she was about to spend 7 hours in traffic. My flight was at 10.30pm, all I had to do was go to the Ejiro Amos Tafari showroom in Ikoyi, get on the bridge straight to the Elan Red store in Lekki, come back to VI and get my nails did. Simple right????? Well, that would be a resounding no, it seems whilst we mortals were recouping our strength, aka sleeping, these diabolical miscreants had decreed it was time for another fuel scarcity. I mean roads were not in any way smiling, and to top it off, we're right in the middle of this impromptu heatwave we appear to be experiencing
Before I knew it, it was time to run home, shower againnnn (this heat na dieeee), pick up my luggage and head to the airport. I couldn't believe it, the EXACT same thing happened to me last time I was travelling to SA; I was stuck in traffic for a hundred hours, and left with no time to do my nails, sigh.
Thankfully, I made it to the airport in good time, checked in to my South African Airways flight, and proceeded to the departure gate. With the manic day I had, I suddenly realized I hadn't sent Uche my pre trip teaser yet…my steps magically became more determined as I realized there was work to do…. I headed quickly toward Gate 55.
I was due to meet the rest of the group in SAA Business Class Lounge at 9pm, and I was determined to get there on time. As I attempted to make my way through the exodus that was the security line, I noticed a slim, cheerful dark blonde in the corner of my eye; there was something familiar about her, so I turned to look properly and noticed it was Ciara. I noted how pleasant she was from afar, and how unfazed she seemed by the chaos of MM2, I gave her a mental chop knuckle, and picked up speed as I headed to the lounge.
I arrived at the lounge and met up with the rest of the group, I was about to go on the holiday of a lifetime with; One of Africa's top rappers M.I, Toolz; One of our most prolific OAP's, Oc Ukeje; One of Nollywood's finest, Praiz; undeniably one of our most talented vocalists, Liz Awoliyi; Genevieve Magazine's Online editor and super woman, Colette Otuesho; Marketing and Communications Consultant (and my egbon), Media diva and Star Gist presenter/Executive Producer Vimbai Mutinhiri, Tosin Ajibade; Olori Supergal and social media extraodinaire, Deji Awokoya ; General Manager of the heartbeat of Lagos Beat FM, and Nigeria's most iconic photographer; Uncle Kelechi Amadi Obi. With such company, it was bound to be THE TRIP of a lifetime…
Tuesday 1st March
Touchdown Tambo O.R Airport baby, quick meet and greet with the South African Airways Country Manager for Nigeria, Thobi Duma, who had been kind enough to welcome us, then we were off to check into our humble abode for the night. The renowned Sandton Sun hotel is located in the heart of Sandton's exclusive business district, it is undeniably one of the finest luxury hotels in Johannesburg. As you walk into the lobby, your senses are serenaded by the unapologetically luxurious surroundings, the décor is like something out of a 'How The Wealthy Live' manual, honestly, you just want to do a photoshoot in the water fountain in the lobby. Location, as they say, is everything; how many hotels can boast that they're situated in one of the finest shopping malls on the continent? The sixth floor of Sandton Sun leads directly onto Diamond Walk… Diamond Walk as it's aptly named, is where all the high end luxury stores are located in Sandton Mall. Literally a shopaholics dream (me thinks Sophie Kinsella needs to take Rebecca to South Africa), just heavenly. I was excited to see that Akintunde Marinho, digital media expert and business man, was already waiting at the hotel and would be joining us for the duration of our stay in SA. Most of us were famished from the flight, so it was time to be treated to an amazing continental breakfast, as a lot of you may already know, I am the Don Foodie of life, so trust that I wasted no time tucking into some yogurt with fresh fruit and granola (which I love), followed by a cheese, mushroom and pancetta omelette, divineeee.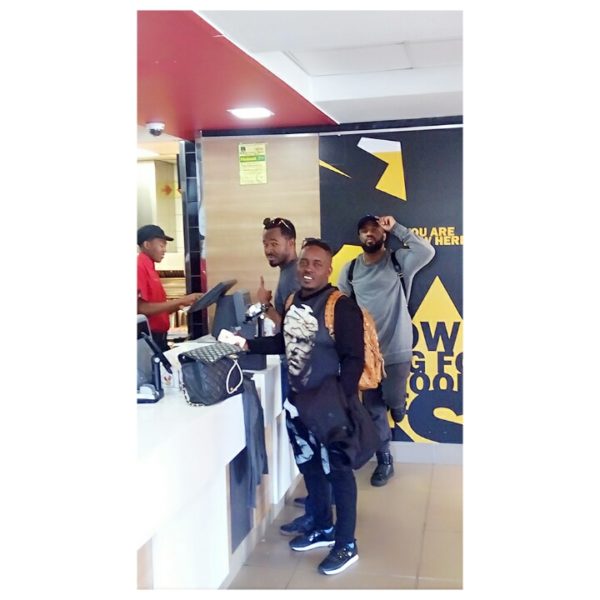 It was then time to retire to our rooms for a quick rest.
Room? Did someone say room? I think they meant boudoir darling, it was lush. The room was so big, I wondered what the suites looked like! I must say, I loved the USB ports by the bed, I think all hotels and homes should incorporate this small, but incredibly useful feature.
After a few hours of rest, well to be fair, minutes, it was time for our tour guide Hennie Prinsloo to take us on a tour of Soweto. I did an in depth tour of Soweto last time, so I won't bore you with all the AMAZING details again. But if you can, everyone should definitely visit Nelson Mandela's old home there, it is an experience every socially conscious soul should have.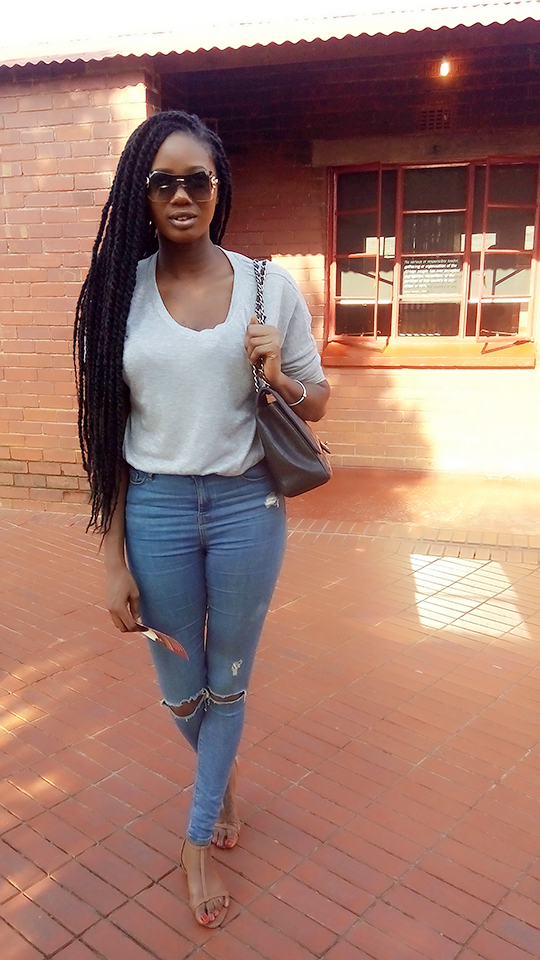 After our history lesson, it was back to the hotel to get ready for dinner…
As I picked out my lovely orange and silver dress from online store Naira Offers, I found myself grimacing in the mirror. So here's the whole truth, I, Mercy Modupe Ajisafe, have spent the majority of my entire life being a tomboy, I have 6 brothers so it's fair to say I was around the lads a lot. As someone who recently bought foundation for the first time in my life, I was dreading doing my makeup myself. I mean when some of Nigeria's best Makeup Artists like Aunty Bimpe Onakoya, Lois Isen(Pro Spotted Makeover) and Mary- Jane Ohobu have consistently blessed your face with their hands, your mediocre skills just can't compare. My go to beauty sponsors were busy preparing for the upcoming fashion week, so I was left to my own devices…. Surprisingly enough, I think I try small sha, but it was a great lesson…You Tube and MAC here I come; learning how to your own makeup properly is not only useful, but professional in my opinion.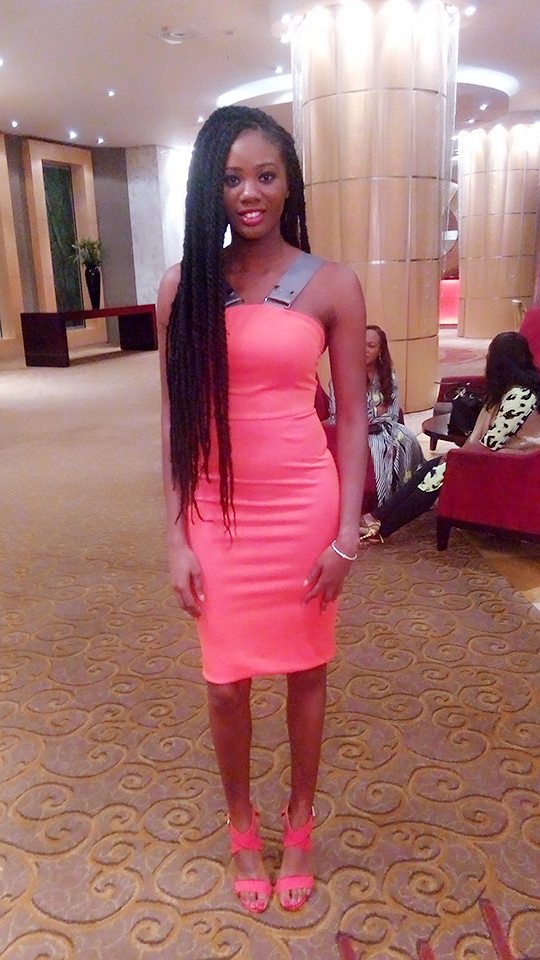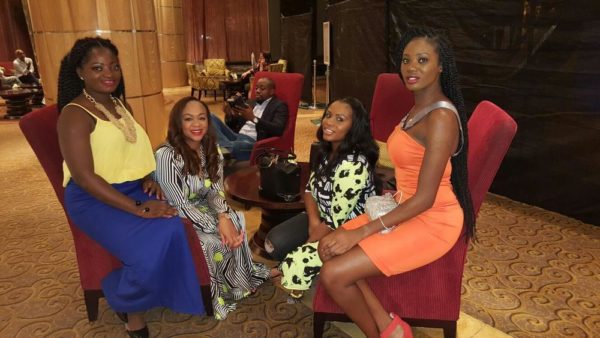 I went downstairs to meet the rest of the group, (including our tour leader, a lovely young South African man called Kingsby Senomali) who were all looking resplendent in their dinner wear, quick photoshoot with Uncle Kelechi (c'monnnn its KELECHI AMADI OBI, you'd do the same) and the ladies and it was time to head off to the Monte Casino for dinner.
Dinner was an amazing three course meal that consisted of Calamari for my starter, Jacket Potatoes with steak and mushroom sauce, and steamed vegetables for my main, and the loveliest sticky toffee pudding for dessert. It was a wonderful first night, as we all got to know each other a bit better.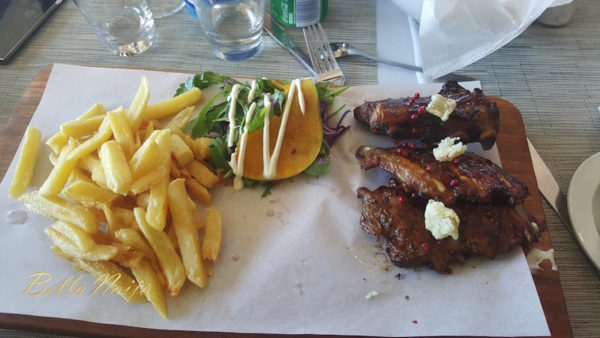 Wednesday 2nd March
The phone in my room had rung at exactly 5.30am… "Good Morning Madam, it's time for your wakeup call", the impressively chirpy voice of the receptionist cut right through my sleepy haze. "Thank you" I replied groggily.
As exhausted as I was, I couldn't help the feeling of excitement that coursed through me. Yes, waking up early when you've had little sleep sucks. But when you're up early to catch the luxurious Blue Train to Cape Town, I think excitement would abate any fatigue one might have. I imagined it to be like the Orient Express, and the fact that I did this in Africa, made it all the more special. It really was one of the main highlights for me when I read the itinerary; I imagine a 27hr train ride aboard one of the most luxurious trains known to man, would appeal to even the most uninspired traveller. The Blue Train has all the trimmings including gourmet food and full board accommodation. Can you imagine sleeping on a bed , eating, and even showering on an actual train as it moves along the scenic South African countryside? I get into gear as I remember the train leaves from Pretoria at 8.30am, and the journey to the station would take at least 40mins to an hour.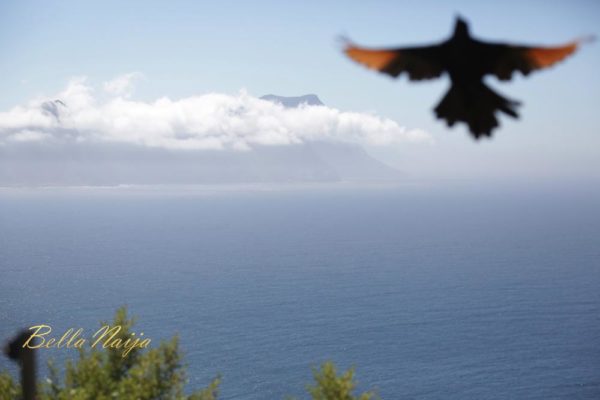 As we drove to the train station, I remember Hennie pointing out interesting landmarks such as Constitution Hill, the prison that housed many political prisoners, including Nelson Mandela.
It wasn't too long a trip; we arrived at Pretoria Station in good time. We were welcomed by the porters, and asked to identify our bags so they could be carried to our cabins.
If I'm going to give a truthful account, which clearly I must, according to the Bella Naija code of honour (look it up, I'm sure it exists),then I have to tell you about that one time at Pretoria station when Oc, M.I, Praiz and I narrowly avoiding missing the train. Don't judge us, we were distracted by our hunger, and wandered off in search of sustenance. But because the devil is a liar, we sha made it just in time.
The Blue Train had been fully booked so our only option was to double up and share a cabin for a night. No one seemed to mind, as inconvenient as it might seem, it was only for one night and kind of added to the sense of adventure.
I ended up rooming with Toolz which wasn't a problem at all cos she's cool with zero wahala. The cabins are compact, but fully furnished: two beds, bedside table, closet, a chair for guests and a full en suite. It's a little tight for two, but more than manageable. Our steward Spongeseni, led our orientation. He showed us how to work all the controls in the cabin and told us where the smoking room/lounge was. He also informed us that lunch would be served from 12.30pm in the dining carriage, and that we required to dress for dinner; long gowns for the women, and ties and jackets for the men.
After chilling for a few hours, we made our way to lunch.
Lunch was a delicious and boisterous affair. We were given the option of chicken, beef, fish or vegetarian for our mains. All 3 courses were so good, so far, all the food I'd had in South Africa had been amazing! I'm not a drinker, but I've been told the wine selection was pretty impressive as well.
Once we were done with lunch, a few of us decided to retire to the lounge and put the open bar to good use.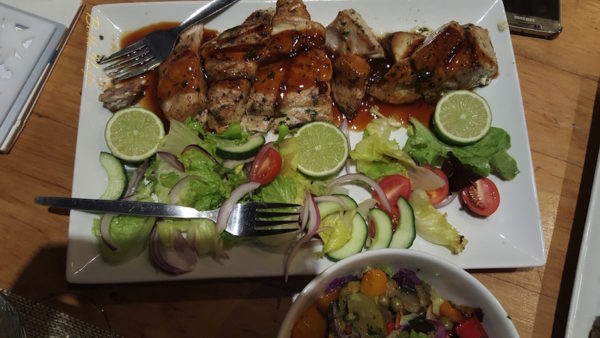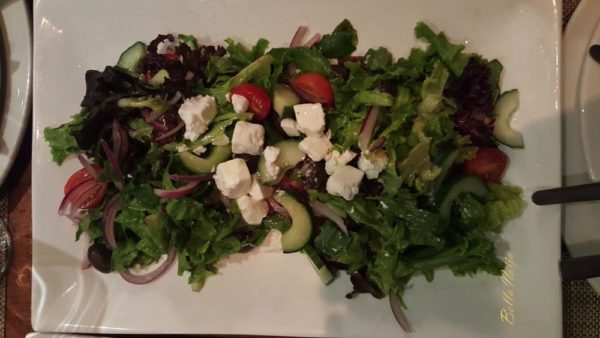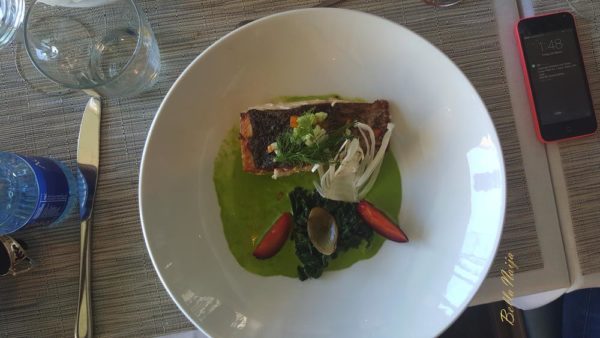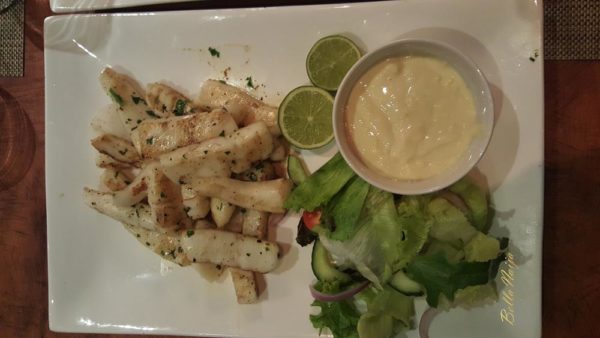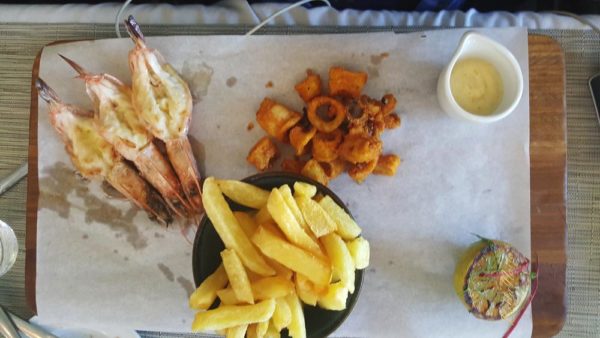 For dinner, we were given the option of two different time slots, 7.30pm or 8.30pm. We decided on 7.30pm.
Before dinner though, we were scheduled to make a stop in Kimberly, the capital of the Northern Cape Province, for a brief excursion.
At approximately 6pm, we pulled into Kimberly station, those who were interested filed out on to the platform and boarded the bus waiting outside. Our tour guide, an older South African gentleman with a penchant for marriage related jokes, informed us we were headed to The Kimberley diamond mine aka The Big Hole. The Big Hole is an open pit and underground mine, has claimed to be the largest hole excavated by hand, although this has since been disputed.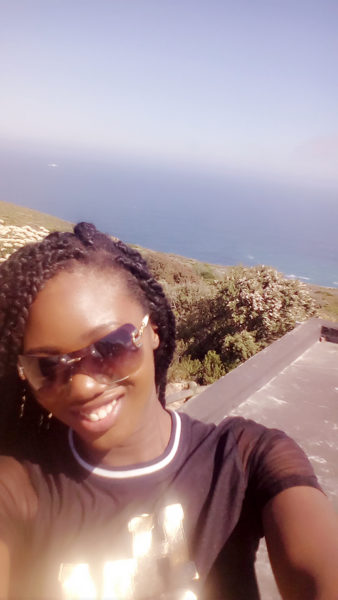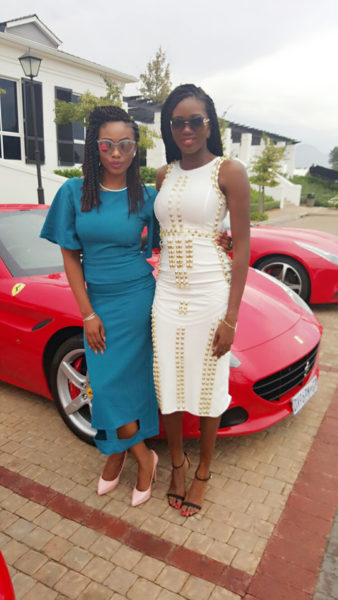 The Big Hole itself was an eerie mix of being beautiful and haunting at the same time. We were given a brief tour of the diamond museum, as well as oohing and aahing over the diamonds, we learnt some fun facts about diamonds. Did you know the rarest, and most expensive type of diamond in the world is a red diamond? Have I mentioned that red is my favourite colour? What an interesting coincidence huh….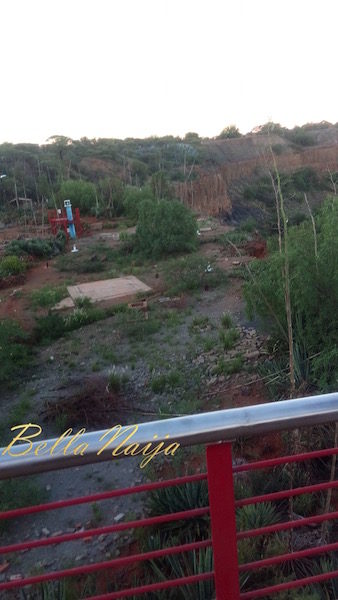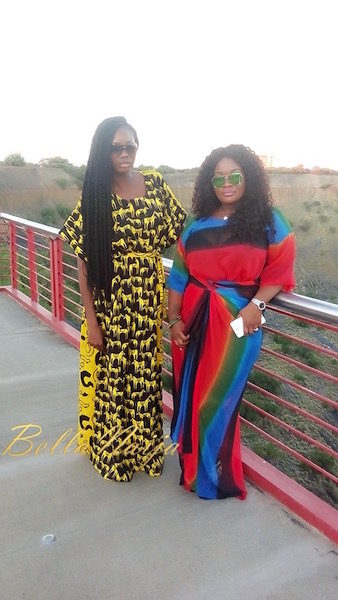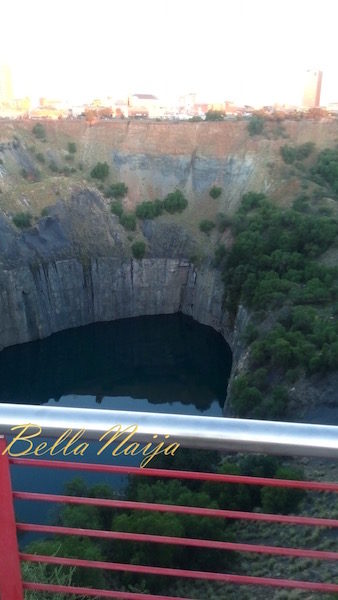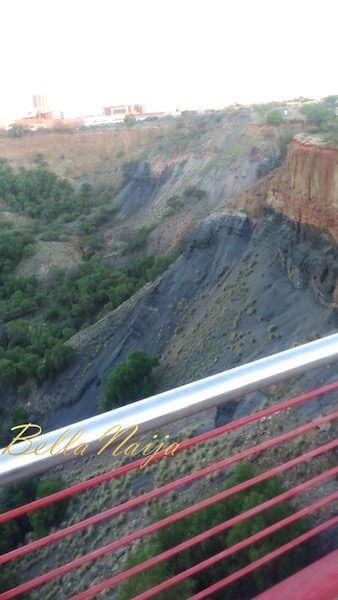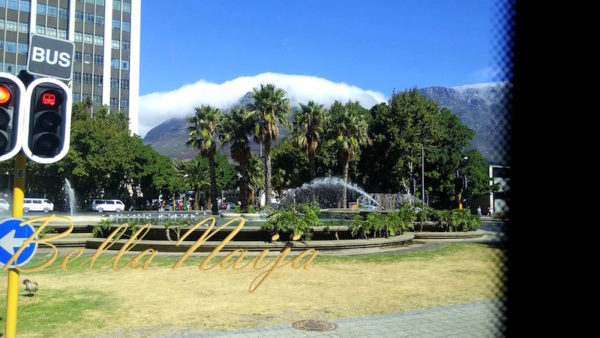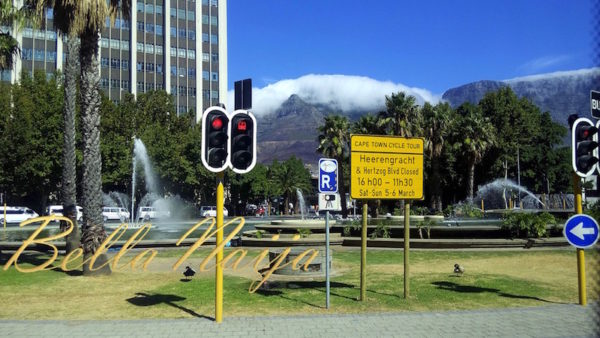 After the tour, we were treated to a brief video explaining how the De Beers Consolidated Mines Company was founded in 1888, by the leaders of various different Kimberly mines. Mining operations ceased in 1910, and later became a tourist attraction in the early 1960's.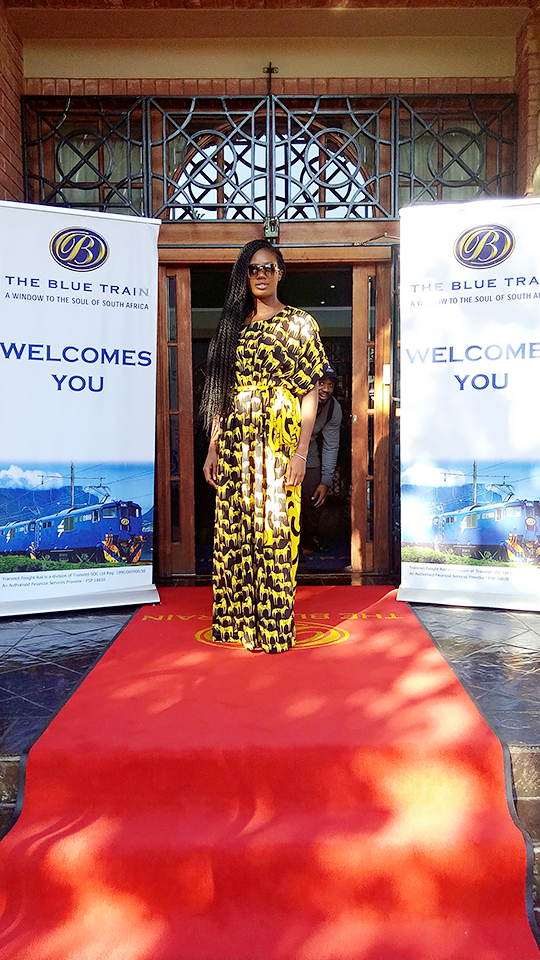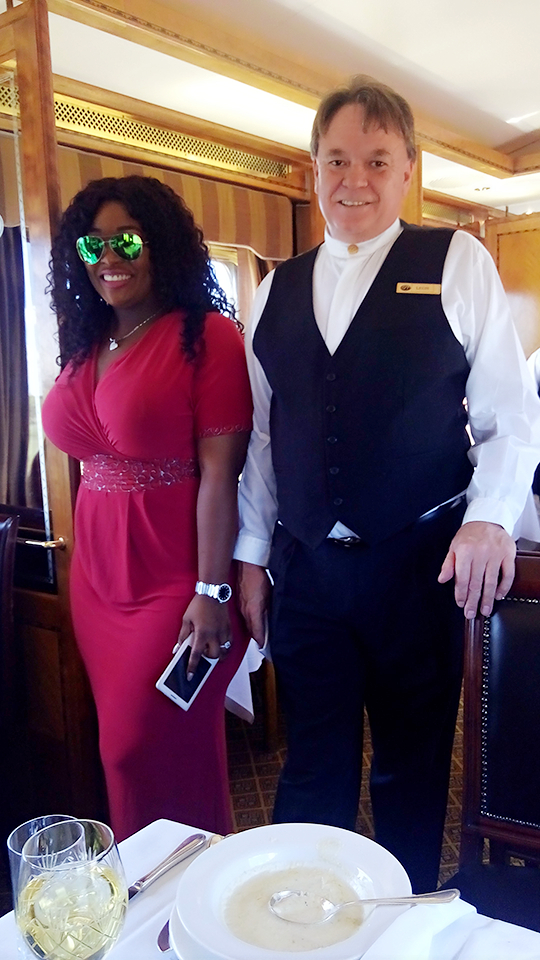 Once the movie was over, it was time to head back to the train station and continue our journey to Cape Town.
Back on the train, it was time for us to get ready for dinner. Now I felt a bit guilty; I've been determined to curtail my consumption of meat, but it seems my will power is no match for this South African beef. I mean every meal has been a hit, back to back….
After dinner, it was time to unwind with good company and conversation as we swayed to the rhythm of the moving train.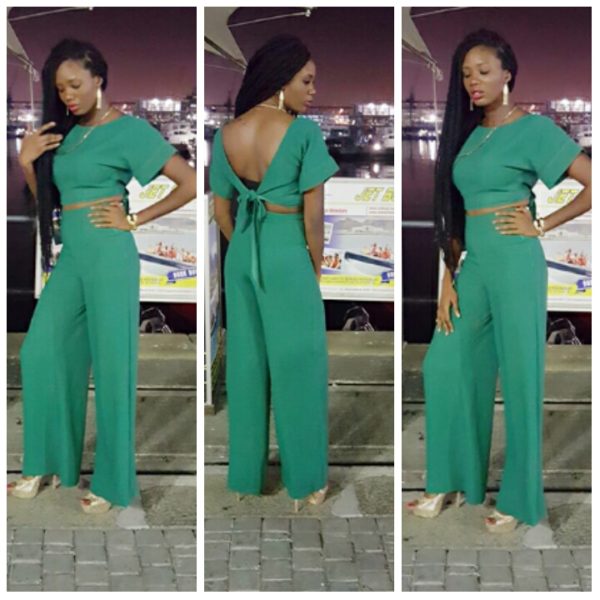 Thursday 3rd March
Before I knew it, it was time to get up. I was pleasantly surprised at how comfortable the beds were, and at how soundly I slept. As we were gathering our belongings, it was announced that due to some delays, we'd now be reaching Cape Town at 3.30pm, 3hrs later than scheduled, making it a 30hr journey.
It was now time for the moment of truth; shower time on the train baby. As expected, it was absolutely fine.
Toolz and I whiled our morning away by watching a Tyler Perry movie, whilst appreciating the beauty of the picturesque Northern Cape countryside. The mountains, and vineyards were nothing short of breathtaking. I recall wishing they could stop the train so I could run across the greenery with my bare feet. Before long, it was time for lunch, our last meal on the train. This time, I went for the chicken, with some delightful tomato soup for my starter, and my favvvv, apple crumble with ice cream for dessert.
After lunch, it was time to pack out, and we said our goodbyes to the staff. It's important to note, the customer service aboard the Blue Train was impeccable. Special mention to Spongiseni our steward, Simon the bar (correct guy) and the lovely Albert who assisted us with our meals, it truly was a pleasure.
Awestruck is the only word to describe my reaction as we drove from the airport to our hotel. Saying Cape Town is beautiful is putting it mildly, easily one of the most beautiful places I've ever seen. The impressive Table Mountain is the visible backdrop to the city; you can see the mountain from wherever you are in Cape Town.
The amalgamation of the clear blue skies, the view of the mountains, and the tropical weather had us all in high spirits.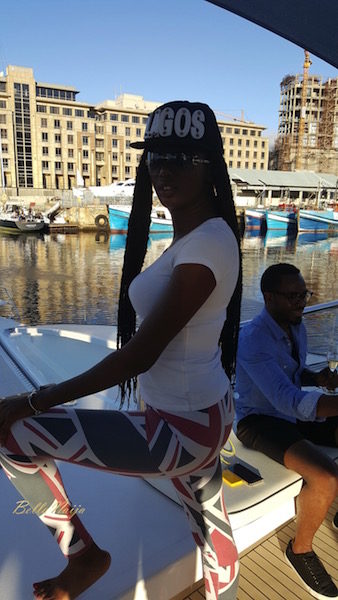 The high spirits continued as we got to our hotel…we checked in to the African Pride, Crystal Towers Hotel and Spa in Century City. The luxury hotel is an ode to modern excellence, and was nothing short of amazing!
At this point, we realized our Ghanaian family had joined us, it smiles all round as we welcomed Top Ghanaian rapper and Business man DBlack, Top Ghollywood actress and acclaimed presenter Joselyn Dumas. We were also joined by Nigerian model, and Business Development Manager of the prestigious Fifth Chukker Country and Polo Club, Onyeka Odechukwu, our group was finally complete.
After getting settled, it was time for a massage.
The Spa, located on the first floor, is at the forefront of the wellness revolution, and not only offers a plethora of health and beauty treatments. But also a wide variety of cutting edge products available for purchase.
The massage was so relaxing, it took all my will power to pry myself from the bench, I was so close to falling asleep.
It was then time for dinner at Sevruga restaurant, where the entire group all met for the first time. Dinner was a fun filled occasion, in fact before the end of the night, Praiz, OC and MI had a sing/rap off much to the amusement of the ladies. Needless to say, it was pretty clear to the restaurant we had some West African superstars in the vicinity.
Dinner, ladies and gentlemen, was definitely served.
To be continued…
Photo Credit: Utopia Media NG