The Adventure Continued in Cape Town! Polo, Motorbikes & More…Read Part 2 of Mercy Ajisafe's Trip to SA
Yesterday, we featured part 1 of Mercy's Ajisafe's March trip to South Africa. The media personality had an amazing time in Cape Town and she tells us all about it.
Check on it.
**
Friday 4th March
Vroom vroom, we got the biker babes and boys in tha building…
I was super excited this morning, and not just because it's Friday, but because today is the day the Harley Davidson Cape Town riders took us on a tour of Cape Town on their motorcycles.
Dressed in my Elan Red crop top, leggings and grey Air Maxes, I was ready to prove my bad gyal credentials and become a girl racer.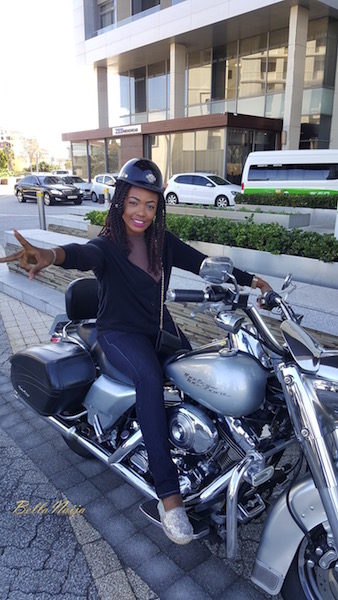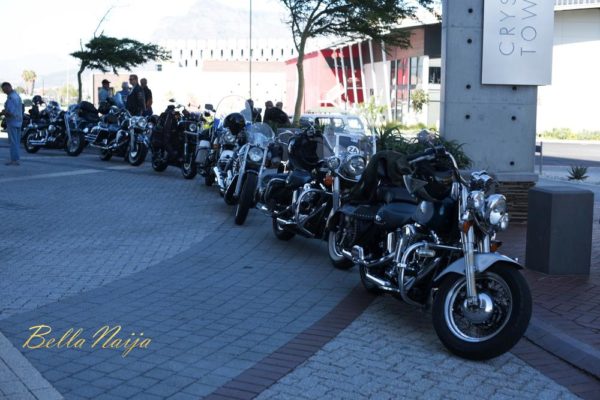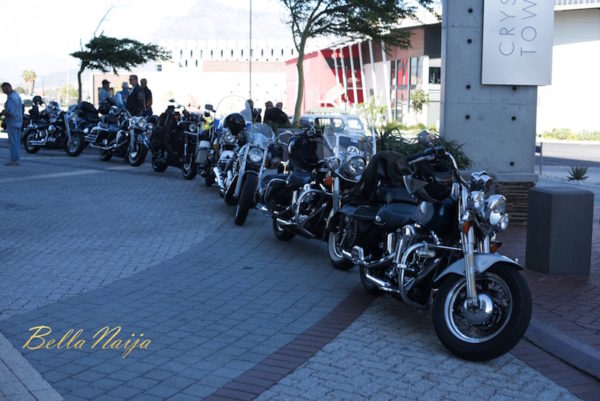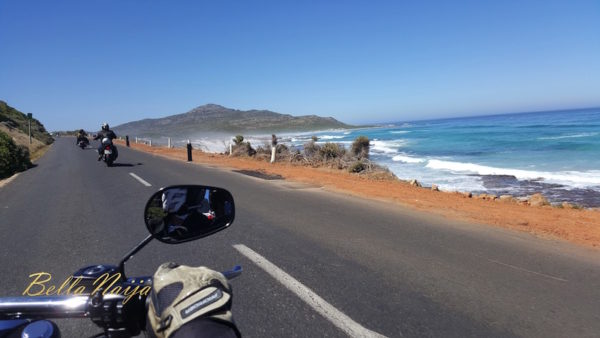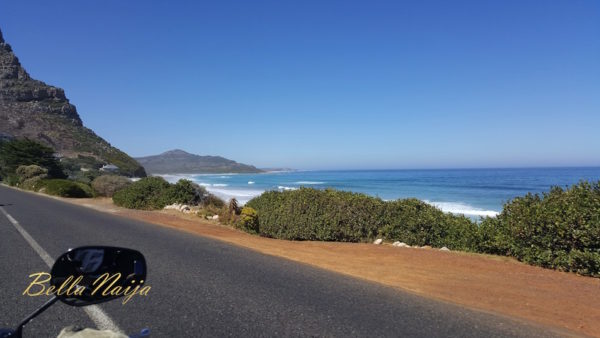 Parked in the hotel driveway were approximately 15 beautiful machines; picture the chrome glistening in the sunshine. We were asked to pick a bike, and get acquainted with our riders. I initially picked the bike of the leader of the pack, a blonde lady who was clearly bad-ass, (if you know me, you know I fell in love. Strong woman, hellooo) but she already had a passenger so I lucked out with the lovely Neil. Neil, a Cape Town native who had been riding motorcycles for over 40 years, was so nice, and kept me entertained by pointing out places of interest.
Honestly, if you do visit Cape Town, you simply must contact the Harley Davidson riders and experience it for yourself, it was sensational. We rode all the way to the top of Cape Point, and it was just auh-mazing! Once again, I couldn't help but marvel at the unadulterated beauty of Cape Town. We even saw some baboons are we were riding up the coastal route.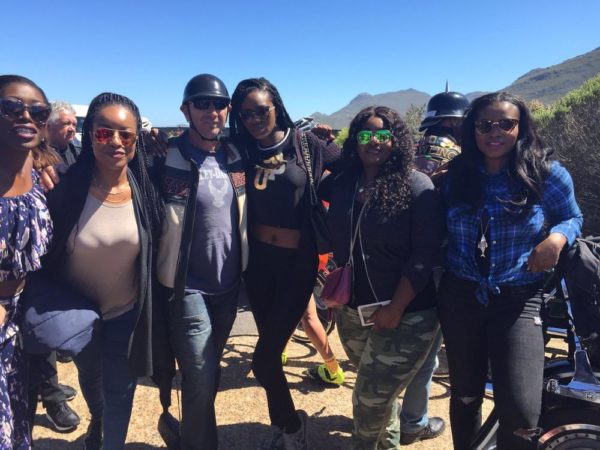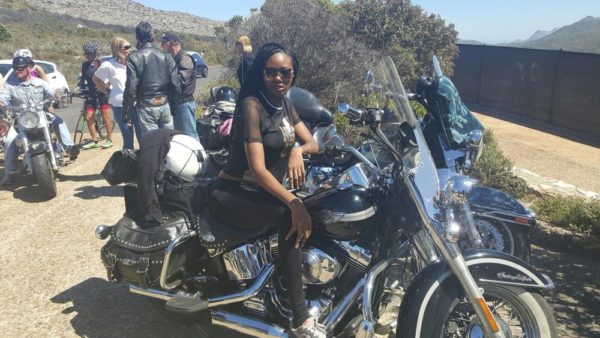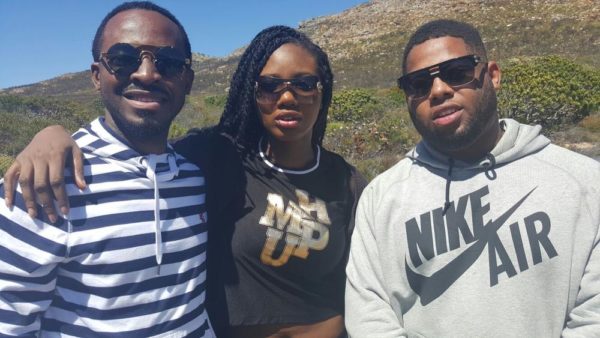 It took us just over an hour to reach the top of the Cape Point, but boy was it worth it. It was agreed collectively that the bike ride was not only exhilarating and exciting, but special, somewhat magical in fact.
After thanking our wonderful hosts profusely, it was time for a spot of lunch. Man o man, the ride certainly worked up an appetite, so when I saw my rack of ribs heading towards me, I could literally hear the hallelujah chorus ringing in my ears. The ribs were delicious, and the honeycomb ice cream with the honeycomb pieces that followed, just topped off a perfect day for me.
As you can probably imagine, the plenty activity of the day, coupled with the meal, had us all ready to pile on to the bus, and nap all the way back to the hotel. Which we did, all of us!
When we returned, we were given a few hours to shop before dinner. Somehow, our hotel just manged to be a 2 min walk from Canal Walk mall which was extremely convenient.
At 7pm it was time for us to head to the incredibly popular Shimmy's Beach Club for our dinner.
From Shimmy's we headed to Club Coco, to shimmy the night away…Friday night in Cape Town, and we had a blast baby.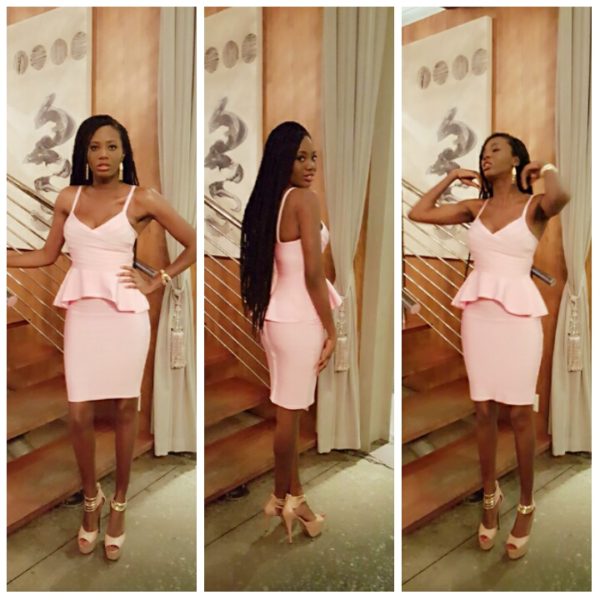 Saturday 5th March
This was the day that inspired me the most; The Veuve Clicquot Masters Polo at the amazing Val Di Vie Polo club was just a beautiful day out.
It began with an amazing helicopter ride to the Cape Winelands, it was my first time in a chopper, and I loved it! The view from the sky was mesmerising, Cape Town is even more beautiful from the sky. I had heard from a friend that helicopter rides were scary, but I felt nothing but gratitude, excitement and contentment. It was the perfect start to a beautiful day.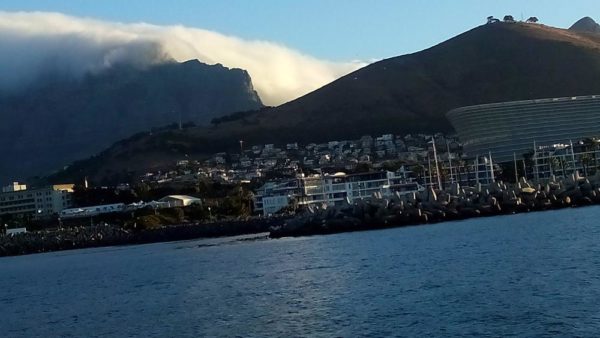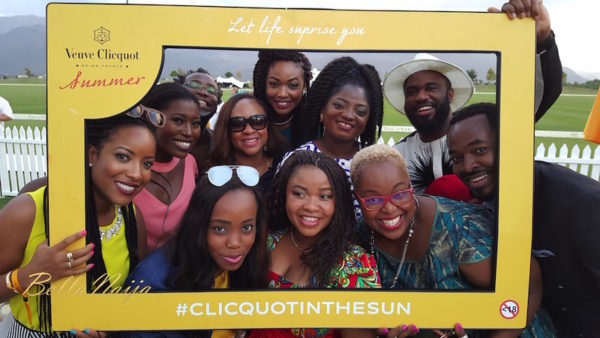 The Val Di Vie Polo club is set against the picturesque background of the Cape Mountains, luxurious and spacious with beautifully tended grounds, it was clear the South Africans no dey take polo play at all. We were in the VVIP section, which was right in the front, affording us a clear view of the action occurring on field. I don't necessarily understand the game, but I have enough males in my family who play for me comfortably enjoy a match or two. As Veuve were the main sponsors, there was unlimited Veuve Clicquot for the guests to enjoy, and tasty canapes to line our stomachs.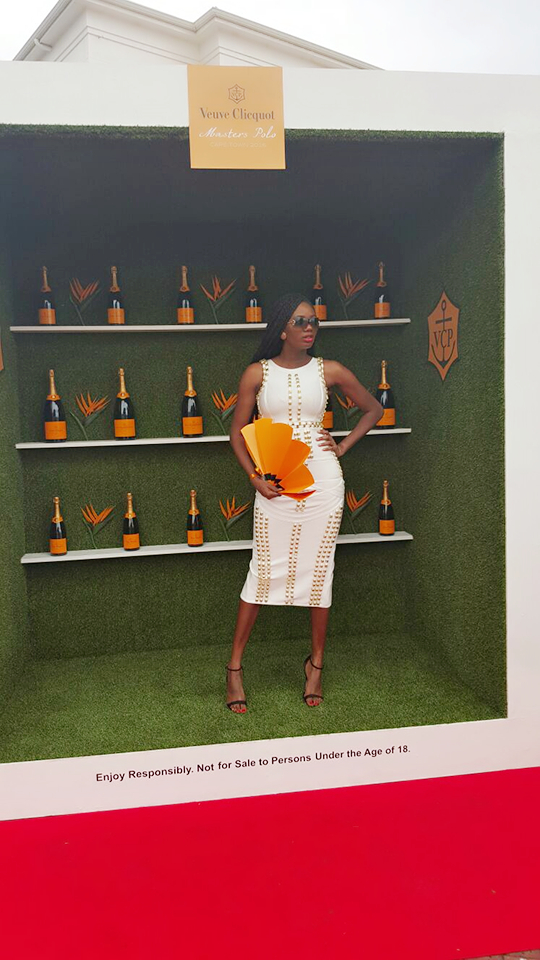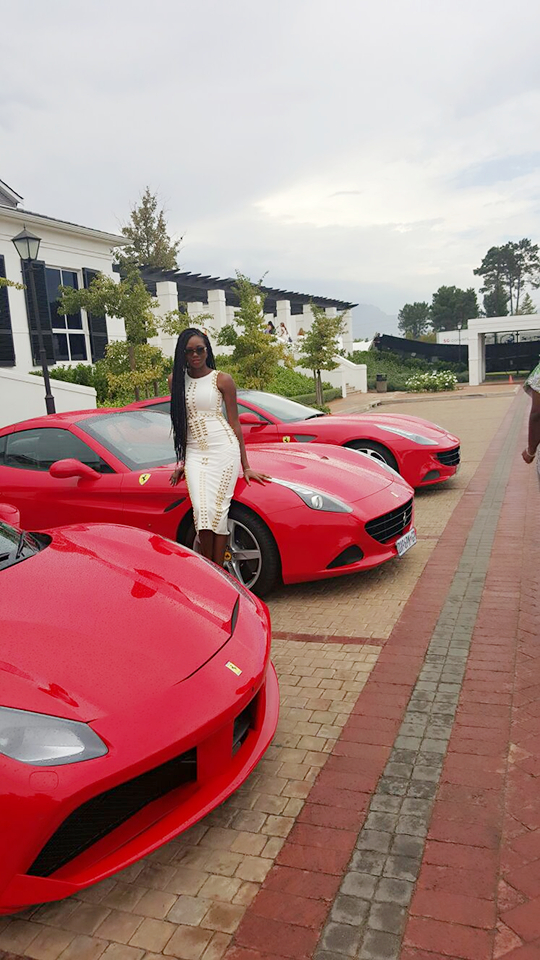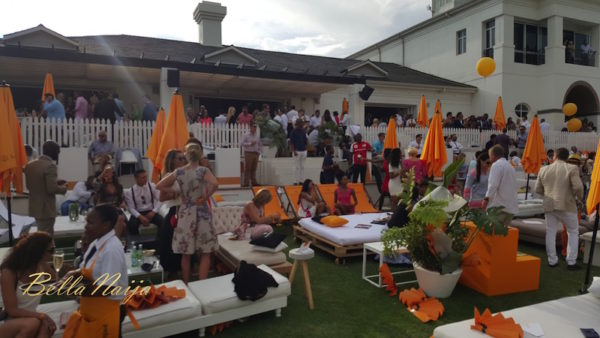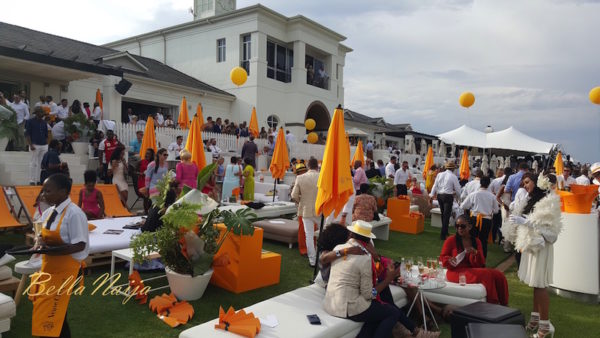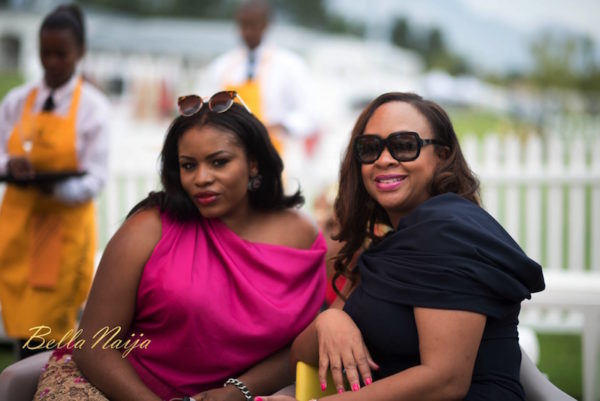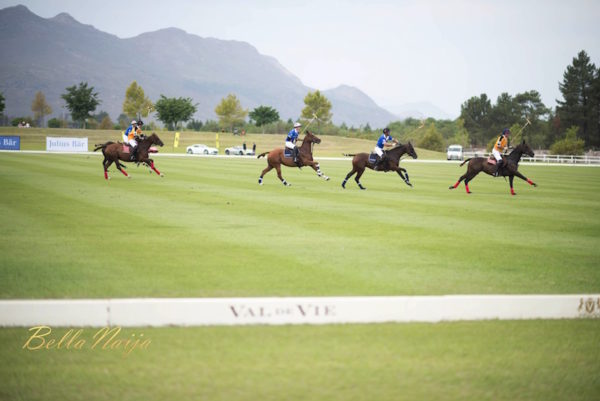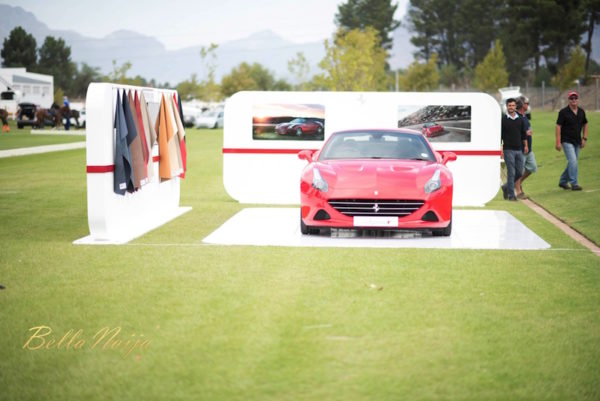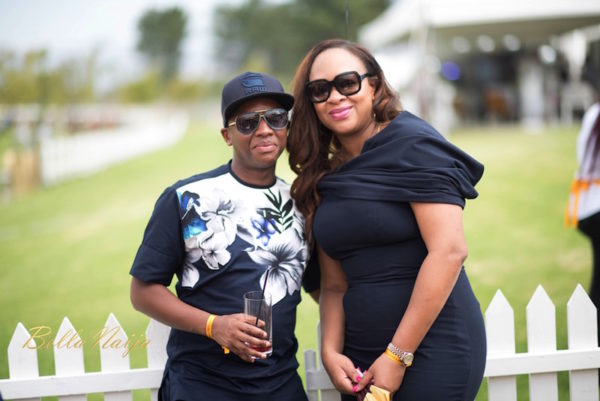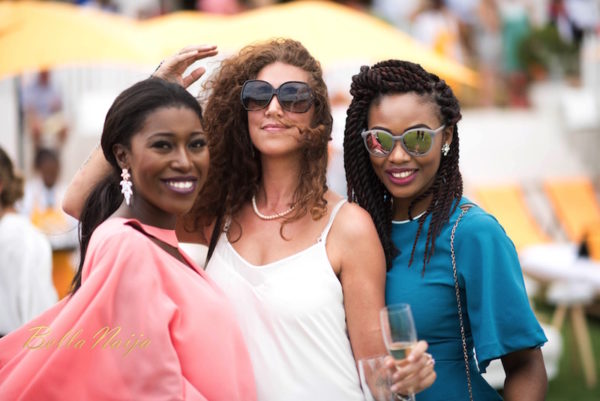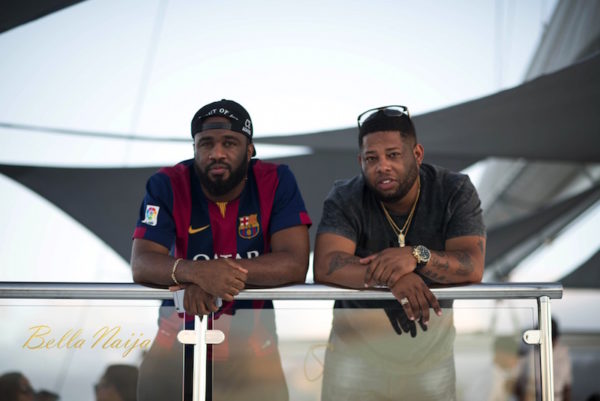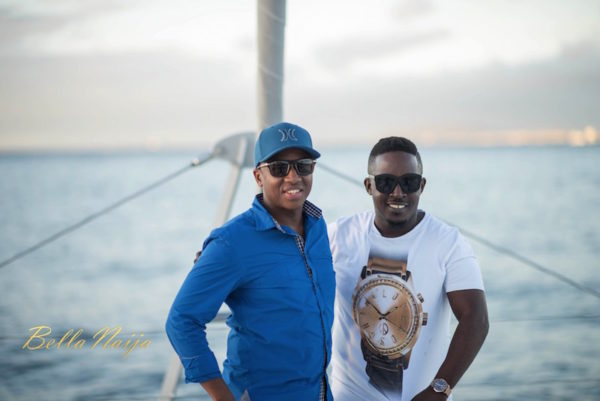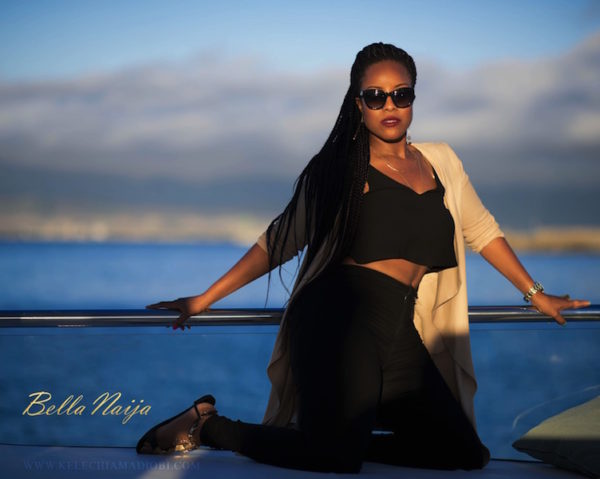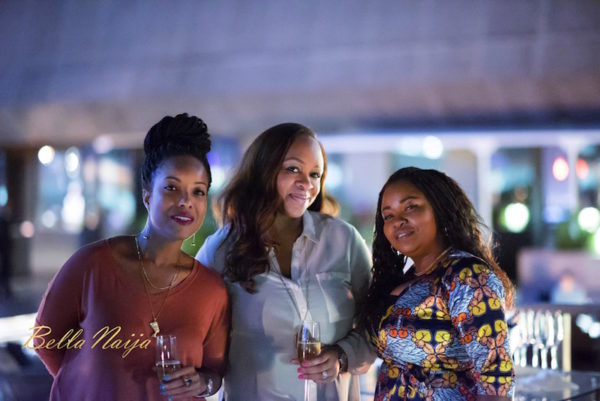 After the first match, we were treated to a runway show by Dore Fashion, where we spotted Africa's Next Top Model finalist, Opeyemi Awoyemi strutting her stuff on the runway.
The swag displayed was just mad, I mean the players were led on to the field by three bright red Ferraris. Now how's that for showmanship? It's interesting to note that there was only one black polo player, and he was Nigerian Adamu Attah. I definitely felt a frisson of pride.
After the amazing day, it was time for the after party which allowed guests to really let their hair down, as well as do some more networking.
We all had an amazing day, but I couldn't help but be inspired by the hard work, focus and determination displayed. For one to amass a fortune, you must possess more than a modicum of intelligence and grit. Being around so much wealth reminded me that all our dreams are achievable, as long as we work hard, and focus. It's not about ostentatious wealth, or acquiring material things, it's about freedom, comfort and the ability to impact the world positively. If you have money, and you're not doing anything to help empower members of your community, then you're doing yourself a great disservice.
Sunday 6th March
The day of Table Mountain…
It was our last day in Cape Town and I finally got to get up close and personal with one of the biggest tourist attractions in Africa.
Dressed in leggings, a tee, trainers and my LAGOS snap back, I was ready to tackle the mountain.
But first, I visited the delicious breakfast buffet served at our hotel. Tackling the mountain required sustenance, not just trainers.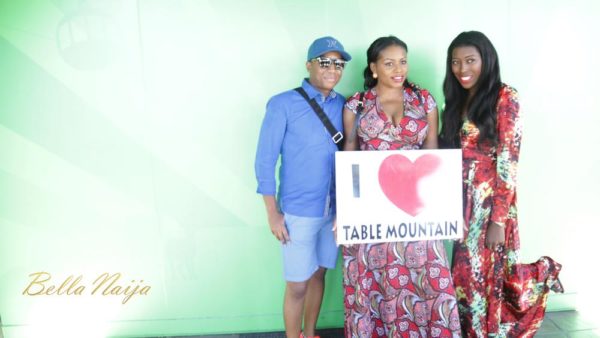 The view whilst driving to the mountain alone was enough to make you excited… Cape Town literally glitters under the sunlight. The ocean sparkling enticingly like Sapphires waiting to be acquired. The whole scene was just overly impressive sha.

Now between you and I, I would have actually loved to climb the mountain, but that wasn't an option today. Instead we rode up in the cable car, which in all fairness, was the most amazing thing ever! The ride itself lasted a few minutes, but the imprint of the memory lasted far longer. You almost feel like you can see the entire continent of Africa from up there.
The moment we got off the cable car at the top of the mountain, it was evident that a higher power, created such beauty out of love. The divinity on Table Mountain is clear for all to feel…I couldn't help the feeling of intense
gratitude that coursed through me; sometimes we need to step away from the chaos of life, and appreciate all we have been given. The atmosphere around the rocks, mountains and ocean made me feel more alive than any red carpet could. Thoughts of my loved ones filled my heart, and I vowed to experience it again with them in tow.
After a quick lunch on the mountain, it was time to climb the rocks for a quick photo opp. Then it was back down in our good friend, the cable car.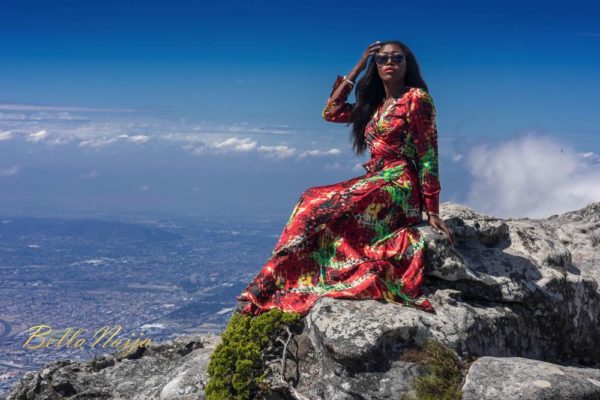 Table Mountain was a humbling experience for us all, we agreed we would be returning many more times.
After our Table Mountain adventure was concluded, it was time for some rest & recuperation. We had scheduled a sunset cruise to celebrate our last night in Cape Town, but we had a few hours to kill first, so we had time to hit the V & A Waterfront mall…
After some ice cream and some window shopping, we then boarded the Mirage 760, a beautiful yacht docked on the V & A Waterfront.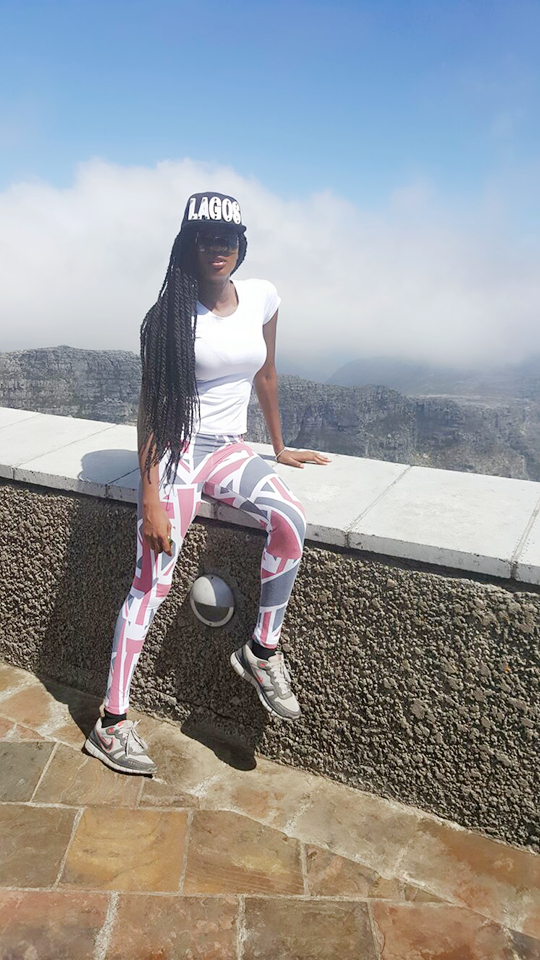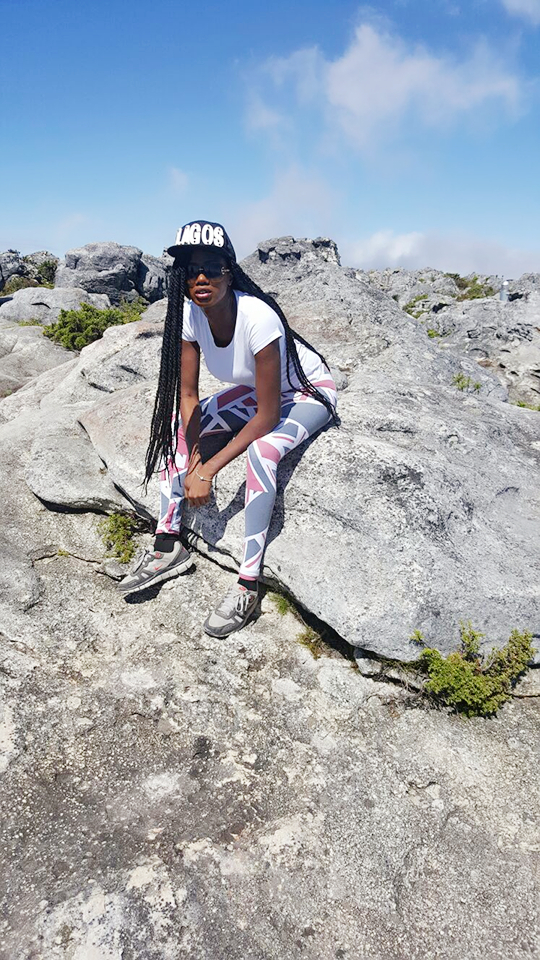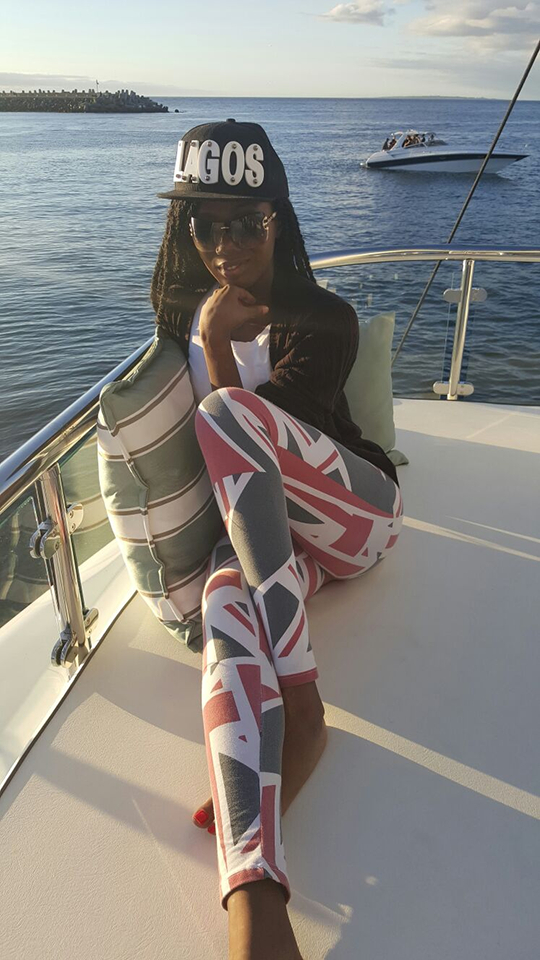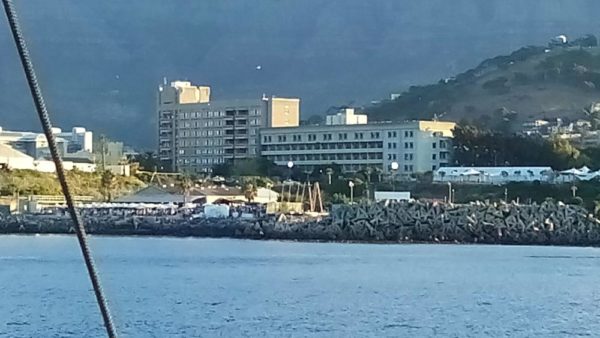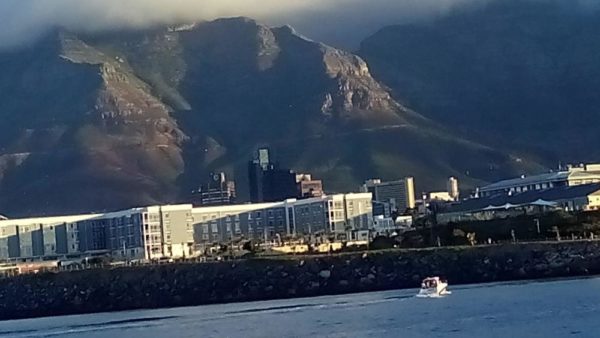 The yacht was brilliant white, with chrome accents. It was the perfect surroundings to chill out and relax with friends. The crew were lovely, and ensured we had plenty to eat and drink.
I definitely wondered if there was any part of Cape Town that wasn't jaw droppingly beautiful. I mean the water was the most mesmerizing shade of blue you can imagine, the mountains on the horizon just added so much beauty to the scene. I couldn't have thought of a better way to spend our last evening in Cape Town. We even saw a smack of jellyfish, which had us all exclaiming in excitement.
Onyeka, Thobi and I managed to have a little dance, I always say "She who can resist the twerk session that automatically occurs when Work comes on, has the will power of a Buddhist monk" Fact!
All in all, it was a beautiful end, to a beautiful day… The ideal way to say goodbye to Cape Town…
Monday 7th March
As I took one last look around the hotel that had been my home for the last few days, I was a little sad to be leaving, but happy to have found a place in Cape Town.
I knew I would be back… And soon.
Checking out of the hotel was uneventful, and before long, we were on the bus, saying one last goodbye to the magnificent mountains.
Arrival at Cape Town International Airport was pretty swift. We bid our Cape Town tour guide Thabo Mncube goodbye, and proceeded to check in to our flight back to Johannesburg.
It took just under 2hrs to fly back, which was amazing if you consider the 30hrs it took us to get to Cape Town by train. The weather in Johannesburg was a little cooler, which was welcome as it had been quite hot in Cape Town.
Back at the Sandton Sun, we were given a few hours to shop, before having to meet up at 6.30pm for a surprise birthday dinner for Praiz and Onyeka who were both celebrating their birthdays on the 8th.
Dinner was at San restaurant, which is located the Sun Deck of Sandton Hotel. It ended up being such a lovely evening, it was officially our last night in South Africa, and we sure made it count.
Praiz and Onyeka couldn't have been more shocked when we sang them Happy Birthday, and brought out their cakes. It was truly an evening full of love.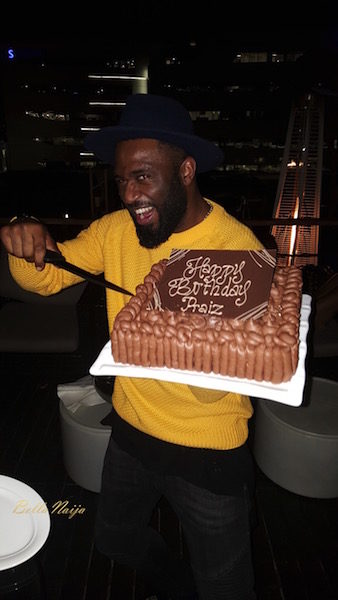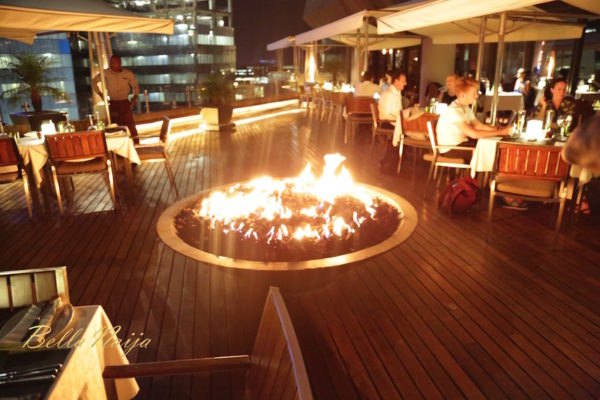 After dessert and gist, we called it a night. Tomorrow morning is Hot Air Balloon day, and that is a super early start. If we want to catch the sun rise, we need to up at 3am, and out by 4am. Having said that guys, I think it's time I stop writing… Night guys.
Tuesday 8th March
Impressively, not one person missed the bus. We were all up and keen to experience the Hot Air Balloon ride.
Hennie was back, which was nice, he informed us it would take roughly an hour for us to get to Skeerpoort Balloon Field, where we would experience the Bill Harrop Balloon Safari.
On arrival, we were given our tickets and told which balloon we'd be riding. My balloon, of course, was called G1 (g status, you get me tho), our pilot was called Gary, and I'd be riding with MI, Toolz, Liz, Onyeka and Akin. The rest of our group were in the other balloon, S1.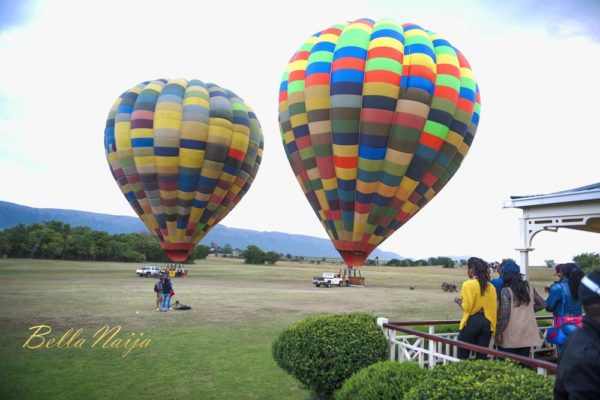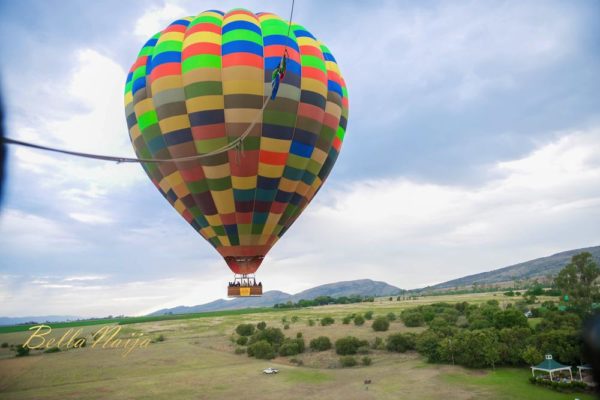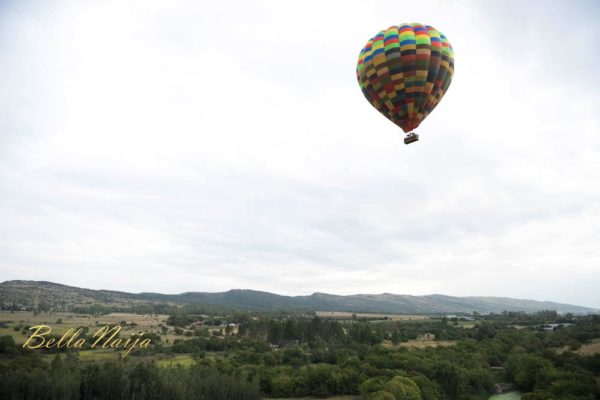 After some hot chocolate and some biscuits, we commenced our ride.
Gary, an Englishman, was a skilled pilot who had not only been flying for years, but had a keen passion for his craft. He demonstrated the landing position we should all adopt upon landing (sit down, knees together and hold the ropes directly in front of you), and made us all feel incredibly comfortable.
Before we knew it, we were 5000ft in the air above the South African countryside. We saw Zebras, monkeys, horses and donkeys. It was amazingggggggggg.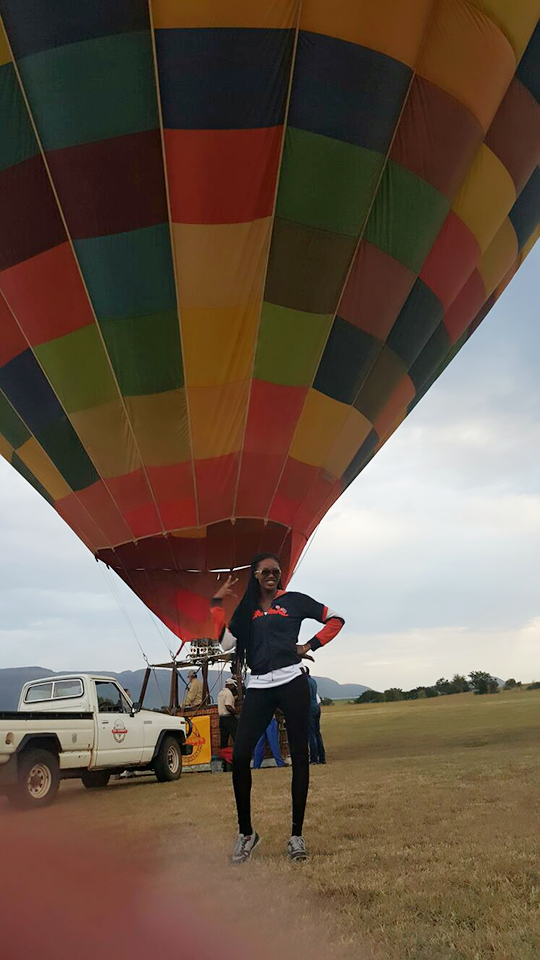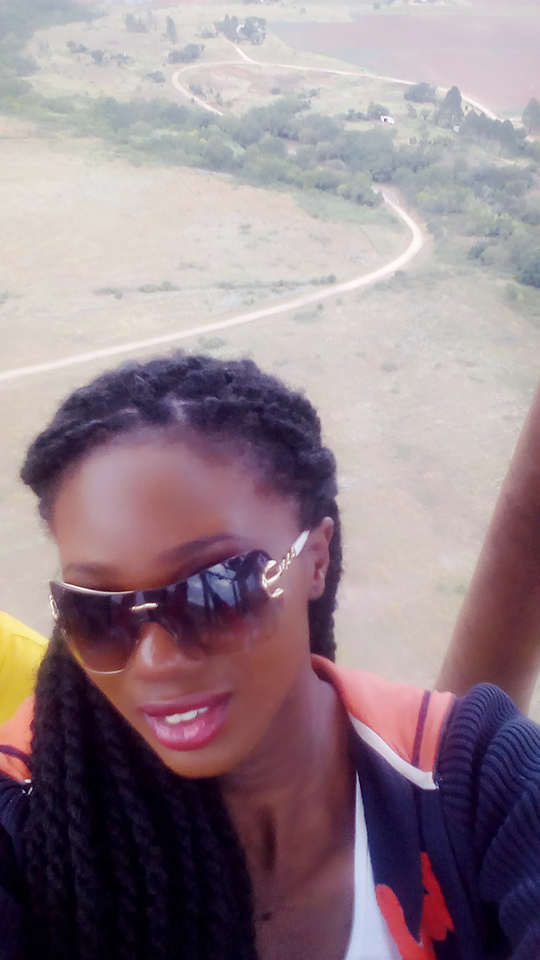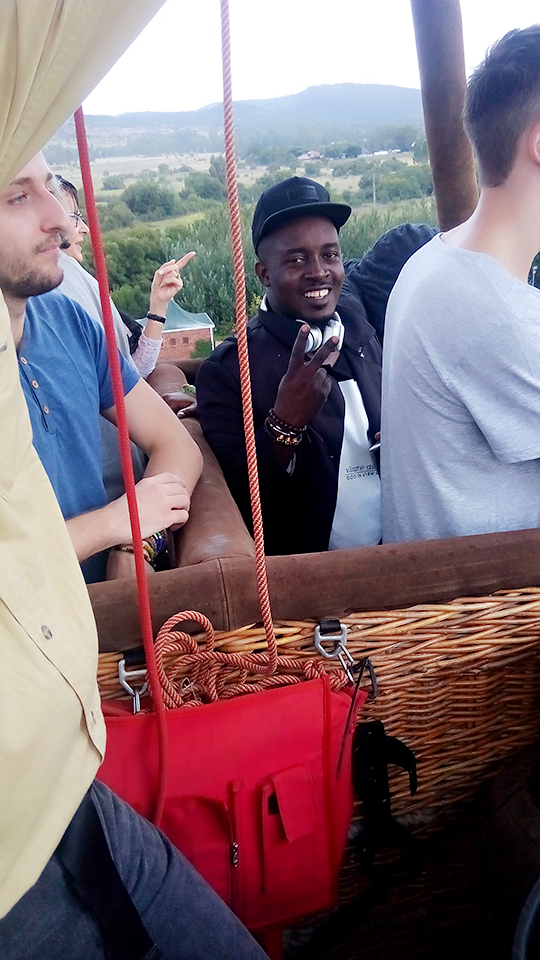 The experience was so special, you had to really be present to appreciate the beauty of the world. You realize the majority of thoughts we allow to plague our minds, have no business being there. Life is a lot simpler than we make it.
Being in a hot balloon is an interesting feeling, you sort of feel like you're floating in the sky. There's no fear, no anxiety, no apprehension, just joy, love and peace.
After an hour or so, it was time to land. I was pleasantly surprised at how quick, and smooth the landing was.
We were met by a crew on ground, who brought us champagne and juice, and transported us back to base.
The other group were already back, and were enjoying sumptuous breakfast. Of course the Don Foodie that I am was excited to see the food; I had 2 rounds and I'm not ashamed.
Everyone at Bill Harrop's were just lovely, after our breakfast, they asked M.I to assist them with the reading of our certificates. Yes, they gave us certificates, which was a pretty cool touch.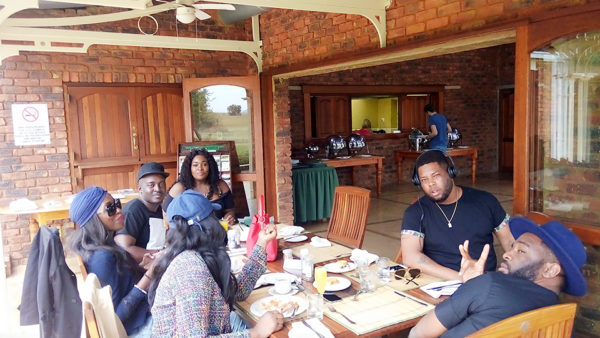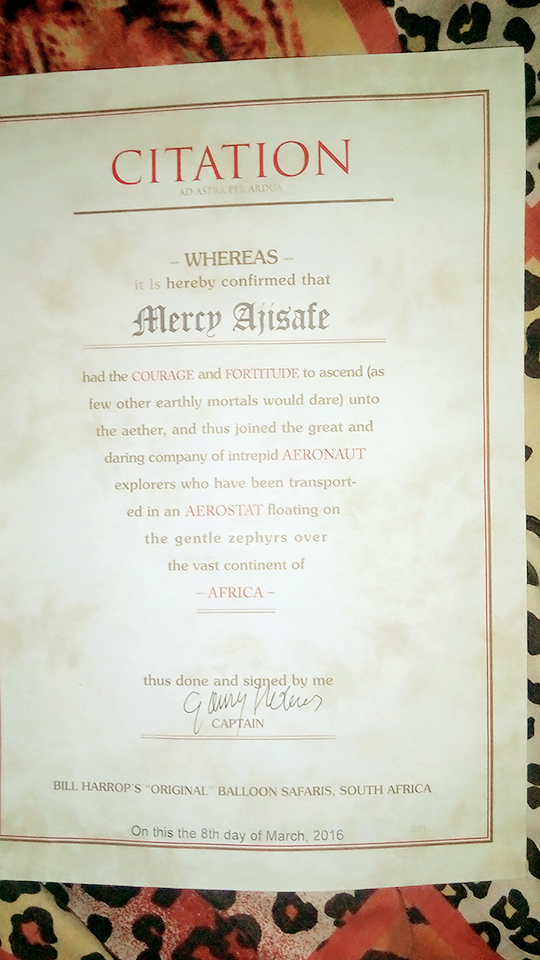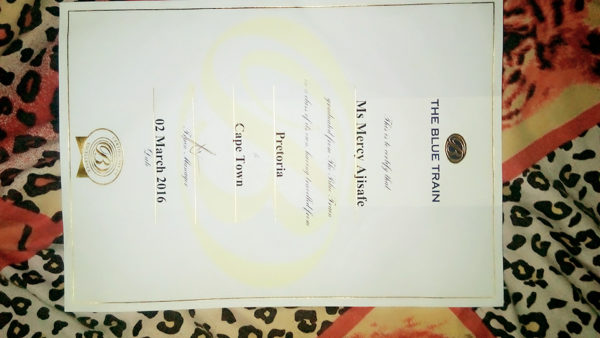 Almost immediately, it was time to say bye to Gary, and to our Ghanaian family.
We Lagosians had a plane to catch.
Everyone was subdued on the way to the airport, I think it had sunk in that THE TRIP had finally come to an end. Although it was absolutely amazing, it was definitely incredibly exhausting.
I couldn't believe how wonderful everyone had been, the group was full of special beings who radiated love and goodness. We had become a family, and everyone had their place. I didn't expect to make any friends, so I was pleasantly surprised to realize I will definitely be seeing a lot of these people again in the future.
Thank you so much to every single person who was in the group. I appreciated every moment with you all, and sincerely wish you all the best. You all inspired me in your own ways, and I look forward to us meeting again on this journey called life.
South Africa, what can I say? You've definitely gotten into my heart, I plan on visiting you as much as I possibly can. Thank you for a marvellous experience, words aren't enough to describe how wonderful it all was.
A big thank you to all our hosts and guides, you know who you are, without you guys, THE TRIP wouldn't have been the same.
South Africa Airways, ya'll are the real MVPs yo, it's definitely a national carrier to be proud of. I look forward to flying with you again, maybe next time it'll be Miami.
Thank you to Ijoselux, my hair sponsors, and massive thank you to one of my favourite designers Ejiro Amos Tafiri, Elan Red, my new fav one stop shop for all my fashion needs. And Naira Offers, definitely my new fav online store for clothes. You guys were all amazing
And lastly, thank you to Uche Pedro, and all the amazing BN readers and followers. Bella Naija is an amazing example of what can be achieved by determination, drive and love. Uche you've inspired so many of us, know that your efforts are never in vain.
Until next time guys… With love, Mercy Ajisafe.