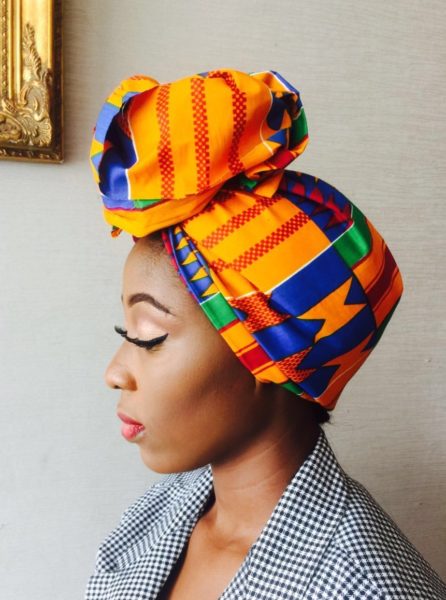 I sat there listening to auntie Nneka as she gave me marital advice. I had shown up on her doorstep; not seeking marital advice (as the catechist that handled my pre-marriage course was doing a good job already), I was simply to drop her asoebi material and hit the door. But no, auntie just had to offer me orange juice and I just had to accept and live through twenty minutes of pure torture all in the name of 'marital advice'. "You know now that you are about getting married, you have to stop associating with all those single friends of yours. They would only mislead you and make you think being single is better than being married. Next thing you know, you would get fed up with your husband and leave him, only for one of them to jump in and start reaping where you have sowed". I was nodding respectfully like an agama lizard while screaming 'lai lai' in my head.
You see, I didn't have any friend I could dump; I loved all my friends too much and we had all being through too much for me to just stop talking to them because I was getting married.
I don't know why a chunk of ladies who get married before their friends assume all their friends want their man. Yes, your beau is tall, handsome and loaded; you think you are the luckiest girl in the world and that your friends would give an arm and a leg to get yo man…WRONG!
They want their own man; their spec is probably very different from yours. Just 'cause you got your dream doesn't mean it's someone else's dream. The secret dreams that keep us awake at night differ! I am so lucky to have kept all my single friends and I have had the immense pleasure of watching some of them getting married as well. So what are the benefits of retaining your single friends after marriage? So many, but let's look at four good ones.
They keep you trendy! Marriage, career and babies require sacrifice DAILY and it's so easy to lose ourselves in trying to achieve work/life balance. It's hard to keep up with fashion trends and spend an entire day at the salon or have the time to browse through Instagram boutiques with a man to cater to and babies that need their mummy (oh! your boss and clients need YOU too).
This is the number one reason many married women are depressed…they have let themselves go. They are now a shadow of the person who always looked chic and lavished on shoes and collected perfume bottles. If you still have your single friends, chances are they won't let you get away with it. If it goes on for too long, they would have to stage an intervention and give you that treat you feel too guilty to give yourself. It's your single friends that would tell you about the latest wig in town that doesn't shred and the difference between coffin nails and pencil nails. A lot of people would attack and say I am talking about stuff that are irrelevant in marriage, but sister if you knew how important taking care of yourself is ehn, you no go talk dat kan tin. A woman's self esteem and personal grooming is important if she is to function in her many roles adequately without buckling under pressure. Trust your single friends to scream blue murder if you are fast becoming a shadow of yourself. No need getting angry at their frankness, it's only a wake up call. Allow them get you dressed, and book that appointment to spoil yourself. You sef, you be human being.
Interesting conversations are another advantage with your still-single friends. Contrary to what a number of wives and mothers believe, the world doesn't revolve around in-laws wahala, husbands that just don't get it, PTA meetings, school runs, town meetings, child dedications and bla bla bla. Frankly, I get tired of sitting with my fellow married women gist sometimes. At times like that, I dial up one of my single friends and get to catch up on trending topics. I have a regular job, a side business, a husband and a daughter; I don't have time to watch CNN except I am waiting for a meeting in someone's reception, neither do I have time for all the series I love so much, and on some days, the world could collapse around me and I won't even know! So I am grateful for the weekends, stuck-in-traffic, lunch-time or insomnia-filled night conversations I get to have with my single girlfriends. I thrive on good, engaging conversations and though I get that from a handful of married friends, I still tap into the reservoir and thinking faculties of my single friends. One recently recommended an online course for me that has been so helpful on the job! God bless her sweet soul!
Free nanny services! Here's the one most of my fellow mummies would love! I do have married friends that I could send my daughter to, when I need to make an urgent work trip and my mom isn't available. But I would feel guilty adding to another woman's full plate and I also get scared of my daughter getting into fights with other toddlers because she isn't used to sharing space yet. Who comes to the rescue? Yup! The single friend who already has mummy-instincts and is happy to have a cute girl to babysit and spoil! If you have a handful of single buddies, chances are, you would always have one or two to bail you out when you need it. And they do so happily too! One of my besties consider it as practice for her own motherhood…so baby girl is happy to be spoilt silly, mummy is able to attend that training and single bestie is happy and grateful for the tiny angel she gets to watch over. Everybody wins 😉
They would likely get married too. If you get married before most of your friends, it can get lonely because you are going through a phase that you think they wouldn't understand. So you don't know how to talk to them about this new experience, and you stay away because you don't want your happiness to make them envious, they stay away because they notice that you have changed and a few years down the line, you see from a BBM broadcast that she is getting married and you wonder when you both became strangers to each other. That single friend of yours who planned your bridal shower would need help planning hers someday. How about you stick around to return the favour? No be first to graduate dey get better job first. That's always my reaction when I hear married women talk about how they ditched their single friends after marriage.
Some have argued that they were doing so to protect their marriages and some scenarios are PERFECTLY understandable. But hey, innocent until proven guilty, right? Don't just ditch a good friend because your levels haff change; everyone deserves the benefit of doubt. There is a likelihood that the problem is your own insecurity, not them. Am I crazy? Don't I know there are actually friends who get jealous when their friend gets married before them? Friends who would do anything to get their friend's man? You are right and I agree that we do have a few bad eggs. Those ones should be avoided like wildfire…but what about the good ones? The ones that truly mean no harm? The ones that actually wish you well? Those friends are gold worth keeping. So if a friendship needs to end, let the reason be legit…and not just because you got married. If you are single and got ditched by a friend who got married, or you are the one who did the ditching; let's talk about it in the comment section. I always love to learn new things from the comments you leave…