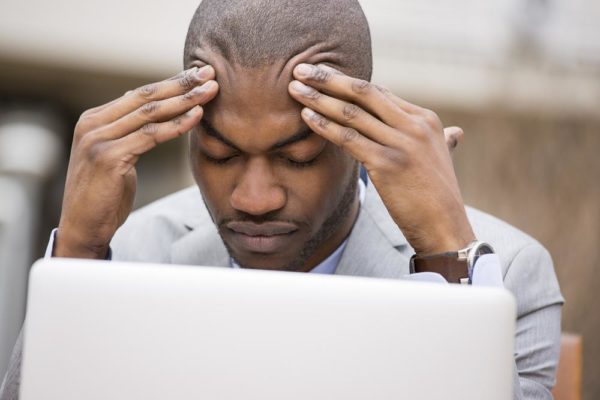 I hate complaining; on a principle, I almost never do. My stand is, "don't complain about what you permit. If you don't like it, confront and change it. If you permit it, suck it up. Either way, don't complain". I try my best to obey that law o, but…
I finally broke my own law the day I decided to change the akpuruka Nokia E5 that I was using.
NB: Nokia E5 is a wonderful phone. Whatever happened to me was because I got it as a fairly used phone.
Omoh, that phone dealt with me. Imagine say you go dey make call, the phone go just trip on its own. I don use paper and even cardboard sheet take support the battery, yet, it still dey misbehave. E remain small make I put carton or plywood there sef.
You may not understand if you are using a good phone. You see all these new infinix, Samsung, techno android phones eh, na sweet. But if you are using, or have ever used a UK fairly used, Nigerian third-hand-used phone, all those types wey dem dey tie with rubber, ehen, you will understand.
To all whose phone batteries are supported with paper, cardboard sheet, plywood, or carton, cheers. I feel you. The hustle is tight. I used to be in your position. And I pray that the same God that changed my level will remember you this year.
I understand your pains, seriously. I have been there, and done all that and more.
When I bought my E5, I bought it as a UK fairly used, Nigerian strongly used 'second hand' phone. The phone happened to be working on that particular day and somehow without thinking, I paid for it. That was the beginning of my troubles.
My problem with my phone started that same day when I wanted to make a call. There was this babe I was pursuing back then. And when I say pursue, I mean both literally and figuratively. So I called her again. But in the middle of the conversation, the phone tripped off.
Did I complain? No.
I quickly switched it on again, and continued my call. And because say the babe's voice was still 'sweeting' me, I didn't even notice anything was wrong.
Before the end of six months, that phone taught me firsthand what it means to live on 'life support'.
First of all, the sim compartment needed a paper to support it, else, it will trip. Imagine you are using the phone and all of a sudden, the network signal will just disappear. Yes, the sim card was having partial contact.
Did I complain? No.
Next thing was the battery. When I bought the phone, the former owner was already supporting it with a little paper. A few days later, I upgraded the phone.
Noooo, I did not download a new software version. For where? Who dash monkey banana? I merely upgraded the battery's paper-supporting-hardware from one to two pieces of paper.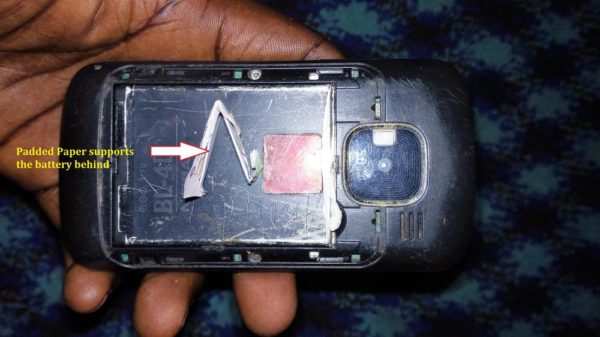 Did I complain at this point? Mba!
Next I noticed that the metallic stuff at the back of the phone battery compartment, those ones that connect power from the battery to the phone, were shaking. So after 'padding' the battery at the other end, I had to 'pad' the back of the battery to make sure that it did not shift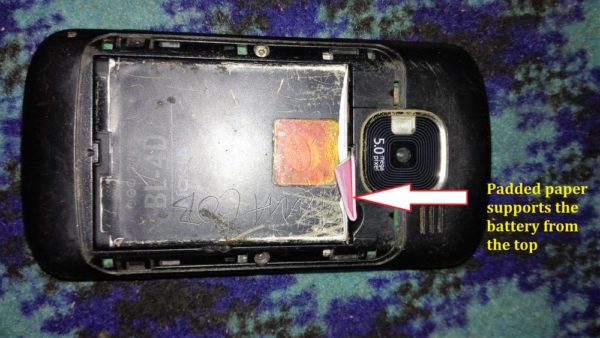 Trust me, I still didn't complain.
But padding the back of the already padded battery posed a tiny problem. Yes, the casing could no longer close. Rather than complain at this point, I simply used a rubber band to support the system. And when the rubber seemed to have gotten weak, I doubled, tripled, and even 'four-pled' it at a point.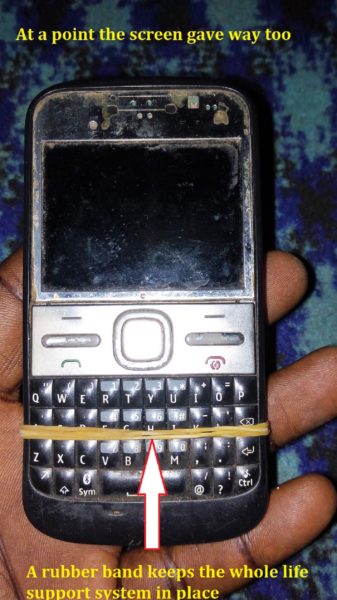 In spite of all that, I never complained, never.
But sometime in February I finally lost my cool and complained.
You see, one of my closest friends had just come back from abroad, and he was using one fine infinix hot note phone.  When I saw him in November, he said he bought the phone for 23k or thereabout. So I made it my vision/goal to change my phone by fire by force immediately after paying my house rent in January.
You can understand my shock when I went to the market to buy the said phone in February, and I was told that its price was 33k. Ah ah.
"Oga wetin happen naa? My friend tell me say em buy this same phone for 23k. Abi na mistake you make?" I asked the phone seller.
The guy simply asked me, "when?"
"A few months ago", I replied.
"My brother, that was then. Things have changed. Dollar tinyelu ego, and electronics n'agalazi onu now. In fact, ihe n'ile a n'eme import buzikwa afia iwu now o, ha nile n'ozikwa n'elu orji." (Dollar added money, electronics is now expensive. In fact, all imported items are now like contraband and very very expensive). He explained.
I had to go back and wait another month. At this point, I just couldn't help complaining. If na you dey use that E5, you sef go complain. It was as if the phone noticed that I wanted to change it, so it raised its misbehavior to the power 10.
It started tripping anyhow. And just for fun, sometimes after switching it on, it will just trip off again. But throughout my 'ordeal', I stood strong. I knew it was just a matter of time. And as a true Nigerian, I knew that "one day, e go better".
Good News: On Easter Saturday I finally bought a new phone. Sweet, sleek, and beautiful. And that was when I confirmed that good things are good, and ejiro afufu anya isi (you don't use suffering to boast).
So I pray for anyone in my former position. Anyone that is 'suffering' in the hands of a second hand UK used, third hand Nigerian used phone. May the Lord that finally upgraded me also change your level.
But till then, please don't forget to have an extra piece of rubber band in your wallet/purse in case the one you are using now snaps.
Cheers.
Your turn: what is the worst (funny now sha) experience you have ever had with a phone (TV, Fridge, car, or any property) before you had to change it? Please share your experience in the comment section.