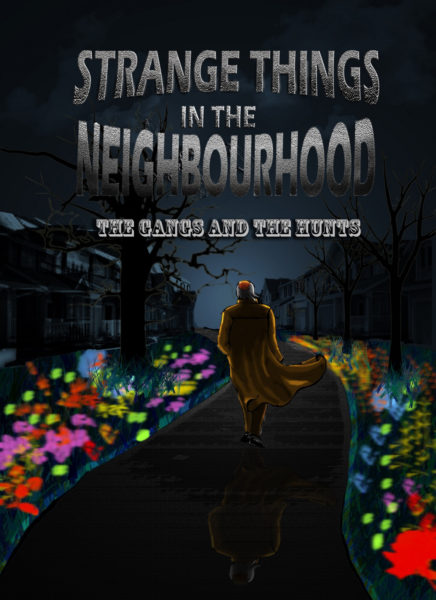 I grew up an avid believer in magic, alternate universes and poltergeists. You think I'm a weirdo? I know already. Moving on…
This love of unusual stuff followed me into adulthood and fueled my love for speculative fiction. All I ever wanted was to live in my own magical world. *Sniff* Based on the craziness within, you can imagine how interested I was when I heard Strange Things in the Neighborhood promised talking shovels and plants. Hellurrr, Enid Blyton memories! I jumped on the Okadabooks app and got myself a copy.
The first chapter threw me into a run-down house. There, a discussion by some household items and a houseplant leads into the world of Jaja, their owner. The unruly, cynical behaviors of these non-humans reflect their master's attitude to life. He's a raging alcoholic who believes the world is against him.
Estranged wife? Check.
No job? Check.
What more could possibly go wrong?
Down the street, we meet Jaja's affluent neighbor, Mrs. Angela, a former service woman living out old age grudgingly. Her days are spent reminiscing about her late husband, youth and children. Mrs. Angela meets Jaja through a mutual friend, and Jaja hatches a robbery plan that unfolds in excruciating bits.
In truth, I expected the anthropomorphism attribution of life to non-humans to be the most distinctive thing about this book, but it wasn't. Jaja's relationship with his estranged wife took that prize. I've read hundreds of write-ups on partners staying in abusive relationships, and this book took me back to age-old questions. How is it possible for a woman (or man) to endure for so long? Is there no tipping point? What can be done to help the abused party?
I'll give Akin Adedeji a "C" for effort. The better part of the score comes from his excellent insertion and management of the speculative angle of this story.  The exhibition of life by inanimate objects felt natural. Bravo! The dark side of the "C" comes from the long-winded narrative and unnecessary characters. In my short life as a struggling writer, I've learned that every scene (and sentence) should be relevant to the story. This, and an amazing storyline, makes for fluid writing that keeps the audience enthralled. A satisfied audience means you've done well and mastered your craft. It also means you can finally buy that private jet! You know what I'm saying?
I think this book could have been better as a short story, but what do I know? Someone else might forgive (and even love) its flaws. Interested in disputing this snooty review? Then download Strange Things in the Neighborhood through the free okadabooks.com/app and tell me what you think.
I'll give a trillion dollars to anyone who can make me see why this works best as a novel.
Picture Courtesy: Akin Adedeji
Chiamaka Onu-Okpara is a freelance editor with an absolute love for anything weird. When she isn't wading through punctuation errors, she binge-watches cartoons and writes speculative fiction.
Send her a friend request on Facebook
Email her at [email protected]