Hello BellaNaijarians!
Welcome to the last month of the year! Whoop! Whoop!
Here's the list of the exciting events happening this weekend, as well as those for the rest of the year.
**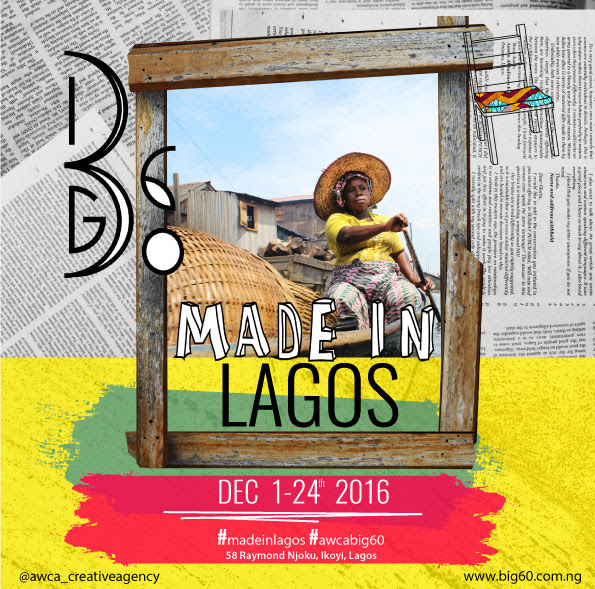 BIG60 Arts and Culture Festival
The festival will be designed a shop to promote the exchange of goods and services that are one hundred percent made in Lagos. We will be welcoming vendors who have created unique brands and are creatively inclined in areas such as fashion, beauty, food and product design to sell their goods and services at our signature installation.
Date: Thursday – Saturday, December 1st-24th 2016
Venue: A Whitespace, 58 Raymond Njoku, Ikoyi Lagos
If you are interested in participating in this year's celebration as a vendor or a chef, kindly complete this form HERE or send an email to big60@aw-ca.com.
---
AIDS Free
Date: Thursday, December 1 2016
Time: 1PM
Venue: Viva Cinema (Kwara Mall)
---
Men's Fashion Week Nigeria
The City of Lagos will witness one of the largest international fashion week to have taken place in Nigeria. Men's Fashion Week Nigeria (MFWN) will present 14 acclaimed international designers alongside 18 leading Nigerian designers in Nigeria's most significant men's fashion event to date.
Date: Friday – Saturday, December 2nd – 3rd 2016
Venue: GLITZ Events Center in the Lekki Phase 1
Contact: mensfashionweeknigeria@gmail.com | +2348074345828
---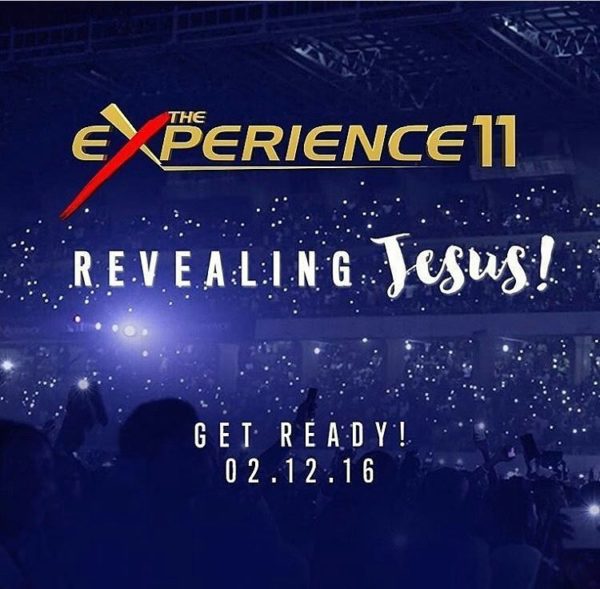 The Experience Lagos
As The Experience is set to Reveal Jesus in a new dimension this December, we are all invited to put all worries aside and come join in sending an avalanche of praise up, so that God's blessings can indeed rain down.
Date: Friday, December 2nd 2016
Time: 7PM
Venue: Tafawa Balewa Square, Onikan, Lagos.
---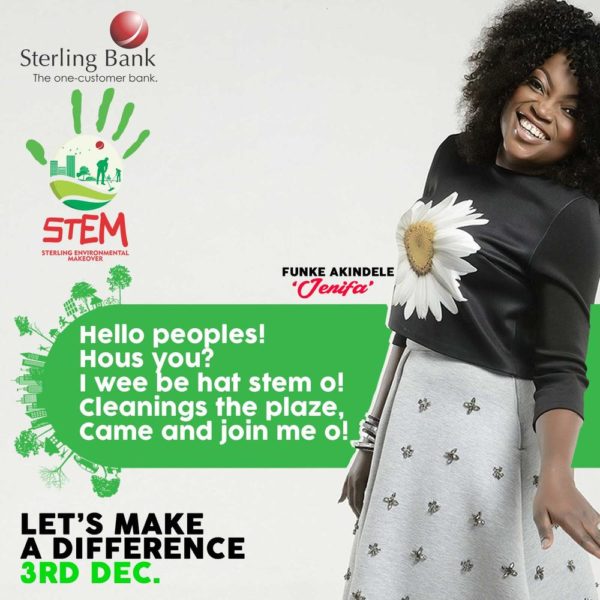 Sterling Environmental Makeover
Popular actress; Funke Akindele will join Sterling Bank this Saturday for the Bank's quarterly national cleaning exercise under the "Sterling Environmental Makeover" (STEM) series.
Date: Saturday, December 3rd, 2016.
Time: 7am
Venue: Oyingbo Market, Lagos
---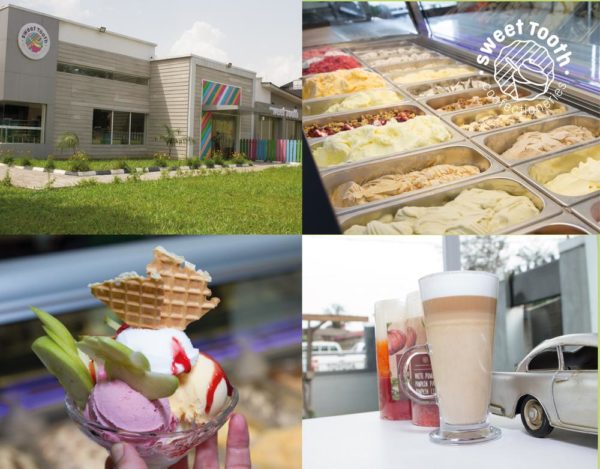 Sweet Tooth Confectioneries Port Harcourt Opening
Date: Saturday, December 3rd, 2016.
Time: 11am
Venue: 14, Tombia Road, G.R.A., Port Harcourt, Rivers State.
For enquiries
Email Address: info@sweettoothng.com
Phone number: +234 908 612 2222; +234 907 621 1444; +234 905 777 7757
---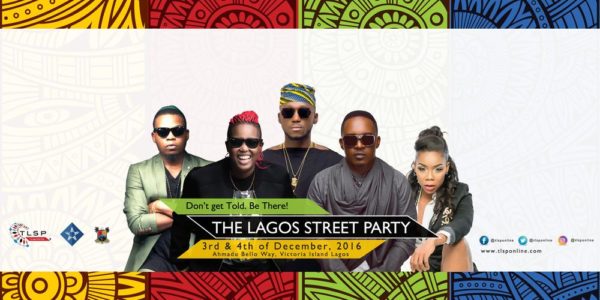 The Lagos Street Party
Featuring performances by Phyno, MI, Olamide and Kaffy, with music from  DJ Lambo and DJ Spinall,  alongside art exhibition, Gladiator Challenge, Paint Ball Battles, Acrobatics, Juggling, Magic acts, and other fun activities    
Date: Saturday – Sunday, December  3rd – 4th 2016.
Time: 12PM – 12AM daily
Venue: Ahmadu Bello Way, Victoria Island, Lagos.
---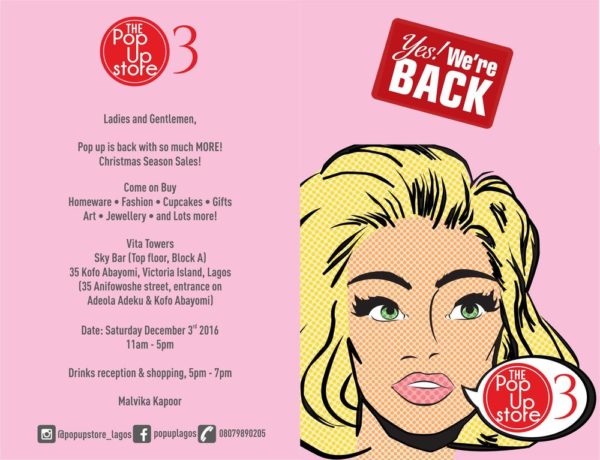 The Pop Up Store
We are please to invite you to the 3rd Pop Up Store in Lagos, Victoria Island. We are having huge Christmas sales on: handbags, jewelry, gowns, dresses, bikinis, swimwear, home accessories, cushions, kimons, indian sarees & so much more! We are having 90% off between 11 and 1pm only.
Date: Saturday, December 3rd 2016
Time: 11AM – 5PM
Venue: Sky Bar, Vita Towers, 35 Kofo Abayomi Street, Victoria Island Lagos.
---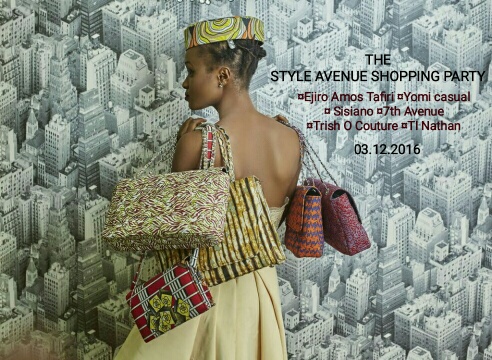 The Style Avenue Shopping Party
The Style Avenue Shopping Party is more than just an event, it's life in its very beautiful form! There are so many amazing things that will be taking place amidst all the shopping. The Art Class/Live exhibition featuring one of the biggest artists in Nigeria, this is just the tip of an iceberg.
Date: Saturday, December 3rd 2016
Time: 12PM
Venue: Roadster Burger Bar and Lounge, Admiralty Way, Lekki Phase 1, Lekki
---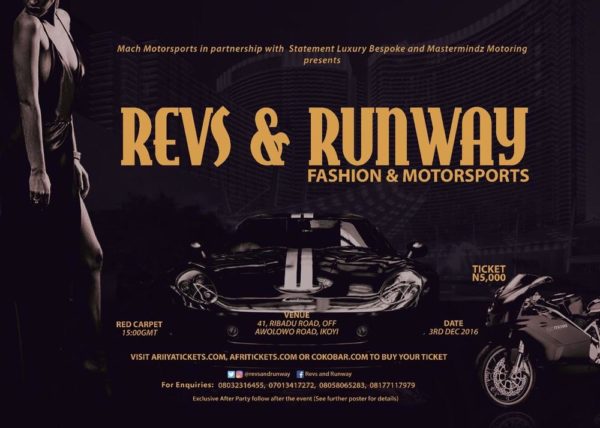 Revs and Runway
The luxury event will feature some of the edgiest automobiles and superbikes in Nigeria blended with nothing short of high-octane fashion from some of Nigeria's top designers.
Date: Saturday, December 3rd 2016
Time: 3PM
Venue: 41 Ribadu road, off Awolowo road, Ikoyi, Lagos.
Tickets (N5,000) are on sale on ariiyatickets.com, afritickets.com and cokobar.com | For more information call: 08032316455, 07013417272, 08058065283
---
Code Red: Dunsin Oyekan's Album Release
When God speaks, everything obeys! Something utterly unprecedented is about to happen. Come, and see God move in a dimension you've never before experienced. Everything is about to catch fire!!!
Date: Saturday, December 3rd 2016
Time: 5PM
Venue: The Congress Hall,Transcorp Hilton, Abuja
---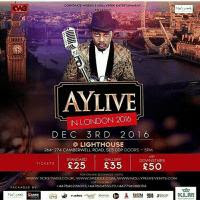 AY Live In London 2016
The event will feature Okey Bakassi, Gandoki, Klint D Drunk, Kenny Blaq, Elenu, I Go Dye, Emeka Smith, Whalemouth, among others.
Date: Saturday, December 3rd 2016
Time: 6PM
Venue: The Lighthouse Hall, Camberwell, London, SE5 0DP
Tickets: From £25.
Info/Tickets: www.djamedia.com | 07946811253
---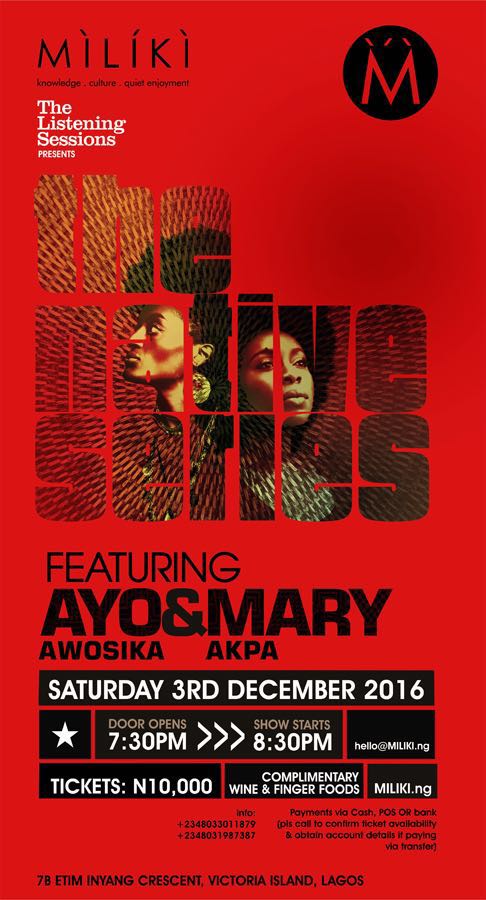 Ayo Awosika & Mary Akpa Exclusive Concert
Nigerian music artistes Ayo Awosika and Mary Akpa team up this Saturday evening for a magical night of music.
Date: Saturday, December 3rd 2016
Time: 7.30PM
Venue: MILIKI, 78, Etim Inyang Crescent,  Victoria Island
Tickets: N10,000
---
COD Thanksgiving Service
Date: Sunday, December 4th 2016
Time: 8AM
Venue: City of David Sanctuary, COD Road, Off Ligali Ayorinde, Victoria Island.
---
Mente De Moda Grandeur 2 – The Ultimate Shopping Experience
The experience consists of new and exciting brands in fashion/lifestyle, oh lets not forget about our star culinary vendors whipping up the finest food and drinks. The stage is set for an early Christmas for buyers to enjoy in mind blowing discounts from brands far and wide.
Date: Sunday, December 4th, 2016.
Time: 12noon
Venue: BICS Garden, B20, Wole Olateju Crescent, Off Admiralty Road, Lekki Phase 1, Lagos.
---
ZR Tales Launch: The Lifestyle Downtown
50% discount on every piece, including the very fresh 'The Transit' collection.
Date: Sunday, December 4th 2016
Time: 1PM
Venue: 14, Chris Efuyemi Street, Off Providence Street, Lekki Phase 1, Lagos.
---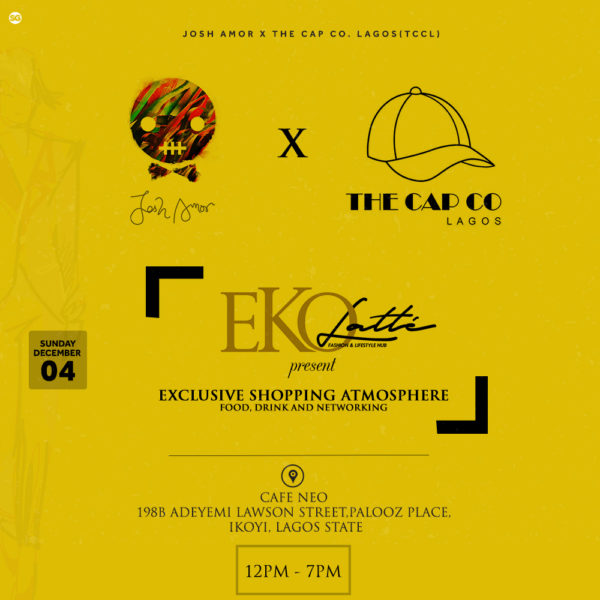 EKO Latte
An exclusive shopping experience
Date: Sunday, December 4th 2016
Time: 4PM
Venue: Café Neo, 198B Adeyemi Lawanson Street, Palooz Palace, Ikoyi, Lagos.
---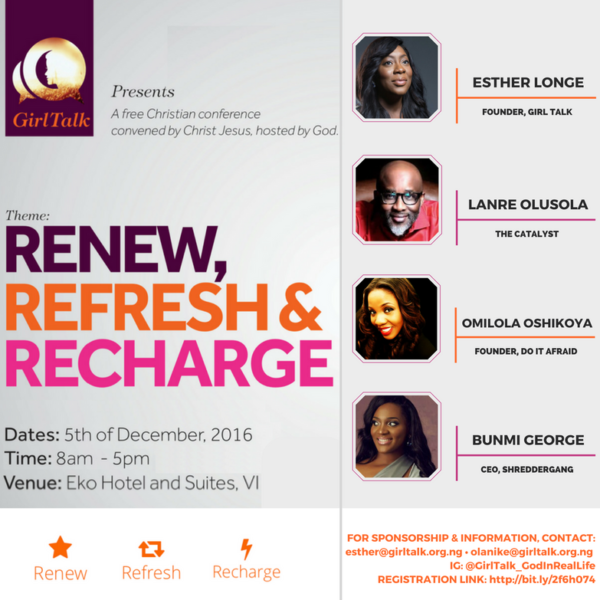 Girl Talk Conference – Renew, Refresh & Recharge
GIRL Talk (God In Real Life) is a safe space for women to share, to open up, to let go of burdens and to fellowship, under the leading and the love of our Lord, Jesus Christ.
Date: Monday, December 5th, 2016.
Time: 8AM – 5PM
Venue: Eko Hotel and Suites, Victoria Island, Lagos.
Speakers: Lanre Olusola (The Catalyst), Omilola Oshikoya (Africa's Premiere Wealth Coach and Founder, Do It Afraid™), Bunmi George (CEO Shreddergang) and Esther Longe (Founder, GIRL Talk).
Attendance is FREE, but registration is required. Register here: goo.gl/forms/Em0irFqH1OHajXVI3
---
Africa Tech Summit
MEST is hosting some of the biggest names in the African tech and mobile space, including Google, Uber, Vodacom and Samsung, as well as a range of African entrepreneurs from leading companies Interswitch, Iroko, Main One, among others.
Date: Tuesday – Wednesday, December 6th – 7th 2016
Venue: Intercontinental Hotel, Lagos.
You can buy your tickets on the website, and contact partnerships@meltwater.org for press, sponsorship or general inquiries.
---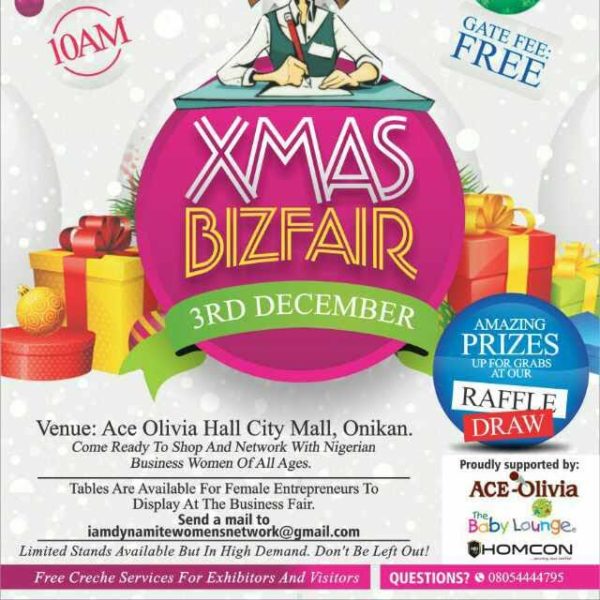 IAmDynamite Women's Network
A special twist to this business fair, involves the fact that each entrepreneur will be given a chance to take the stage and share their entrepreneurial journey.
Date: Saturday, December 3rd 2016.
Time: From 10AM
Venue: AceOlivia Hall CityMall Onikan , Lagos.
For Corporate and Regular Stand bookings, kindly contact via Sms 08054444795 or email company Profile and info  to IAmDynamiteWomensNetwork@gmail.com
Open  to All Female Entereprenures and Women Focused brands.
---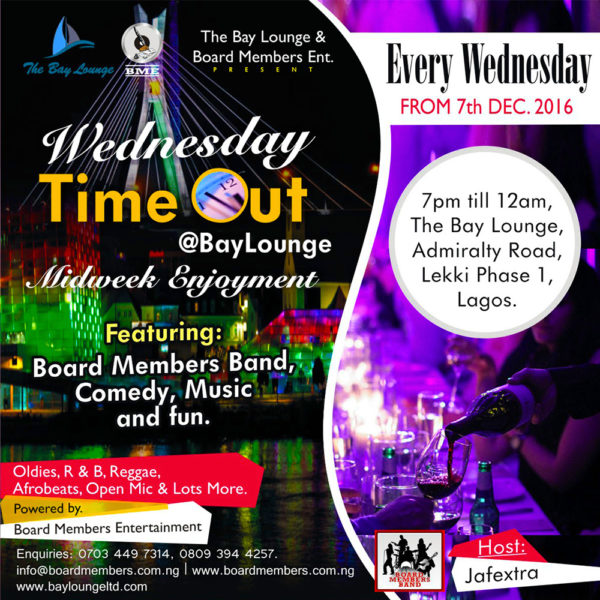 Wednesday Time Out @ Bay Lounge
The Board Members Band will be playing at Bay Lounge in Lekki Phase 1, every Wednesday.
Date: Every Wednesday from December 7th 2016
Time: 7PM till late
Venue: bay Lounge, Lekki Phase 1, Lagos
Enquiries: Call Raphani (07034497314) or Patrick (07082996615).
---
**
Week Two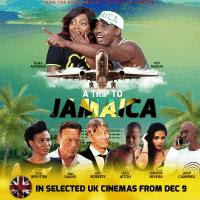 A Trip to Jamaica London Premiere
Venue: Odeon Cinema, Bugsby Way, Greenwich, SE10 0QJ
Dates/Times:
Friday, December 9 2016 – UK Premiere Night & Screening
Time: Red carpet 8.30PM, Screening: 10PM
Cast & Crew in attendance
Tickets: £20
Saturday, December 10 2016
Time: 6PM
Tickets: From £10.50
Sunday, December 11 2016
Time: 6PM
Tickets: From £10.50
Tickets will be available for sale from Friday, December 2nd at www.odeon.co.uk / More Info: 07946-811253/info@djamedia.com
---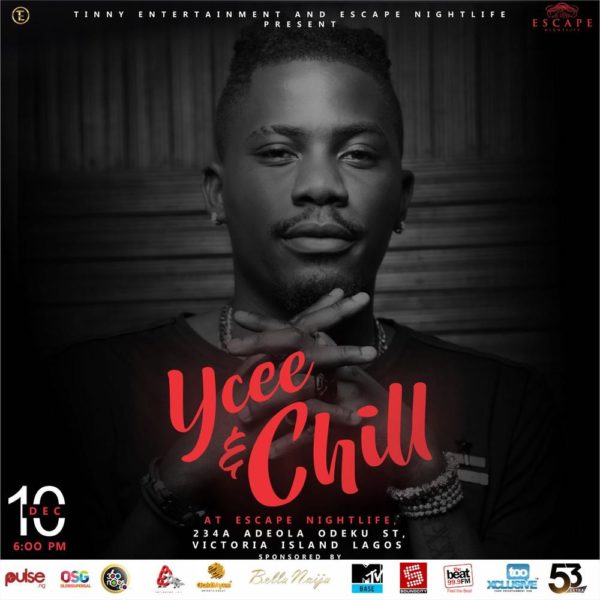 YCee & Chill
Fans of the Tinny Entertainment star will have a rare opportunity to watch Ycee perform his repertoire of hits in a rare and unprecedented fashion as Ycee thrills with a live band.
Date: Saturday, December 10 2016
Time: 6PM
Venue: Escape Nightclub in Lagos.
---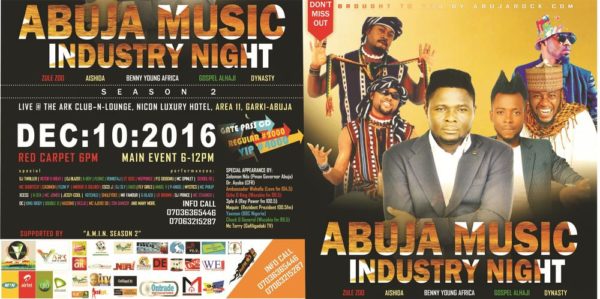 Abuja Music Industry Night  2
The event is to improve the standard of Abuja Entertainment Industry, working hard to encourage the city based celebrities to also embark on hosting events as it will help in promoting the city entertainment and the celebrity brand.
Date: Saturday, December 10 2016
Time: 6PM
Venue: The Ark Club -N- Lounge, Nicon Luxury Hotel, Area 11 Garki, Abuja.
---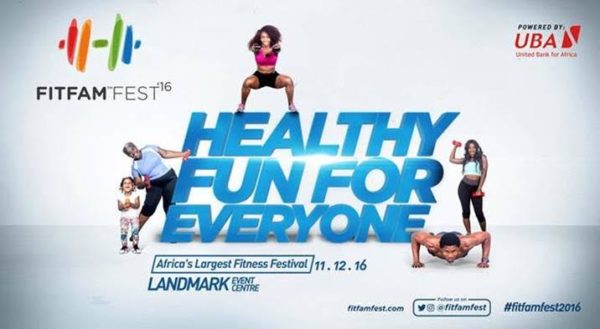 FitFam Fest
The festival is bringing this holistic campaign to Lagos, and it would be the first of its kind. It is themed "Healthy Fun for Everyone". It is going to be a celebration of fitness and wellness attracting men, women and children of all ages. Top notch trainers and fitness enthusiasts will converge in one place to throw out an array of fitness and beauty activities that would make Lagos the fitness capital of Africa.
Date: Sunday, December 11 2016
Time: 7AM
Venue: Landmark Events Centre, Victoria Island, Lagos.
---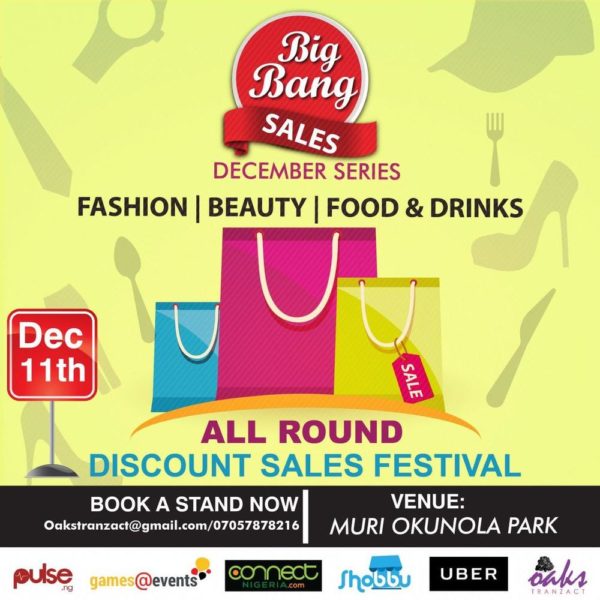 Big Bang Sales
Eye-popping, mouthwatering SALES you definitely don't want to miss! 
Date: Sunday, December 11 2016
Time: 11AM
Venue: Muri Okunola Park Victoria Island. .
You can also be part of the experience by showcasing your products and services. All you have to do is simply book a stand by calling 07057878216 or sending a mail to Oakstranzact@gmail.com.
---
A Husband's Wife
This December MAJMUA THEATRE brings to NUC, Maitama Abuja the dynamic duo of Tina Mba and Femi Branch  in Tyrone Terrence's A' Husband's Wife' Directed by Toyin Oshinaike and Produced by Abiodun Kassim.
Date: Sunday, December 11 2016
Time: 3PM and 6PM
Venue: NUC, Maitama Abuja
Tickets: Regular 5,000 VIP 10,000
Call Damola on +2348063875923
---
**
Week Three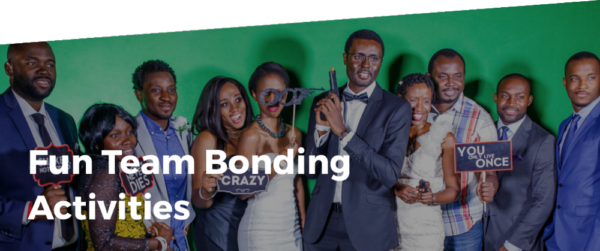 The Unofficial Christmas Party – "Owambe"
The theme for this year is "Owambe" – A grand party thrown by Nigerians (mostly Yorubas) which usually features mouth-watering local dishes, fast-beat and loud Nigerian music accompanied by the latest "gbedu" dance moves, spraying money on one another and having a great time.
Date: Friday, December 16 2016
To register your team, click HERE
---
**
Week Four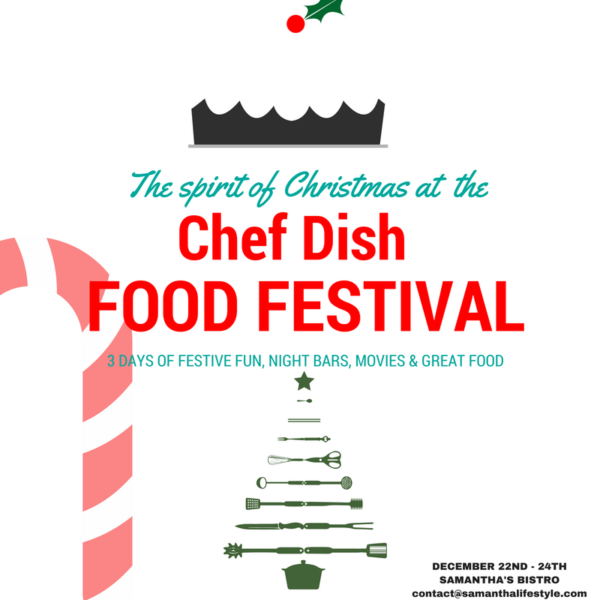 The Spirit of Christmas
Enjoy the great outdoors again as we share our love of good food, drinks and entertainment from our local community of chefs, restaurants, mixologists and foodpreneurs.
Date: Thursday – Saturday, December 22 -24 2016
If you are interested, register here. Registration closes December 5th.
---
Rhythm Unplugged
Same Turn Up! See you at Eko Hotel & Suites. Get excited! Rhythm Unplugged is the ONE entertainment concert to attend every December.
Date: Friday, December 23 2016
Time: 8PM
Venue: Eko Convention Centre, Lagos
Tickets: Standard: ₦5,000, VIP ₦25,000
For Table Bookings and enquiries, please email info@flytimeltd.com.
Tickets are available online only at  www.naijaticketshop.com.
---
**
Week Five
Olamide Live in Concert 3 (OLIC3)
It has been an amazing year for indigenous rapper, Olamide. To crown the many successes of 2016 and give back to his loyal fans, Olamide has announced the 3rd edition of Olamide Live In Concert. This December, Achievas Entertainment , YBNL Nation Entertainment and Right Entertainment  team up to bring to fans of Olamide, the Beast Mode III. 
Date: Monday, December 26 2016
Time: 7PM
Venue: Eko Convention Centre
---
Soundcity MVP Award Festival
The Soundcity MVP Award Festival takes off with a big bang this year with a power-packed line up of music performances and star appearances by African artistes and celebrities. Soundcity (TV, Radio & Digital) will be rewarding industry professionals and music artistes in various spheres of the music entertainment industry including achievement, resilience, music excellence, hardwork, and creativity.
Date: Thursday, December 29 2016
Venue: Eko Hotel, Lagos.