On October 19, 1986, renowned journalist Dele Giwa received a package at home. It did not growl, it did not tick. Giwa did not suspect foul play as he made to open the parcel. A friend who was with him excused himself to go to the convenience. Shortly before he emerged, the parcel exploded. Giwa was fatally wounded.
The package-bomb narrative crept into my mind as I read Screamers, an amazing story from the latest issue of speculative fiction magazine, Omenana. Written by Tochi Onyebuchi, this story explores the concept of pre-packaged death. There are no bombs, but you'll find envelopes filled with condensed pain: years of anger, strife and hate collected from all over. If you think psychological pain can't grind your bones to pulp, think again. In the race to find the mastermind behind these attacks, Onyebuchi explores divides within the immigrant melting-pot and the pain discrimination births.
This issue also gives us The Last Lagosian, a post-apocalyptic tale set in Lagos, Nigeria. If a strange beam of light killed almost everyone in Lagos and you were left with a few others, how far would you go to survive? If you're thinking very far, you deserve a role in this story. I'll petition Nigerian sci-fi king Wole Talabi to write you into the sequel whenever he decides to take a go at it.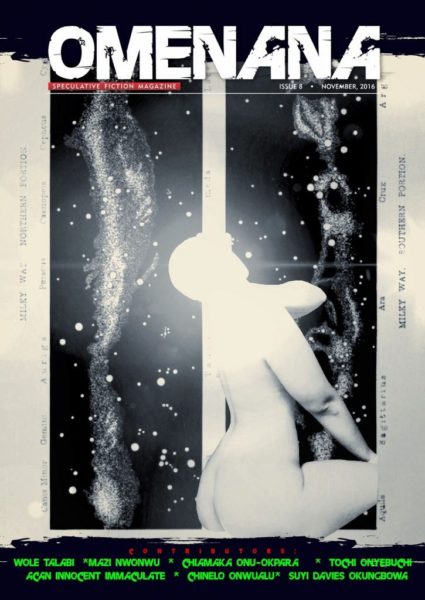 Suyi Davies Okungbowa dazzled in Of Tarts and New Beginnings. Our protagonist, Shanumi, develops a wonderful new ability; she can see smells as colors. Whether it's the "savory orange" of plantains or the "piquant opal" of garlic, her brain knows. Soon she starts a restaurant, and business booms as a result of this gift. However, things don't stay rosy as prosperity brings envy.
Finally, the 2016 winner of the Writivism award, Acan Immaculate Innocent, gets her say in the story Wishful Thinking. Based in Kampala, the story takes us through the everyday feeling of frustration at the recklessness of most commercial cyclists. When one of them almost knocks Luyima down, he whispers to the universe to give him ability to "slap a bodaboda guy into the future." He gets his wish, but things get a bit out of hand. This story makes me think of R.L. Stine's Be Careful What You Wish For. You should read it. It's fabulous!
As usual, the Omenana team did not stop at fiction. There's an essay from the magazine's co-founder, Mazi Nwonwu, about his experience at the Lagos Comic Convention. I went green with envy when I saw the pictures in the essay; that's how I get when I miss interesting events. For the review section, I (yes, me) smuggled in some words about the recent speculative fiction issue of the Chimurenga Chronic. I'm my own worst critic so I won't say a word about what I think of my review. Go read it. You have the final say.
I think the Omenana team is doing a wonderful job at promoting African speculative fiction. Co-founders Chinelo Onwualu and Mazi Nwonwu are spokespeople for the African Speculative Fiction Society which recently announced the birth of the Nommo awards. Finally, Africa has its own speculative fiction awards!
I see your eyes widening. Unbelievable, right? Now that you're done imagining your Noomo win, head over to the Okadabooks website and download the okadabooks app to start enjoying Omenana Issue 8 on your phone today. Maybe you'll learn a thing or two from the people you'll be competing against.
Picture Courtesy: Omenana Issue 8
Chiamaka Onu-Okpara is a freelance editor with an absolute love for anything weird. When she isn't wading through punctuation errors, she binge-watches cartoons and writes speculative fiction.
Send her a friend request on Facebook
Email her at [email protected]