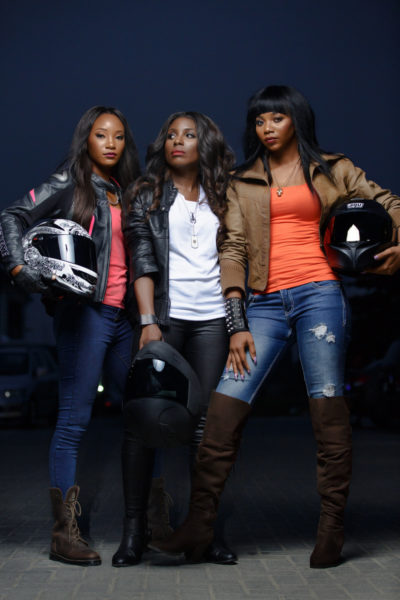 Vehicles are fascinating! Think of all that engine power propelling iron and all the weight we put on it. Think about only two wheels beneath all that power…throttling along; now think slowly about a woman wielding that much power and pushing against the wind. Imagine the smell of rubber against the tar, and the exhilaration that comes from it all.
Think of Jane Michael Ekanem, Ogochukwu Abuah, and Kelly Jumbo. Three Nigerian women who bring the slay and sexiness to the power of riding. In a chat with them, they talk to us about why they ride, what they ride, and safety measures they implement… because safety is imperative.
***
Meet The Riders:
Jane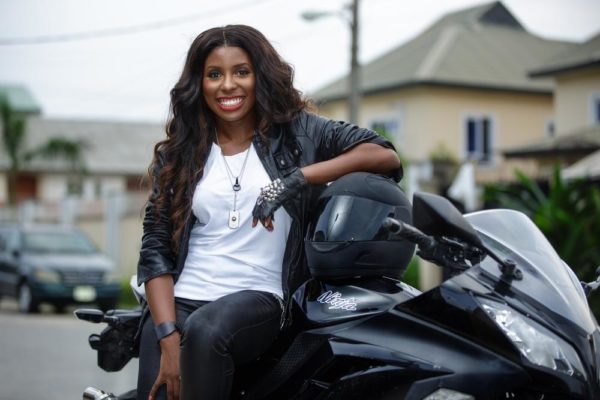 My name is Jane Michael Ekanem. I am a celebrity stylist, designer, and fashion entrepreneur. I am the creative director and C.E.O of the brand Jane Michael. I am a firm believer in creativity and homegrown originality in all facets of business and I am currently based in Lagos with business affiliations across the country.
I am Miss Kelly Jumbo. I am 28 years old and I live in Port Harcourt.  I am a business woman, the C.E.O Confianza Multi-Links Investment Limited. I deal in the supply of petroleum products.
Ogo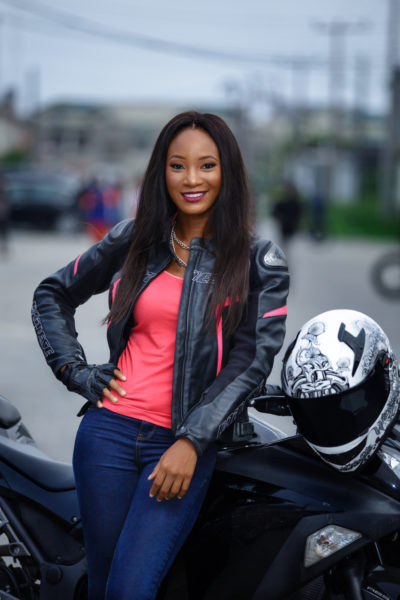 My name is Ogochukwu Abuah, an Architect who just rounded up her NYSC in November 2016. I am currently based in Lagos State, Nigeria. I am open to the idea of trying new things; adventure, exploring, basically just getting out of my comfort zone. I love music, sports and performing arts.
How did you get into riding?
Jane
Learning to ride was a decision I made at a point in my life when I needed a new identity. I had just gotten out of a relationship in which we had the same circle of friends and I knew I needed to change my circle of friends. That in combination with my love for speed, which was always evident in the way I drove my car, made me decide to start riding. So, I spoke to a friend and told him I admired him as a rider and would want to become one, and then he introduced me to a riding school in Lagos where I started learning how to ride. The process was a good but not so easy one to say the least; as I had to stop at some point when although I had money in the bank, I had other priorities that took precedence and buying a bike was not the sensible thing to do. At the time when I could afford a bike, I had forgotten some of what I had learnt previously, hence I had to attend another riding school.
Ogo
I got into the biking community about 3 years ago when I met a group of awesome bikers. I became interested in the sport and was inspired after I saw a female biker who had ridden to Akure from Lagos.
Kelly
As a growing young lady, I had a family friend (Sosaki Soberekon) who used to ride and the interest in learning to ride like he did led us to becoming best friends. He passed on shortly after we became close and it seemed like I forgot about motorcycles (power bike). Through the years after that, I met friends who were riders and although I indicated my interest in riding, I never really got to as I soon lost contact.
In 2008 while still in the university, I met another friend who was a rider and who made me realize how much I loved riding enough to make it a constant. So, whenever we were on vacation I would join in the rides both in and out of town and that kept feeding the passion. At this time, however, even though I was in love with the sport and motivated, I didn't have the funds to sustain the hobby as it is an expensive sport.
In 2013, I was ready. I went to a riding school, paid, and learnt how to ride.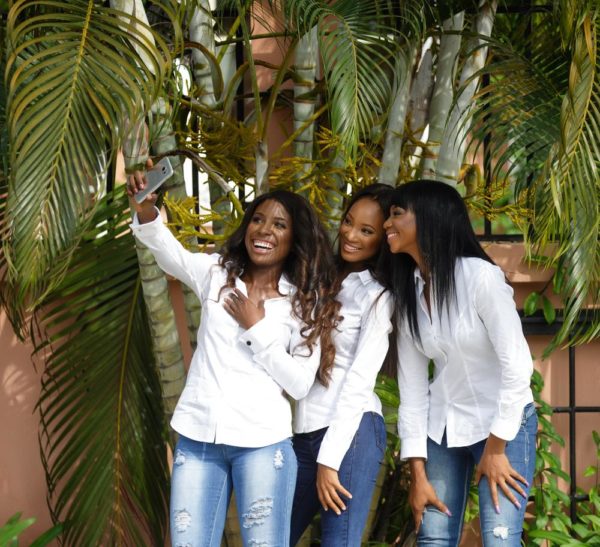 What does riding mean to you as a Nigerian woman?
Jane
To me riding means; let me rephrase that… me being a rider and a woman gives me a good measure of pride. As much as I would never compare a woman's strength to that of a man, riding to me, makes true the adage 'what a man can do, a woman can do better'. Especially in a community as ours where women are expected to fill specific roles and act in specific ways, riding means defying the patterns set for women. It is a bold statement that a Nigerian woman can do what she pleases to and be good at it too.
Ogo
Riding to me means there's no stopping me when I set my heart to do something. It means I can dare to dream and turn it into reality. I am not bound by societal norms. When I am on my bike, I am Ogochukwu Lucia Abuah, neither man nor woman; simply enjoying the openness that is ahead of me…. then I see traffic and am awoken from the reverie.
Kelly
Riding mean so much to me as it gives me a feeling of freedom, being in charge and taking control of situations. The only thing that kills tension and pressure for me is riding (If you are not a biker you wouldn't understand this, but it is a true need). Being in the biking community tends to make you compassionate; It makes you realize that there is absolutely nothing too much about life. It makes me reach out to people as often as I can.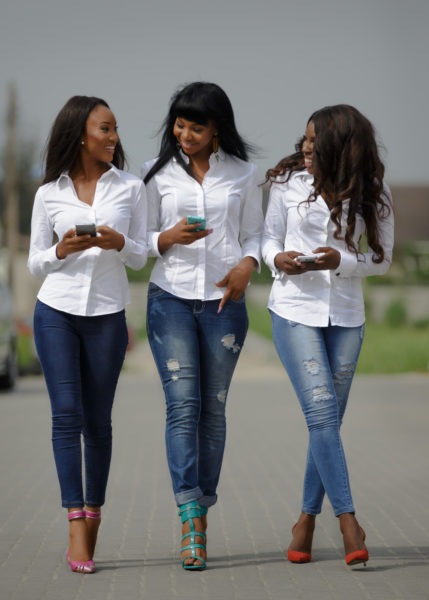 Let's talk about safety! What's your routine for safety?
Jane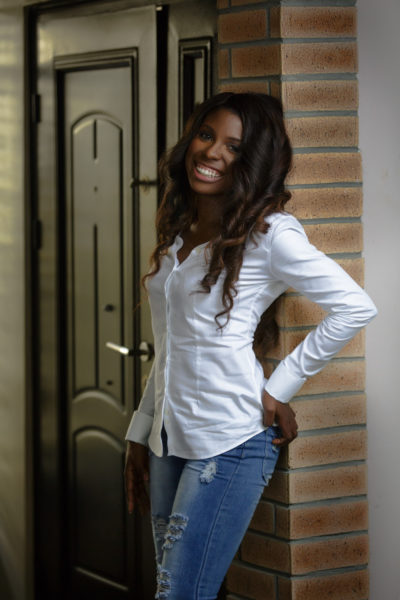 First getting the ideal kit for my bike. I am sure a lot of people do not know that your bike determines the type of kit you should have; the kind of kit for a cruiser differs from that of a street bike and from a sports bike. Nobody prays to experience ridings hazard or casualties but we always have to prepare for the worst and one of my key safety routines is for me to always kit up with the right body kit for my bike. Usually I have to order online as we do not have kits made here and even though we do have some stores that stock it, I love to get the kits that fit my style and the variety of ordering online appeals to me, hence I shop from online stores. Still on the important issue of safety and precautions, I have a customised bracelet that tells my name, genotype, blood group and who to contact in the event of an accident; hopefully I never have an accident but a rider has to take such precautionary measures.
Ogo
I make sure I am protected from head to toe even if I am just literally riding down the street. I check that my bike is in good condition – Brake fluid, Tyre pressure, lights, turn signals, Chain tension etc., before I hit the road.
Kelly
As a biker, safety is my watchword. Safety is a part of biking that cannot be overlooked and overemphasized. To be safe, you must first gear up at all times, no matter the distance of the ride. I make a conscious effort to buy original riding gear that can stand an impact to an extent. And I try to ride responsibly within my limit, on a speed I can control. I do my checks as often as possible before any ride to ensure my bike is in good condition and I also check my head if I'm in a right frame of mind.
What's your vehicle of choice and why?
Jane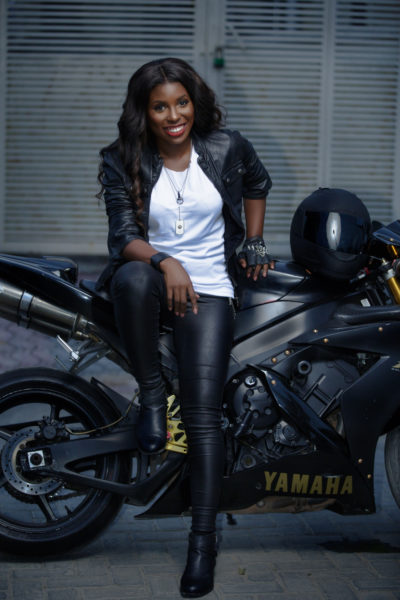 I naturally love the Yamaha 2013 R6. I currently have a Kawasaki Ninja 660cc 2013 which is a powerful bike, but the downside is its weight so I am working on getting the Yamaha 2013 R6 in 2017. The Yamaha 2013 R6 is quite easy to customise, very sexy and swift.
Ogo


Kawasaki ER6F. It is a great beginner bike. It is forgiving when I make mistakes and from what I hear, not as physically demanding as a full sports bike.
Kelly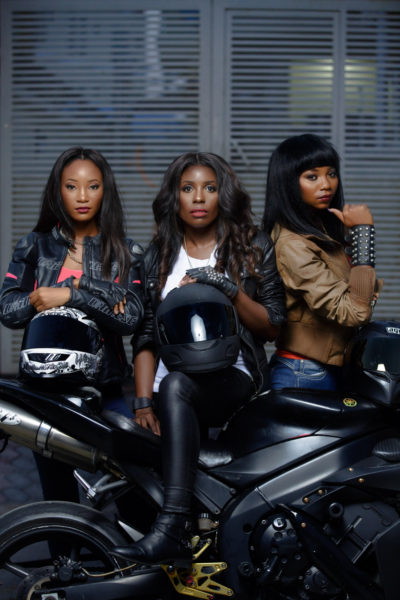 Honda CBR. This is because I feel like am being caged in motor cars. I simply feel alive while riding.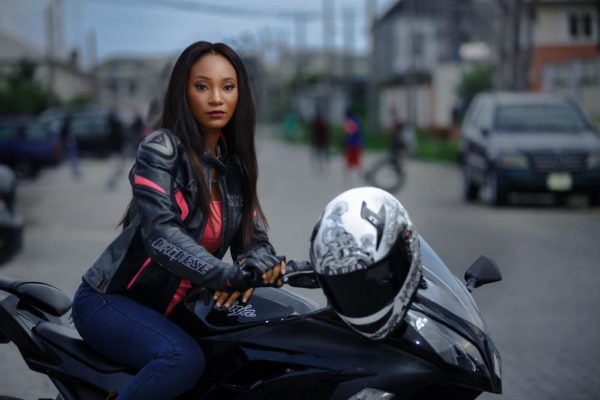 Tell us about the purchase, maintenance, and storage of your vehicle
Jane
When I wanted to acquire my bike, I spoke to a biker who deals in sales of bikes and I was glad I did, because like I said about kits and bikes, there are also different bikes for different people and purposes. So before he recommended a bike to me, we had a long conversation on the three Ws – Why did I want to ride? What did I have in mind to ride and for what reason? and Where did I intend to ride a bike when I got one? – before he decided on the bike that was suitable for my purpose of riding and my personality.
In terms of maintenance, I think I'm the biker chick who calls a mechanic to turn on my bike; so admittedly I do not know so much about maintenance except for the basics, oil, water, tyres, check my chains and oil them with a special lubricant Motul Chain Lube Off Road. If at any point I hear a sound that doesn't feel right, I call Segun, the guy who has maintained my bike since I got it. When I park my bike after each trip, I wait for it to cool off, then I put the cover over it – which is the best way I know to store and maintain. I always wash after every 3 rides and when I haven't ridden in a long time, I send it over for servicing before use.
Ogo
When I was looking for a bike, I really did not know what I wanted. After a bit of consultation with a few bikers who have been at this for a lot longer than I have, it was agreed that I would do well with either the Honda CBR 600 or the Kawasaki Ninja 650. These were forgiving bikes in their classes even though the former had considerably more power than the latter. Fortunately, we came across the Kawasaki ER6F which is a European variant of the Kawasaki Ninja 650. It is a great beginner bike. The only down side to it is that it weighs a ton.
Kelly
I got my bike off someone who after buying realized the bike was small for a man.
I try as much as possible to attend to my bike as often as possible. She is precious to me. I make sure I service her as at when due and fix anything that's needs to be fixed once I notice. Moon has a blanket and a duvet lol. She can't be beaten by rain or sun except when she is serving her purpose on earth.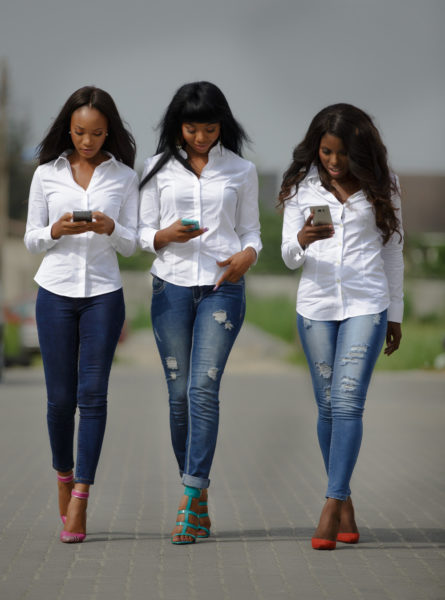 Where do you ride in your city?
Jane
I enjoy riding on the third mainland bridge because it is spacious and free during the weekend. As a rule of thumb, you do not want to be stuck in traffic wearing your kit, or you would be cooking in the heat, kit and all.
Ogo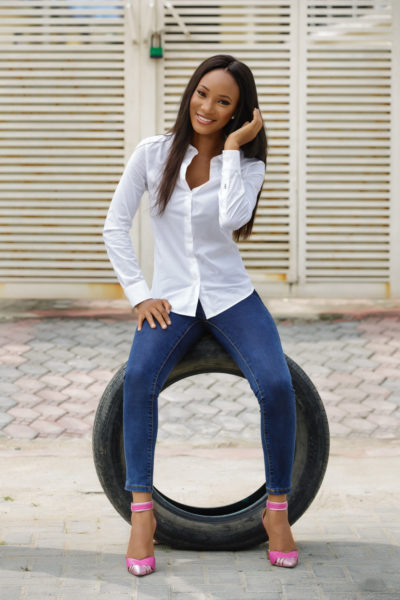 Most of my riding is in Lagos and I usually tend to ride on the weekends or public holidays with a group of friends. The roads are less chaotic as compared to the busy weekdays.
Kelly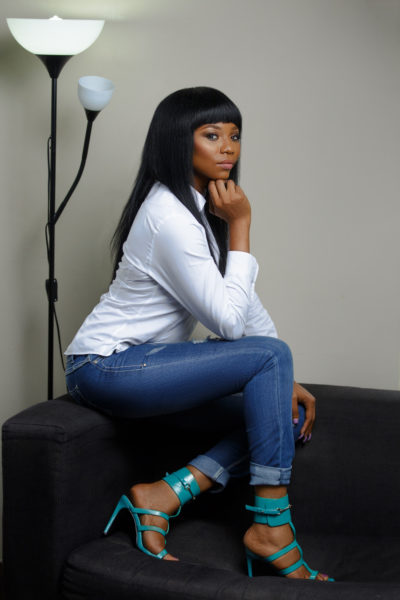 I ride every day. I ride in Port Harcourt city mainly on stadium road, GRA axis etc.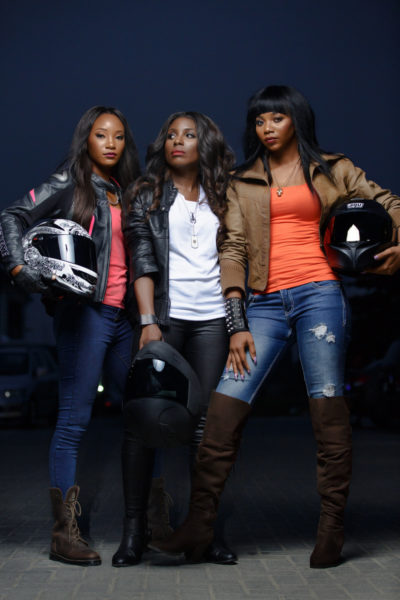 How do you feel pursuing this hobby which is predominantly seen as a male-oriented one?
Jane
I feel strong to be honest and in no way do I feel intimidated. I know how excited females get when they get on a bike with a male rider, but now it is not a man pillioning me but riding myself; in charge of my speed and responsible for my own rush. I really hope this explains it, because the feeling is just… great.
Ogo
Again, this for me wasn't about a gender sport. I got on a bike, someone gave me a ride, I found it very exhilarating. I was a passenger for a few months and then I decided I could do this. And it sort of just went from there.
Kelly
I feel great. I feel like a super woman. It has built my confidence level as a rider and even in my day to day life. To be honest, it is not as easy as it appears to be but we have tried to add a little spice to it and we are still going to do more thereby making females in Nigeria see the possibility in moving a two-wheeled machine.
Riding 2.0? Do you have any young female riders you're currently teaching?
Jane
Not for now, But I am aware of a couple of ladies which I have inspired to begin riding.
Ogo
I am not sure I have amassed enough experience or knowledge to confidently say I can teach. I typically share my experiences with other riders, if knowledge was passed, then that is a bonus.
Kelly
No I don't teach. I only have young female bikers I am mentoring. We have experienced instructors in most states of the federation who are certified to teach and get prospects ready for the road.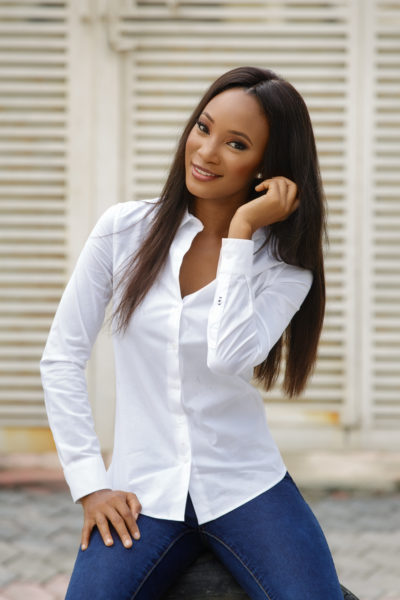 Let's talk about racing for a bit. Walk us through your routine before a race
Jane
Haa.. No o. Race for what nah (laughs). Riding a bike alone is enough challenge mbok! I can only cheer them up as they race. I do not even ride with the crowd, because the few times I did, it didn't turn out well. Before I think of riding, I try to make sure I am well rested and in the right frame of mine. When I do decide that it is a good day to ride, I get dressed in my riding pants and put on properly, my kit. I uncover my bike and clean it up after checking for the necessities to ensure a smooth ride; and then I roll it into the street, get on the bike and zoom.. off I go!
Ogo
Racing. Ah! We do not race. We do not go over the speed limit. Personally, I still get the butterflies before a ride. The further the distance, the more the flutters. My riding gear is selected on the type of ride. I usually condition my mind for an easy-going ride, full on trying to push my limits, learning something new etc. The weather also dictates what gear I'd put on.
Kelly
No I don't race in Port Harcourt. I race in Benin that is where the Bikers Trophy race takes place every year. As a matter of fact, I came 3rd last year in the female 600cc category.
How do you feel when you're riding?
Jane
Superhuman.
Ogo
Euphoric
Kelly
FREE!
***
Ladies and gentlemen… Feel the POWER!
Photo Credit:
@bloabuah, @kelz_mama & @janemichaelekanem
Photography by Tope Horpload @tope_horpload
Makeup by Tolani @artistry_by_tolani
Hair by @Ceezystyling
Styled by Jane Michael @janemichaelekanem