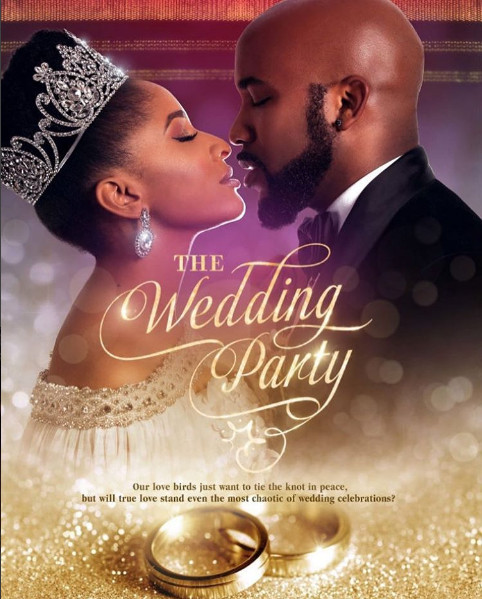 We love romance here at BN. I'm sure you can tell from all our various proposals, baecation and wedding posts that make some of us swoon and wish we were in those persons' shoes! I am hopeless like that as well, as my favorite romantic movie of all times is 'Notebook' and 'The Vow. Fortunately, both have Rachel McAdams in the mix.
Now, let's bring it home, to our Nigerian movies. I know most of you would think, we don't have romantic movies, but hey, we do! While Valentine might be way over, and the month of February slowly coming to an end, I felt in the spirit of the season, I could share my top 5 Nigerian romantic flicks that are worth watching any time you feel like a romantic date night with your loved ones.
Keeping Faith (2006)
Produced by Ego Boyo and directed by Steve Gukas (didn't even know that), 'Keeping Faith' was a movie that made me gasp and swoon.  Who can forget the on-scene romance by the couple Nadine and Princewill played by Genevieve Nnaji and Richard Mofe-Damijo and all the activities she got up to  – literally keep her man, which made up the comedic aspect of the movie. The film's perspective on love is quite clear and shows us that while you might try juju, food or any other thing to keep a man, it's actually the simplest things that make him stay.
'Keeping Faith', left me all mushy inside, wishing Genevieve and RMD become a real-life couple. If only wishes where horses!
Wedding Party (2016)
One of the best produced movies of 2016, the ELFIKE collaboration broke the box office and is still showing in the cinemas as I type. The plot revolves around a Yoruba bride and an Igbo groom and all the drama that unfolds on their wedding day, which is basically 24 hours.
While it wasn't totally full of swooning and awwwwwww, I can't get over Dozie's (played by Banky W) fight to keep his lady, which was truly sweet; or Dunni's (played by Adesua Etomi) instant change to just end a relationship she had worked hard to build.
Either ways, 'The Wedding Party' is a good watch for the month and it has also produced another couple we wish will get together as well.
Flower Girl (2013)
This 2013 romantic comedy based on the story of Kemi (Damilola Adegbite) who is dying to get married to Umar (Chris Attoh); a young man who is desperate to get ahead in his career. While some people think, it was an over kill, as all Kemi had on her mind was marriage, the bubbling relationship between her and movie superstar Tunde (Blossom Chukwujekwu) was just too cute. There was the sulking cute girl look, the macho bending to the will of his girl and much more that I just can't get enough off and I will watch this movie anytime I have the chance.
When Love Happens (2014)
Awwwwwww… "When Love Happens" is my typical 'RomCom' and like the name and my perspective of the film, love can happen when you least expect it. "Moduroti aka Mo goes on a relationship expedition when she's hired to plan her long-time friend's wedding. Little did she know that what she was looking for was in her sokoto and not in Sokoto. I particular love when she discovered her feelings and tried to hide it and was shy! Awww…
'When Love Happens' is a good date night movie, in fact it's a good chick flick as well that's guaranteed to get your love buns going.
The Contract (2014)
Peter Popolampo played by Hlomla Dandala is the ultimate alpha male and a staunch bachelor in Shirley Frimpong-Manso's 'The Contract'. Peter sticks to his guns of non-committal casual relationships, freedom and complete control until he decides to have an offspring with Abena Boateng character, played by Yvonne Okoro. What can I say I am just a sucker for love and I particularly like it when the couple grow into it.
Beautifully executed and well written, 'The Contract' earned Yvonne or was it Shirley an AMVCA for their work, made me mushy inside and I came to believe that 'true' love (emphasis on true oh!) can change people!
Have I missed out any Nigerian romcom you can see multiple times? I am all ears…