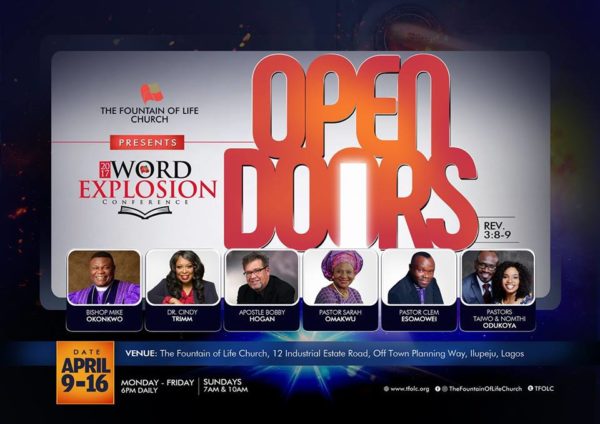 The Fountain of Life Church is set to kick off its annual Word Explosion Conference. The conference, which has held annually since inception in 2002, is a weeklong faith teaching and impartation session.
Leveraging on the dynamic experiences of renowned preachers, both home and across the globe, Word Explosion has become very much anticipated by members of The Fountain of Life Church as well as the entire body of Christ in Nigeria.
Date: Sunday, April 9th – Sunday, April 16th, 2017.
Time: Mondays – Fridays (6.00 pm); Sundays (7.00 am & 10.0 am)
Theme: Open Doors
Venue: 12 Industrial Estate Road, Off Town Planning Way, Ilupeju, Lagos.
The speakers at the conference include Pastors Taiwo and Nomthi Odukoya, Bishop Mike Okonkwo, Apostle Bobby Hogan, Dr. Cindy Trimm, Pastor Clem Esomowei and Pastor Sarah Omakwu.
The conference is free and open to all.
————————————————————————————————————————
Sponsored Content