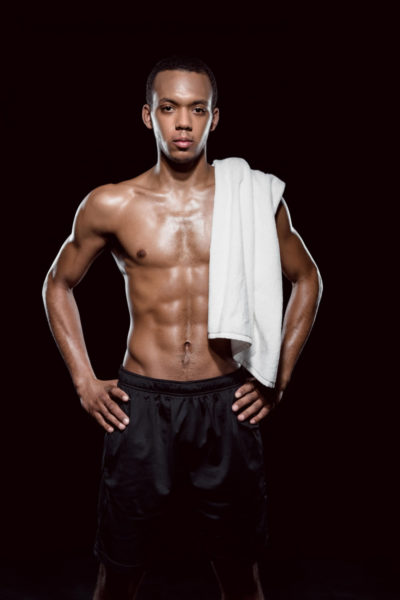 Have you ever wondered why it is just easier for some men to get female attention? Sometimes it is that they get more admiration from other men too! They have this captivating and arresting aura that commands the boardroom, the bar room, and the bedroom.
From real icons like Odumegwu Ojukwu, Nelson Mandela and Barack Obama to fiction characters like James Bond, Tony Stark, and Bruce Wayne, some of the most daring and successful men are greatly admired have one thing in common: the alpha male status.
Alpha males always find themselves in leadership positions or at the top of the social status hierarchy. Usually, they are the ones described as the "real men." They possess power, wealth, and mates (women) – all which they usually attain through dominance, intimidation, and physical prowess. Sometimes, they achieve it through compassion and cooperation.
However, nobody is born an alpha male. While some people are born with certain characteristics that make it easier for them to achieve the status alpha behavior (such as extroversion, assertiveness, and social charm), being an alpha male is more of a state of mind.
To achieve it, you have to deliberately mold yourself and stay determined to be different from the "Beta" and "Omega" men who are weak, submissive, low class or even crass.
If you are reading this article and wondering whether you are an Alpha male or not, chances are you probably are not one. All hope is not lost though.
Here are five tips that'll help you reach your full "Alpha male" potential.
Build up your Confidence
You cannot be timid or shy an alpha male. You must b believe in yourself and your talents no matter the circumstances or what people say. Stand your ground, hold fast to your opinions and let your confidence shine through. If you keep second-guessing yourself or hedging your statements you will never become an alpha male. Convince yourself that you are awesome and worthy of admiration and most importantly, let it reflect in the way you carry yourself.
Have some swag; look into people's eyes when speaking to them. Maintain powerful, open, and confident body language. Be careful not to overdo it and become a braggart. Also, do not also become proud. Pride is actually a sign of weakness. When you are proud, you are vulnerable, because you are affected by compliments and criticism.  You are easily manipulated.
Staying humble and real ensures you are more powerful and self-assured…core traits of an alpha male.
Become Self-Reliant
Yeah, we all need somebody to lean on sometimes, but in the face of difficulties and lack, it is important you learn to lean on yourself and persevere.  An alpha male doesn't need to rely on others to pay his bills, make his meals, for emotional support, or for strength. He gains strength from his inner core. This strength comes from knowing that no one owes him anything and he is not entitled to anything that he does not give himself.
You have to learn how to assist yourself and push past obstacles. Learn how not to be afraid of failure or setbacks. Be resourceful and learn to thrive on your own rather be a cry baby who gives up at the slightest discomfort. Break free from you parents. Go off on your own. Have faith in yourself and pave your own path.
Be great at something
To be an alpha male, "good" will not cut it. There must be something you can say you are great at. Good is too common and an alpha male is all about being uncommon.
Be competitive, but be sure your competitiveness is coming from a place of strength and power rather than a place of insecurity. As an alpha, you will be expected to master one thing.
Cut out your half-assed approach to your craft and life in general. Set your mind to something and follow it through. In fact, pursue it to be the best at it. Every alpha male has that one skill that he pursues to perfection. This trait usually plays a major role in attracting people to you.
Have values and stick to them
You cannot be someone who is afraid to stand up and give his opinion for fear of being seen as critical or judgmental. You cannot go with the flow. You must know what you value, define them and stick with them. That's what it takes to be an alpha male. An alpha does not analyze situations or "judge" to belittle others; rather he calls himself and others out, if it needs to be done.
He is not interested in pleasing anyone or kissing ass. He is not a pussy. He stands by his values and surrounds himself with good, strong, honorable men who hold same values. To be an alpha you must also work toward growing your mind and spirit by pushing yourself at any opportunity.
Basically, you must stand for something that you feel is right, even if it means you have to stand alone. Also, you must learn to own up when you make a mistake. Have honor. If you don't, you can't be a man, and you can't be an alpha male.
Groom yourself
You cannot be an alpha male and look shabby. Your physical appearance comes into play as well. To be an alpha, you must have the body of an alpha.
Exercise. Build your body. It is not about becoming a beaux or ladies' man, it is about self-respect. If you sorround yourself with  people, it will be hard to take you seriously or even approach you. If you are well groomed, however, people will automatically assume that you're ready to handle whatever level of scrutiny they can throw at you. They will respect you more. Use good perfume or deodorant.
Most importantly, ensure you have impeccable dental hygiene. Fresh breath will not only make it easier for people to listen to you, it also positively affects your health.
The truth is, not everybody can achieve the alpha male status. It takes a lot of commitment and determination. However, once attained, it gives you an edge over others and you shine brighter than you ever imagined.
Photo Credit: Dreamstime | Lightfieldstudiosprod