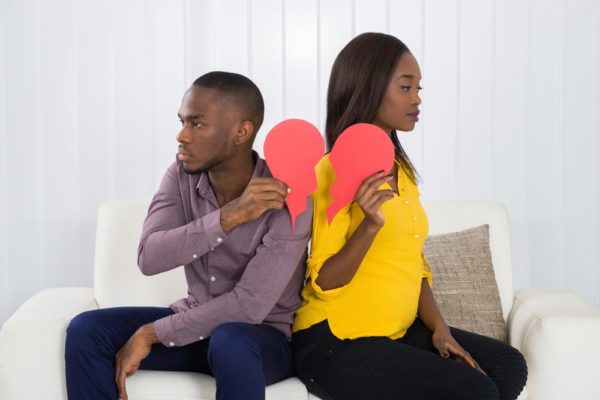 Can you really be friends with an ex? Is it possible to switch off every romantic feeling you have had towards someone, and instead have a platonic relationship? I would like you to think long and hard before you answer this question. If you were in a committed relationship for years and honestly thought it was going to lead to both of you spending the rest of your lives together, and then you break up for one reason or another… would you be able to stay friends with such a person, knowing the deep feelings you once had for each other? Would you hold on to a piece of them or let it go completely?
A recent conversation with a close friend of mine had me pondering over one question. Could I remain friends with an ex? This friend of mine, who I shall call Kay is one of the nicest and most humble people I have ever met. We went to the same secondary school in Nigeria and instantly struck up a good friendship. We were inseparable and anywhere you saw me, she was never far behind and vice versa.
We were each other's support system. When she got her heart broken for the first time, I was there to cheer her on and remind her of how special she was and vice versa.  However,what made us tight was far from issues relating to boys; she was someone I could relate with on everything and anything ranging from education to sports and entertainment in between. We went through school with an unbreakable bond and I guess I always thought it was going to stay the same. However, I subsequently left Nigeria in JSS3 for the UK and this affected our relationship significantly.
After secondary school she also came to the UK but we attended different colleges and started new lives with new friends. We tried to save our friendship through occasional visits and constant phone communication but with time the distance drove a wedge between us.
Furthermore, we went to different universities. We had stopped talking everyday and barely spoke an average of once a week. I remember the first time she told me about the wonderful guy she met at her school's Afro-Cab party (the African-Caribbean party is an annual party held for student of African and Caribbean descent, though other races are allowed to attend). She was so excited when she was telling me about him and I knew that my friend had fallen hard and fast for 'Mr wonderful'. I asked her to tell me more about 'Mr wonderful' because I wanted to ensure she was making the right decision.
She told me, he was a student from another university who was visiting one of his friends in her school. His name was Ken; he was 6 foot tall and very handsome with nice dimples. It was clear my friend was taken with this guy, so I treaded carefully in order not to upset her. I asked her to be careful and take it a day at a time. This was because she tends to jump head first into relationships only to have her heart broken. We spoke for a few more minutes before hanging up.
She began dating him and everything seemed to be going well in the relationship. I was happy for her; she had found a prince after kissing many frogs. They literally did everything together and went everywhere together. He made my friend happy and for that I was thankful. Their respective parents knew each other and it appeared to everyone that once university was over there was going to be a wedding.
After university, she and Ken moved back to Nigeria, but I went on to do the Legal Practice Course in London. During that year, due to the workload I was unable to frequently keep in touch with her. I came back to Nigeria expecting the marriage plans to be in full swing but she told me Ken wanted to be financially stable before getting married. I told her it was a good idea as there was no sense rushing into marriage without been able to stand on your own feet.
Three years on and I got the shock of my life. Kay's sister called me and told me that Ken ended the relationship just out of the blue. He said he no longer felt the same way and thought it better to let her know than to lead her on or end in a loveless unhappy marriage. It was so unexpected and my heart went out to my friend, because I knew how much she loved Ken. I knew her heart would be shattered by the break up, so I made sure to be there for her in any capacity she needed me to be.
However, even though they were no longer together, they decided to remain friends. I knew it would be hard for Kay to be just Ken's friend, but I didn't say anything to that effect.
She had her mind made up and there was nothing I or anyone could say to convince her otherwise. She was still in love with him and hoped that by staying friends with him, he would fall back in love with her. It was wishful thinking and I am sure she also knew that deep down, but was just in denial.
Ken started a new relationship with a new girl and yet Kay was there as the ever-dependable friend. She became his backbone and the person he confided in about his relationship. I noticed a significant change in my once vibrant and outgoing friend. She stopped going out and I tried on several occasions to get her out of the house but failed.
She always had one excuse or the other but I knew it was because she wasn't over Ken. She didn't want to go and meet someone new, because she hoped he would come back once he realised he made a mistake.
That day never came and when he proposed to his new girl, she knew it was time to finally let him go. She still loved him, but it wasn't a healthy relationship for her.
It was time to move on and start afresh. He tried on several occasions to reach out to her but she changed her number, blocked him on all her social media pages determined to never look back.
During this last phone conversation she had informed me that she had met a new man. Although, she wished she hadn't wasted time waiting for Ken to come around, she was grateful for the experience and the lesson taught.
According to her, breaking off all communication with an ex helps you heal fully, whilst staying friends prolongs the pain. She knew the signs to look out for in a relationship and not to jump into any relationship with both feet.
From her experience and others, I have come to the conclusion that it is better to let go of everything. Once a relationship has ended, there is no point prolonging the inevitable. I would rather have the whole of a relationship than a piece of it. What about you?
Photo Credit: Dreamstime| Andrey Popov