Hey Hey! Feyikoya here 🙂
This time I'll be diving right into things you should do when you find yourself in Thailand.
If you have a bucket list of destinations, Thailand should be on it.
If you're really not one to travel, at least see Thailand.
Okay? Okay 🙂
Now, please get comfortable, grab a glass of something and let's go to Thailand!
It was as though falling in passion with travel in Valencia was not enough, Thailand decided to make my love for travel even more clear (just in case you doubted Feyikoya.)
Just the thought of my experience in Thailand is refreshing. It was an unrefined, genuine level of happiness.
This is my public announcement: This post will not do Thailand justice.
Ten days in Thailand was truly an amazing experience. Maybe it was about having the right company or about having an impressive travel package.
You see, a good friend of mine is from Thailand so we (5 of us) only paid for our flights, as we had free accommodation and transport for 2 weeks. When it comes to Thailand, planning is essential. There are so many islands to see, places to visit and a whole lot of activities to do! Foreplaning is truly the best way to get the most out of any holiday.
Noting all that…
Things To Do in Thailand!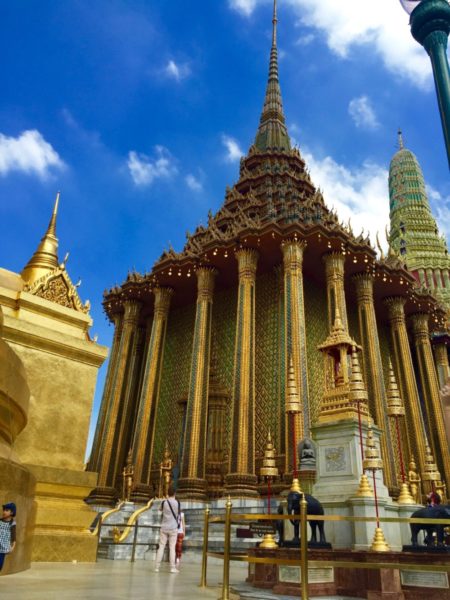 The Grand Palace
As the name implies, this is grand. Magnificent, if I may add. The Thai kings stopped living here in the 20th century but it's still used for ceremonial occasions. Being located in the heart of Bangkok, this was the first activity on our list. The beauty really is in the details. I have never seen anything like it. So make sure you set aside enough time to marvel at its beauty, take loads of pictures and don't forget to have your ID, cash and camera with you.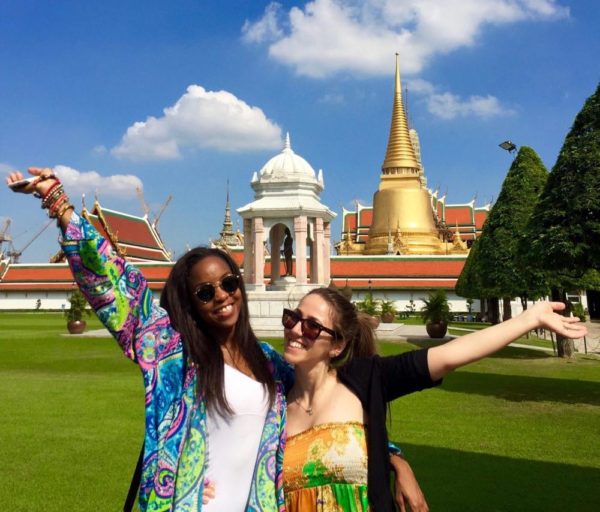 P.S. Ensure you are covered up as it's made of temples and you will not be granted access otherwise.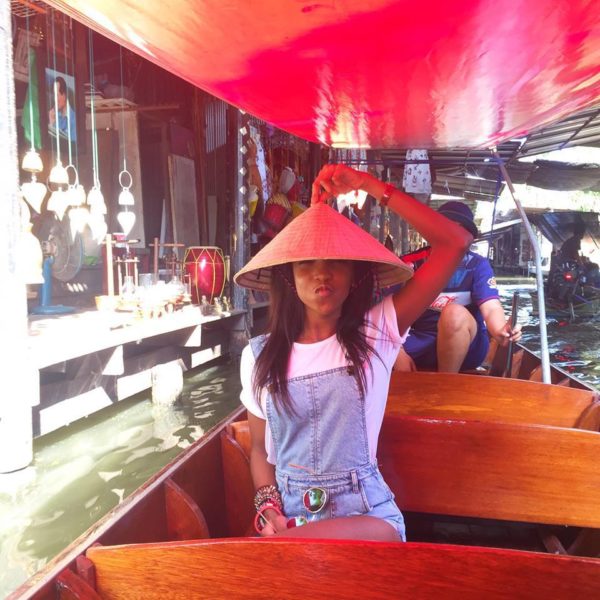 Damneon Saduak Floating Market
I had come across a beautiful picture on Instagram of a girl on a boat in a floating market and it was then I made a decision to replicate the picture. Other than being compelled by a picture, the floating market was also on our to-do list and I'm really glad this happened.
It was a totally unique and exciting experience. Navigated by a boat, you get to explore the local lifestyle and shop too. Vendors sell from their stalls on both sides of the river and also from their boats. It's really important that you haggle when buying something, as they can tell when you're a tourist so they inflate the price.
My friends were really impressed with my bargaining skills (I mean, as a Naija babe) It was such a cool way of shopping. You get to buy souvenirs, fruits and food. A floating market is rare to come by, so if you get the chance to explore one, you totally should! How do you like my hat I got from the market?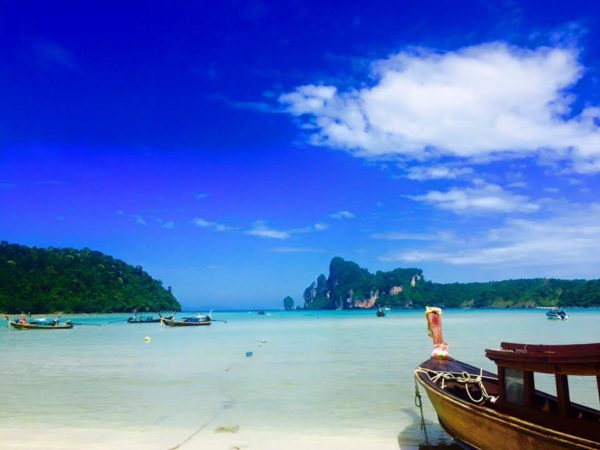 Phi Phi Islands
A definite YES to "PiPi" Island (the "h" is silent). There are lots of beautiful islands off Phuket's coast and the Phi Phi Islands tour takes a whole day. My experience here was something out of this world; I cannot quite describe it. I even had a magical night, star gazing for an hour on the roof top of a yacht. Sigh. Words fail me writing down my Thai experience and sadly, my pictures cannot do justice either, as I dropped my phone in the sea whilst trying to take a picture of the cutest monkey at monkey island. My pictures, videos, gone. No backup on ICloud.
To be honest, that's when the real fun started, I was forced to enjoy the moments fully and not think about social media.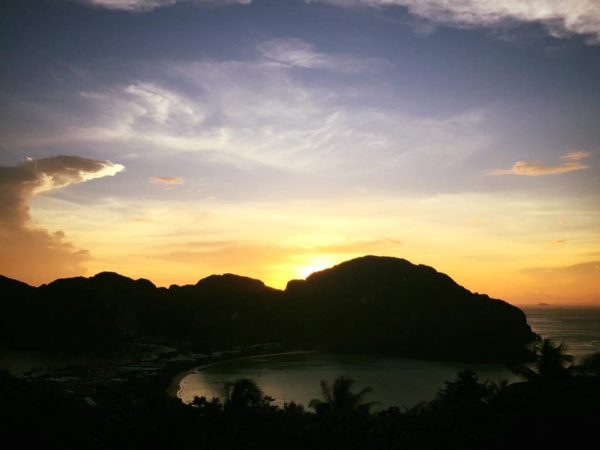 Tip: Please take a waterproof bag for all your valuables because you will go to the beach.
The beach has also got a good nightlife. Loads of bars/clubs to choose from. I quite enjoyed the fire shows as well. I cannot forget to talk about how clear the water is. While swimming and snorkeling in the sea, seeing all the fish so clearly was so amusing. Aiman seems to think he saw a shark. Okay, he saw a baby shark and a few people were curious they wanted to have a look. Err, I'm not that adventurous. Thank you. So yes, I ran back to the boat. Oh, there's also a "Mosquito island", no thanks. There are enough mosquitoes in Lagos to make a lasting experience.
While at Phi Phi, make sure you go to "Phi Phi Viewpoint Sunset"- The highest point of the island for stunning, breathtaking views and pictures!
Tip: Don't forget your beach towel, sunglasses, hats and sunscreen.
Elephant Village
Ah, yes, the reason why I'm here. You see all it took for me to agree to a Thailand trip was knowing I would ride an elephant. I know Thailand is not the only place to do this, but I chose Thailand. Believe me when I tell you that this moment in this picture below is, The-Best-Moment-Of-My-Life thus far. I hope to experience more. I kid you not. It's a dream that actually came true.
So I know I need not write too much. Just Do It 🙂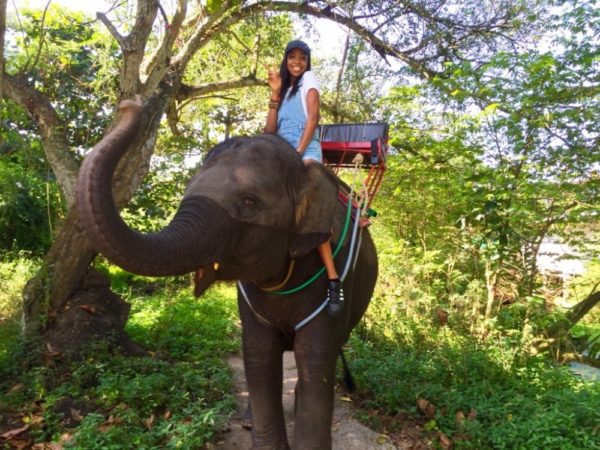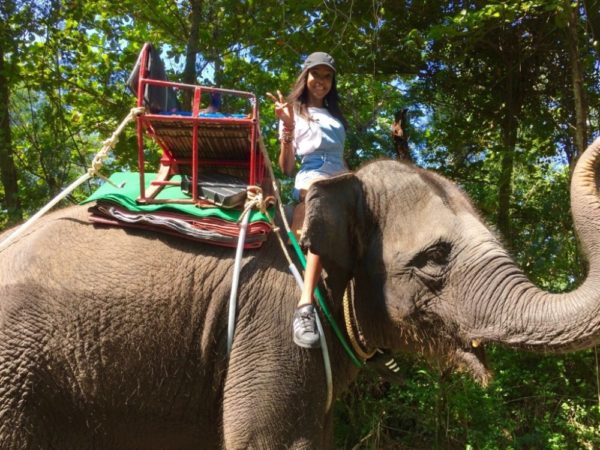 My friend Ifeoma, also had the opportunity to see Thailand, and here are a few of her must-do activities for you!
Hanuman World
This one's for the adventurous people. It's an exciting treetop zip line adventure. Depending on an "adventurous" scale of 1-10, you get to pick various packages. I'm a 10, so I went for the highest and longest zip lines :). It basically had me dodging between gigantic old trees in a thick hillside jungle. Totally got me feeling like "George of the jungle"
Simon Cabaret Show
I would say, no tourist should miss this. It's the ultimate musical experience.
Performed mostly by lady boys, you get a one of a kind, spectacular experience.
I guess it's no surprise that cameras and phones are not allowed in the main auditorium.
Like I mentioned earlier, there are A LOT of things to do in Thailand. You can opt in for a full day tour of Phuket city which comprises of a monkey and snake show, elephant trekking, BangPae waterfall, a visit to Big Buddha, Wat Chalong Temple, James bond island, Cashew Nut Factory and the Bee Farm. Also try out the BEAM Club(it's amazing here), The Full Moon Party (In February), Chatuchak weekend market, Food stalls in Sukhumvit Soi 38, Sky bar @Lebua, Maeklong railway market, Wat Arun / Sala Rattanokosin for sunset.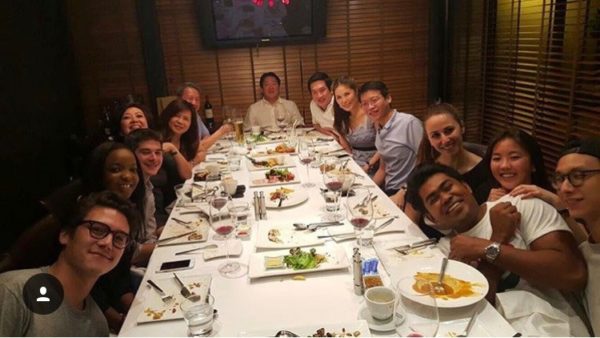 If I don't stop typing now I could have you reading forever. I've not had the chance to tell you about their food and how my love for Thai food increased from 10% to 100% or how everything is incredibly cheap and that the locals are very welcoming and friendly.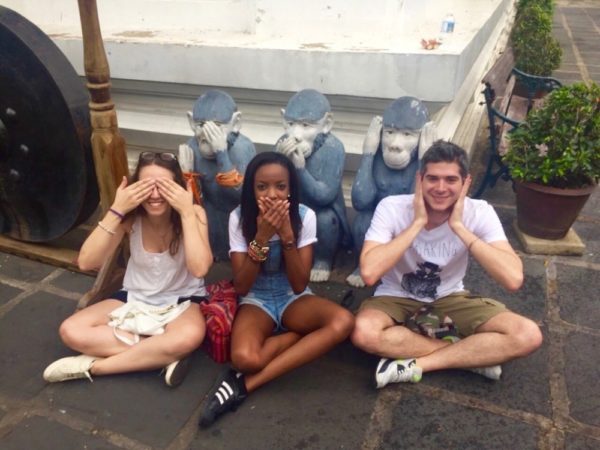 Tip: November to February is known as the best time to visit Thailand as the weather is generally at its best.
We spent the last few days at the Andaman white beach resort in Phuket.
Simply Amazing.
(I've got no pictures ? )
We also swam in the rain!
Thinking about it, I had a lot of "firsts" in Thailand:
first time swimming in the sea
first time snorkelling
first time kayaking
first time getting capsized in the middle of nowhere ( a story for another day)
first time eating frogs
first time swimming in the rain
first time riding an elephant
first time in a floating market
first time star gazing for an hour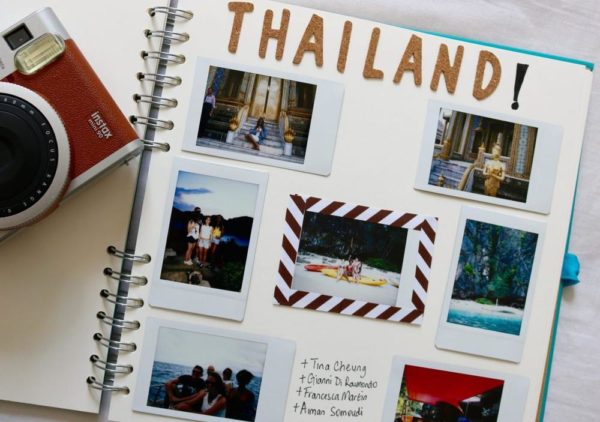 Saying Thailand is "Amazing' or "Splendid" or "Beautiful" is just not enough.
These words are underrated, just doesn't do Thailand justice.
I had the best days in Thailand and I will do it over and over and over again.
Thinking all about it is so nostalgic and it's only right for me to ask you…
Seriously,
Why Do You Not Travel?
With Love,
Feyikoya
Please share your thoughts in the comment box!
Have you been to Thailand? What activities did you do?