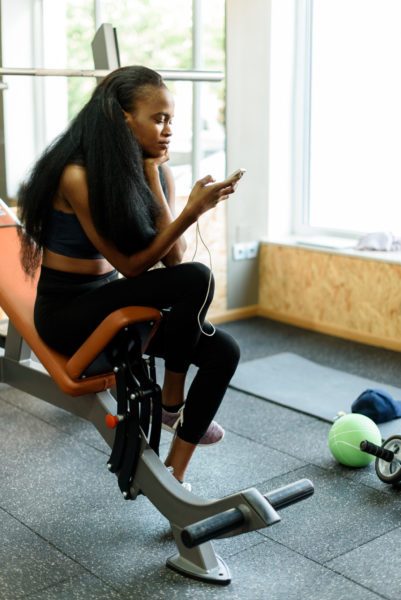 Over the years, the healthy lifestyle of eating well and exercising has been popularized in Lagos; as such, a number of gyms and fitness centers have sprung up around the city, giving fitness buffs the opportunity to pursue their endeavors.
Aside from these health enthusiasts, there are a number of other kinds of people who visit these gym under the guise of exercising. While these people vary in character, there a few with specific traits you are bound to see in any gym across the city.
Sele the Selfie queen
Selepri's is forever indebted to The Chainsmokers as they produced the song "..but first, let me take a selfie" which pretty much sums up her fitness plans. She is kind of girl who has hot sauce in her bag, so she attends her all classes dressed in complete designer work-out apparel and accessories with full-face makeup (the kind people wear on their wedding day). She fancies herself a strong member of #fitfam and so the first thing she does when she arrives the gym is go to the mirrors at the gym and takes some photos of herself. After that, she takes hundreds more pictures of herself pretending to use the machines. From taking pictures, she becomes absorbed with her phone, obviously posting the pictures on social media with hashtags such as #AtTheGym #WorkIt e.t.c
While her gimmicks do not affect you seeing as it is not your business, you have to bit your tongue and stop yourself from yelling "Cut the crap and get off of the equipment!"
Jimi the Gym Bobo
No gym can ever be complete without Jimi. The stereotypical gym brother, he is buff to death. In fact, he is the African version of Adonis. His body is well toned, with bulging muscles and strong ripped thighs. Jimi is in an unending competition with Flavour N'abania, so you will never catch him exercising with his gym shirt on. He is not always the social butterfly, but he is the reason ladies and even men flock the gym and stay motivated.
Zite the Over-zealous
Zite does not have half of Jimi's looks, but he is the most frequent at the gym. In fact, some people believe he is gunning to become a personal trainer, because he is always available, even when the gym trainer is not there. Immediately he gets to the gym, he hogs one or two pieces of equipment at a time, not caring that other people want a chance. He did not make the cut for the state wrestling team, so he has a point to prove.
If you are friendly, he will give you pointers on how you can possibly improve your workout efficiency and the best protein shakes to take, or even the healthiest smoothies…without you even asking. Although his advice is helpful, you find them irritating anyway.
Sola the social prefect
The best part of Sola's day is when she gets to the gym. The trainer and other gym members are like family to her, so she feels the need to, not only update them on her life, but also advise them on how to live their lives.
Once she gets to the gym, she gets on a machine and after one or two sets, she starts to talk with other people at the gym. She welcomes the newbies, shares with the entire gym their weekend plans, gushes over the latest movie they saw, or goes around asking for advice on how to deal with her mean boss.
If no one is willing to accommodate her social antics, she stands around the machines, loitering and talking obnoxiously loud on a non-emergency phone call that may take forever. At the end of the day, the only thing that gets a proper training is her mouth. Sola's distracting and annoying behavior is the main reason people wear headphones at the gyms.
Kunmi the Cougar
Kunmi is a bored house wife who is looking for a little side action from a young strapping man, and where better to meet such a man than at the gym? She drives the most ostentatious car and arrives the gym garbed in gym clothes not appropriate for her age. She knows how to assert her presence, and how to lure possible victims with generosity. Once she picks a target, she pulls every string to get his attention and devotion.
She hardly ever gets on the machine, but she is always the last to leave after every class.
Do you know any other type that should be on this list?
Photo Credit: Andrii Kobryn | Dreamstime.com