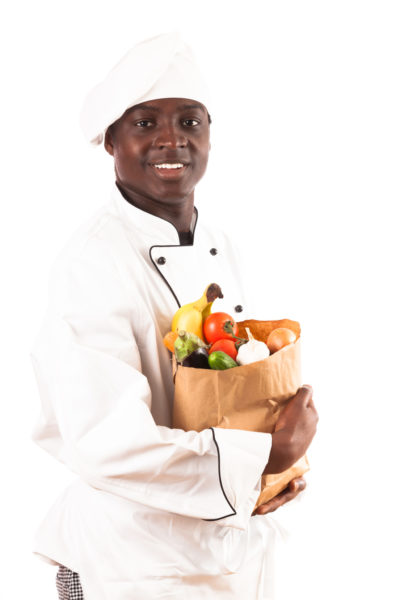 Do you suspect your wife/girlfriend of fraud? Do you think the EFCC should expand the whistle blowing policy to kitchen affairs?
Are you suspicious that her constant claim that "everything is expensive" in the market to be more fiction than fact?
Is your better half always rocking new clothes and you suspect the purchases are funded from your stomach infrastructure budget?
If you answered yes to any or all of the above then the men empowerment series is for you.
These step-by-step simple recipes will help you take back control of your stomach, and ultimately your life. This is the real definition of Pepper Dem Gang.
Let's start with the basics.
To boil you need water
To fry you need oil
To have something to boil or fry you need money (In this case N500)
Today's recipe is for Egusi Soup
Shopping List
One cup of blended Egusi —–N150
Cray Fish —–N50
Tiny Palm oil —–N100 (Beg the market women, they will sell it)
Pepper —–N50
1 small piece of Dry fish —–N100
Iru/ogiri/dawadawa —–N50
Meat —– Hahahahaha You want to eat meat on a N500 budget. ROTFL!!!!!
Instructions
Heat your palm oil in a pot till it's hot, then add your pepper, Egusi, blended crayfish, Iru and 1 cup of water. If you want the soup to last you can add 4 cups. Add some salt to taste.
Stir and cover. Allow it to cook for a few minutes. Once done, add your dried fish. Let is simmer for a further two minutes. Turn off the heat and you're done!
Now watch your wife's/girlfriends face drop when you present her with your N500 Egusi Soup evidence.
Technically the soup isn't N500, because you used her gas/kerosene. Let's not forget the matches. Plus, you'll probably find some meat that she cooked earlier, in the freezer to add to your soup.
I'm also sure you didn't beg any market woman to sell you N100 palm oil, you just used the one at home. Then, there is the small case of the depreciating value of the pot and cooker which will not last forever, and will have to be replaced at some point in the future. But nah! We will not bother with those frivolousness for now. The most important thing is that you have nailed her and you can finally start eating decent meals for N500.
However, that Egusi soup isn't actually a complete meal, but I'm sure you can quickly make some Eba with the garri she bought earlier in the week; or you can boil some rice from the stash she keeps in the cupboard to go with it. Also, not really part of the N500 budget, but that evidence in not admissible in the court of you!
If you find yourself deep down longing for the rich Egusi soup that you are used to eating with the Ponmo, Goat Meat, Periwinkles, Panla Fish or Cow leg; plus, the heavenly Ugwu leaves that garnishes and complements this soup.
Stay strong don't waiver you need to teach her a lesson. Eat your Egusi soup with pride; that'll teach her to try to scam you in the future for quality meals…that you may or may not miss.

Let me know if you've ever made Egusi on a N500 budget. Also, if we upped the budget to N2000, what ingredients would you use to make an epic pot of soup?
Love,
Mrs Kush
Photo Credit: Lead Image – Nullplus | Dreamstime.com | Egusi image – author