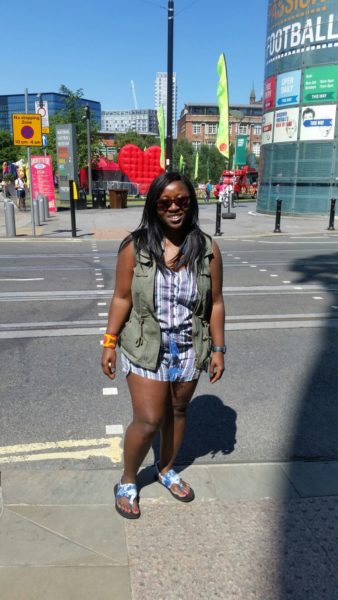 "Once you've seen one English city, you've seen them all" – those words jarred me out of my reverie. A few minutes before then, I'd been looking out of the window from my seat in the taxi – eyes devouring everything they could about this new city that I had just landed in. I didn't quite agree with that statement, because something about Manchester seemed different to me. It was the air, the vibe of the people – living.
A huge red heart on a banner flayed from the exterior walls of the airport loudly declaring love for Manchester.
I ❤ Manchester.
It was a determination to overcome fear, borne out of the recent terrorist attacks, that claimed so many lives.
Love trumps hate.
I
❤
Mcr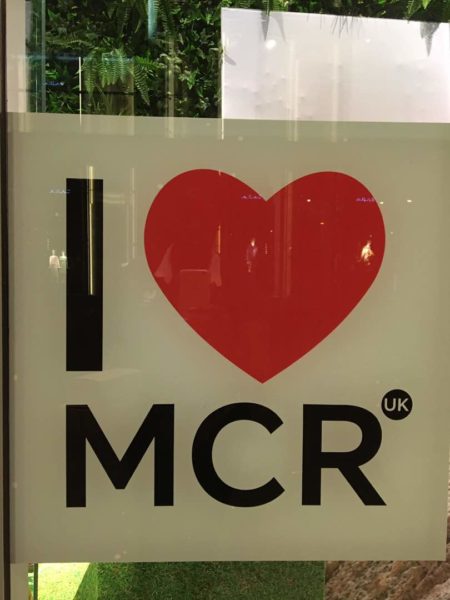 For the entirety of the 2-day trip, these words will continue to pop up, and reverberate through the experience in the city.
For its Celebs Around Town campaign, KLM Royal Dutch Airlines had selected Manchester as one of the four destinations to promote, from Lagos.
Travellers, who wanted to experience this old English city would get a chance to do so, especially through the eyes of their favourite celebrities. Adekunle Gold was chosen for Manchester, and when BellaNaija asked me to go, it was double joy.
Gold.
I slept through the flight to Amsterdam, waking up intermittently to drink water and stretch my legs. My tiredness met succour on the flight, as it was a smooth experience.
I arrived at the departure gate in Amsterdam and met up with Adetola Aluede from KLM Nigeria. Warmly introducing herself to me, she asked how my flight from Toronto was. I, bouncing from excitement (tiredness and jetlag be damned) quickly scanned the lobby for Adekunle Gold. Hmm, no Gold. 'Tola, bless her heart, must have read my mind, gently tapped the seat beside her…I took my cue and sat down. Yes, yes, tell me…. What time does he get here? I have questions!
Her undiscovered super powers must be mind- reading because she gently said 'He can't make the trip. His passport got stuck at the embassy'
She paused long enough for my emotions to adequately respond to this news. Her eyes must have been on the bobbing in my throat, because she continued… 'Kunle Afolayan will fill in for him. It's going to be okay. You're going to enjoy it'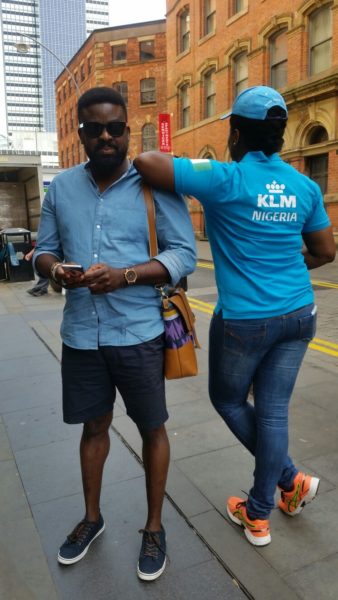 At the time, I did not know how that was going to happen… I mean, is it by replacing one Adekunle with the other?
Pfft!
Looking back now, the memories of the past two days will last for a very long time.
Settling In & Pre-Tourist Waka
We landed in the morning, but check in at our apartment wasn't until half past two, so we had to find something to kill time. It was a good excuse to start exploring where we were. Located at the heart of the city, our apartment was perfectly situated for our needs. Manchester Arndale mall was right there – a shopper's joy.
I was very tired, but it was such a beautiful day to be outside, so Tola and I went shopping. We kuku didn't have access to our rooms, anyway. The guys were knackered, and all attempts to get them to accompany us to the mall, was futile.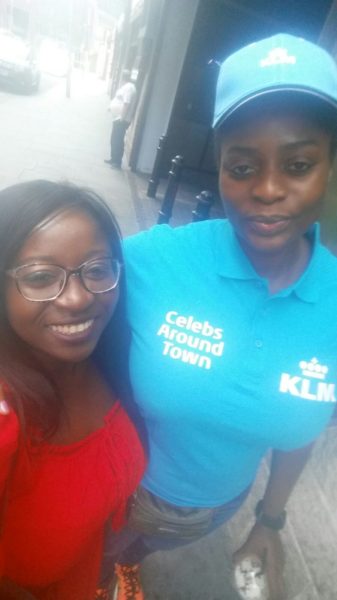 When we finally returned to our rooms, armed with bags of shopping, it was pointless to resist the sleep when it came calling for its due.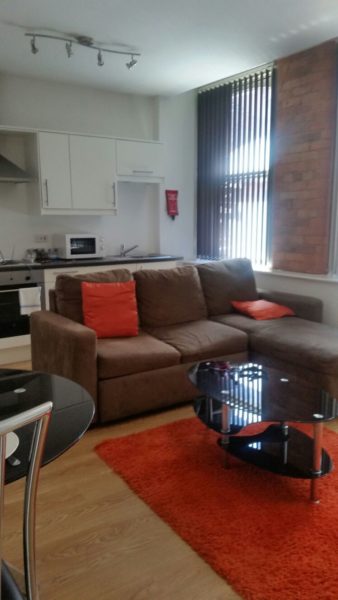 By dinner time, fans of Adekunle Gold sent in their suggestions of where they wanted him to go. So, his able and very competent replacement, Kunle Afolayan drew up a plan for our movement schedule. Top on the list? Old Trafford stadium – home to Manchester United football club.
Glory Glory United
It was a hot day… very very hot. When I stepped out onto the streets, it took the utmost will of someone determined to have fun to endure the weather.
We arrived at Old Trafford and quickly went to book our place in the tour. There were loads of tourists like us outside, taking photos, but we promised ourselves we were going to come back to binge on photo taking.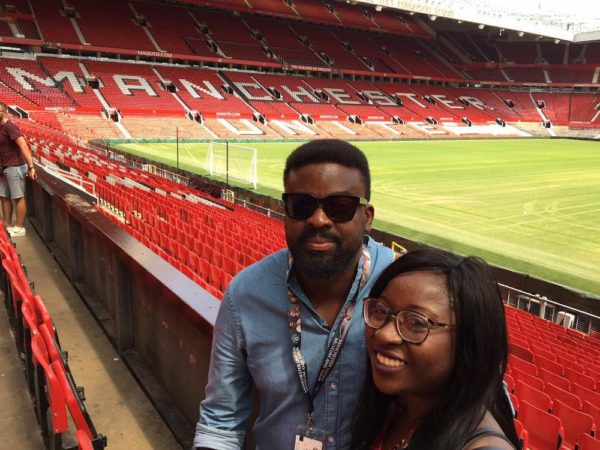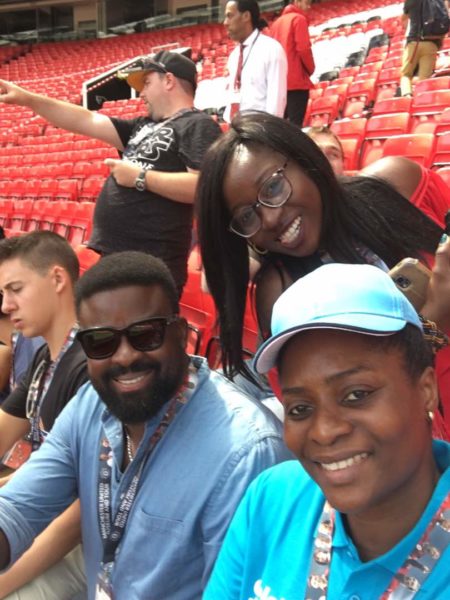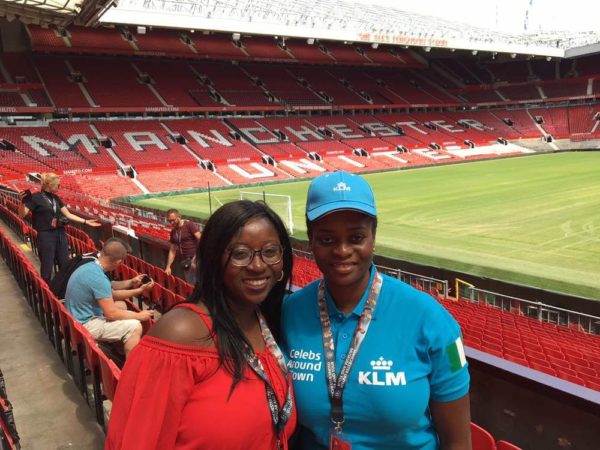 Seeing that stadium in real life is something spectacular. Three of us sat in the bleachers, as we listened to the tour guide tell us the history of the club, its players, sponsors and other notable moments. It is a one-hour tour that costs less than £20, I would definitely recommend this for any football fan visiting Manchester. You don't even have to be a football fan to feel the wonder of simply being in that space.
Kunle isn't even a football enthusiast and he enjoyed the trip so much. Me? I was just happy to be in that space. The tour guide had loads of information, so we didn't really have too many questions. It was fantastic. Don't let me tell you about it… visit, too.
We left Old Trafford – an excited party of four (Tokunbo, the Golden Effects crew guy, simply could not get enough of the shots from the stadium. Thanks to the sun, the light was perfect from the photography perspective.)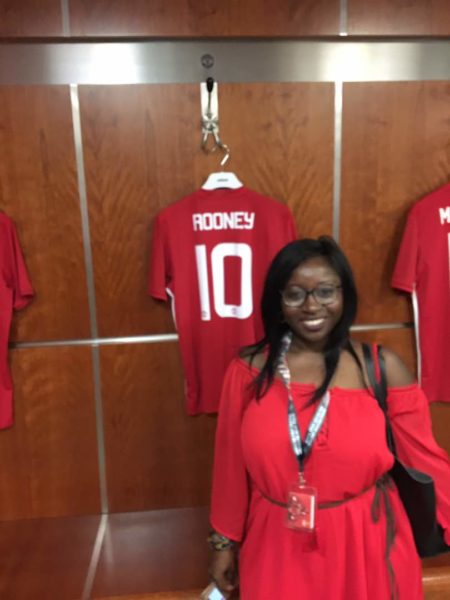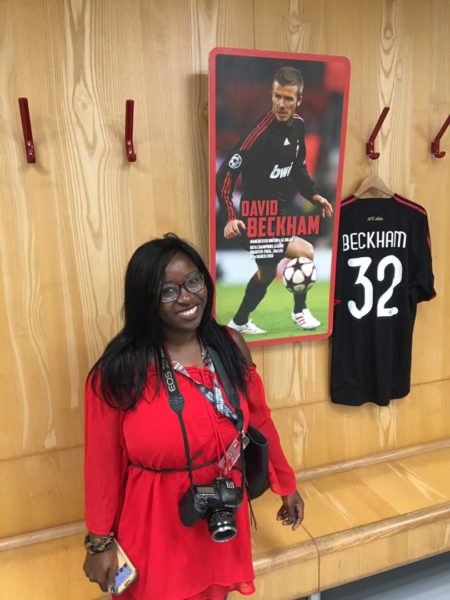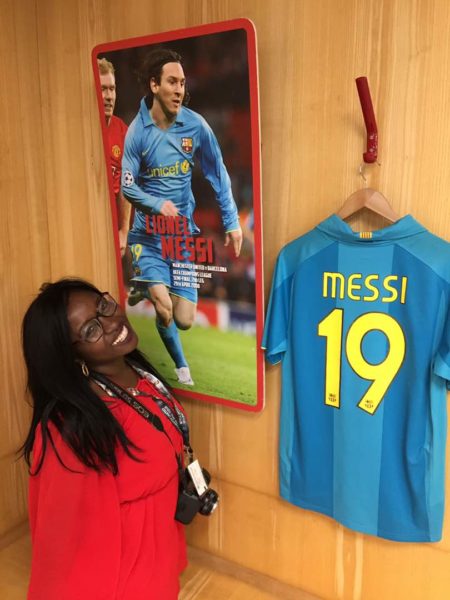 So, how do you top that experience? You don't! You do something different and just as impressive. Our visit to the Manchester Cathedral revealed the magnificence of historical English architecture. Standing for hundreds of years, the Cathedral is a beauty to behold.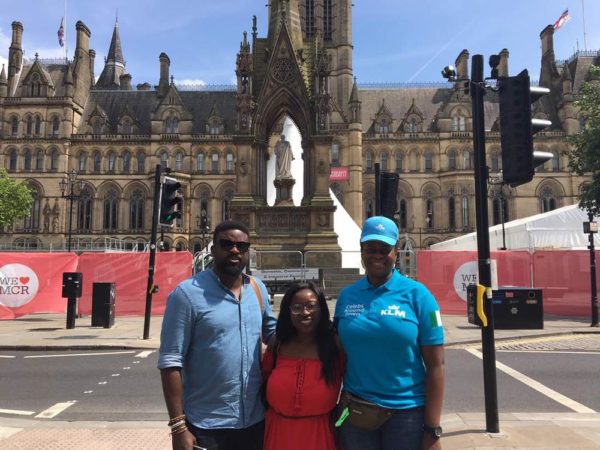 One thing to note about our activities on that Monday is that, although there were policemen everywhere around the city, the people did not look cowered or afraid. I was very happy about that, because terror attacks usually foster fear and cripples people. The people of Manchester went about their day, friendly, warm and welcoming.
We went on to see the art museum/ gallery and also the Manchester Cenotaph. It was quite a humbling experience. We walked some more, towards St. Ann's Square, because we wanted to see the garlands laid out for the people who lost their lives during the attacks. However, they had been cleared up by the City. We paid our respects to the departed nonetheless, and dragged our tired bodies home.
Fountains of Delight & Joy
The next day was not cooler, nope! The sun blazed angrier and hotter than the day before. Kunle suggested we did something to cool us down before we headed out to Trafford Centre – one of the places suggested by fans. What is cooler than running around in a fountain?
We went to Picadilly garden, where the fountains rose and fell intermittently – sometimes high, sometimes low.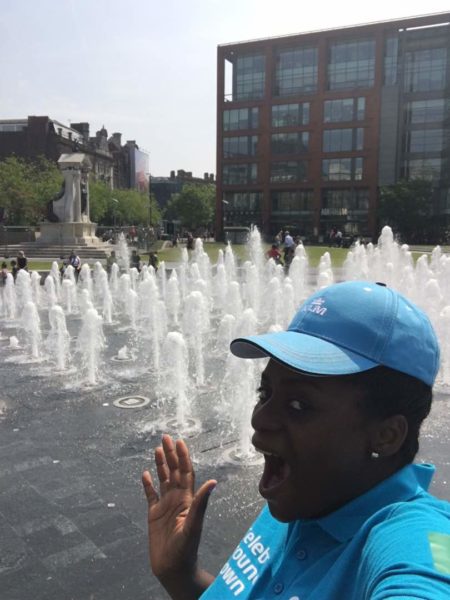 The water called.
We answered.
Don't judge. It was a hot day. A really, really hot day and the water was cold.
The water was cold. Full stop.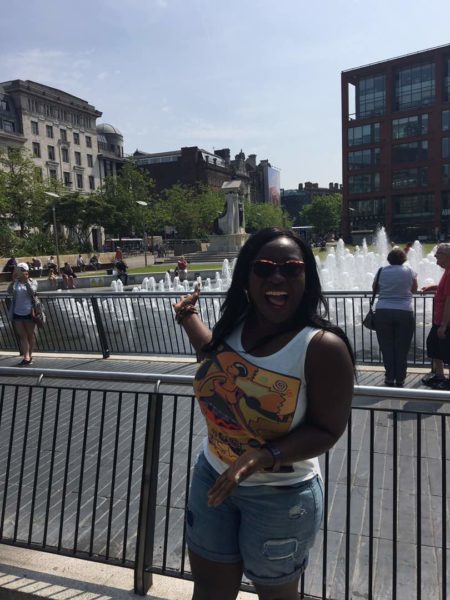 Picadilly Garden had a lot of people just sitting on the grass and getting soaked without any inhibition. It was a great way to cool off before heading to the 2nd biggest mall in the UK.
If you are a shopper…just come to Manchester and shop till you drop. The Trafford Centre is a full day's job.
For our party, we didn't have a full day, as Kunle had promised his fans lunch at a Nigerian restaurant called Spices.
We went home to drop our bags, rested a bit and off we went. Lunch time!
Hello Spices, please treat me better than other Nigerian restaurants have done.
Surprise, surprise! The food was nice and tasty. The sitting area was clean & well lit.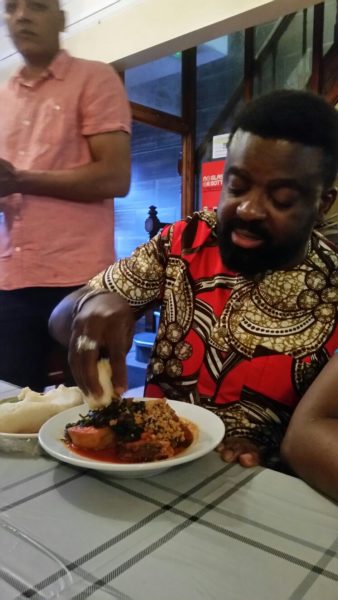 Praise Jah! A Nigerian restaurant abroad that worked. It must have been the Manchester effect.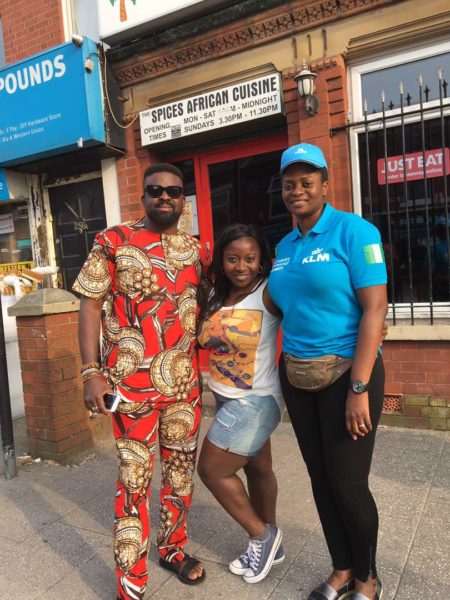 One striking thing about the city of Manchester is the number of Nigerians we saw. Everywhere we went, there were Nigerians. When we arrived on Sundays, I played spot the Nigerian -all clad in their Ankaras, geles and caps – possibly returning from church.
At our apartment building, there was always one Nigerian or two in the lobby, or coming into the building. I thought I had seen plenty Nigerians until we arrived Moston lane, for lunch.
What? It was like we had been dropped right at home. We simply couldn't get enough of telling people that KLM had a 2-day sale going on. Lagos-Manchester return.
What? You did not know? Well, that's why we're here. Yup, 40% off economy class tickets and 50% off business class.
This was music to the ears of people who wanted to go for Ileya holiday in Nigeria. One guy mentioned that he had been thinking of inviting his mum. We told him, get on the KLM Nigeria website on the 21st & 22nd buy, buy, buy! Buy those tickets before the sale ends.
It was such a great experience, with fantastic company, in a city that rocked. I forgot to mention the vibrant night life! Don't take my word for it… experience it yourself.
Thank you KLM Royal Dutch Airlines.