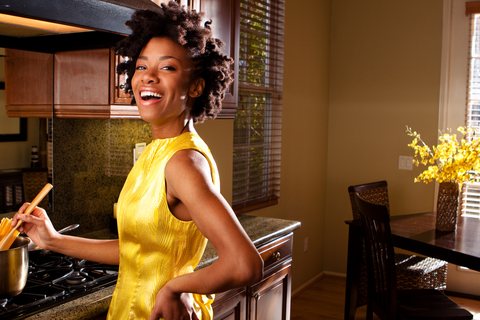 At NYSC camp in Dakingari Kebbi, I joined the kitchen team. I loved to cook and I also didn't find cleaning up as disgusting as some did, so I was comfortable being there.  It was time for carnival night, which meant we were soon to be out of the camp. Everyone was excited.
We had elected some set of people to go to the market with a list of everything we needed.  So those of us who stayed behind prepared; we fetched water, washed rented pots and plates and the likes.
It was there I really  understood to some extent what the essence of NYSC was/ what it was intended to be- a gathering of people from different tribes, villages coming together and interacting, learning from one another.
You see, in my platoon,  we had decided to make egusi soup with semovita, jollof  rice and fried chicken. Pepper soup was to be the last dish.  The problem started when we were to begin the cooking.
I had sliced the onions to be used in boiling the meat, got the seasoning ready and was waiting to collect the meat from the person who was washing it when another platoon member approached me.  She said "Please don't boil the meat without putting satchet tomato."
I hadn't uttered a word when another member came to me stylishly as the other lady walked away "Please don't put it in the food o. This people and their potty food."
I was in a fix. To put it or not to. As I had never boiled meat using satchet tomato paste, I decided to do it like I was used to.
Then it was time to prepare the semovita. A set of people wanted a paste to be made before turning it into the boiling water (which had a bit of groundnut oil and salt) and then adding flour to the already thick boiling paste. Others wanted it made without much drama. Just pour the flour into the boiling water and the semo will turn out well.
It was surprising when this led to insults and only the thought of the soildiers nearby kept the punches from being thrown.  I heard big grammar, accented words, 'fone', dialectical insults and the likes.
One girl told another " So because we are in this camp together, you think we are mates?  If you must know, I flew here from Lagos. Stupid Yoruba girl."
To this the other girl responded,  "Yeye girl!  Spoilt brat! If you talk pass your mouth, I go wound you today. E ma wo eleyi ke"
This went on and on. It got to a point no one intervened anymore. We were all tired.  And I thought,  "All because of how to make Semo?"
For me, I have made Semovita both ways and it turned out perfect.
Now when I think about it, it occurs to me that there is no set way to making a meal. Everyone's method varies. Cook yours your way and let others do the same. I cook the way I cook now, because my mother taught me this way. Esther cooks that way because her grandma taught her that way.
To each woman,  her cooking method!
But the question is how do you reduce friction when a group of women who think they are professional cooks gather to make a meal?
Photo Credit: Noriko Cooper | Dreamstime.com