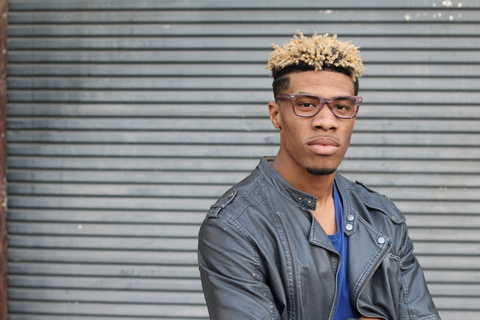 A rush of hazy nostalgia filled the air as I returned to University of Lagos for the first time since I graduated five years ago in 2012. As I walked towards the highly conspicuous senate building to retrieve some documents, I couldn't help but notice the lazy, draggy movement of the students. Most of them dressed similar- boys in colored skinny pants and oversized shirts with sneakers and other accessories, and the girls basically wore the same thing with exception to their pants being leggings. They all sat sparsely in groups in an open space they call- "Love Garden", gisting and munching on snacks hawkers sold to them.
Amy was the only person that could make me fall in love. Her soul was beautiful and Her beauty was ethereal. Her bulgy eyes were so striking, her full lips, her brightly colored skin tone that often turned pink when we laughed so hard. We'd spend most evenings at the love garden, as she'd slip in her white earphones into my ears and say: "I prepared a playlist for us to listen to". I'd reply subtly: "If music be the food of love, play on", which was one of my favorite Shakespeare quotes.
Approaching the senate building, a swirl of wind rushed past me with the smell of dried leaves and disinfectant. As I boarded the elevator, I was surrounded by school staff workers- mostly men dressed in washed out shirts, tucked in up to their belly and oversized trousers that covered the mouth of their shoes, adorned with awkward ties. They all nodded grudgingly when I mouthed "Good afternoon sirs", as a sign of general greeting".
As I went in to collect my documents from the Records office, a light skin, bulky woman filled her chair as she mouthed: "Mr Okeke, where in Imo state are you from?"
I quickly responded: "Mbaise Local Govt Ma!"
"Have you travelled there before ?" She responded inquisitively.
I couldn't help but be dumbfounded as I tried to relate how these questions were concerned with the documents I had come to collect.
"My mum said we are spending the holidays at Mbaise this year!" I could hear the excitement as Amy gushed about the news. I quickly responded:" Me too!"
Although we were from the same village, we weren't from similar backgrounds. Amy was from a privileged family and her father was a wealthy entrepreneur as they had properties all over the country. I, on the other hand, am from an average family;  my father sold spare parts at Ojuelegba in Lagos. I am a tall,well-built, fair complexioned, young lad who had nothing, but a promising career in Engineering.
Amy would later urge her mom to accommodate me in their private bus, as their long time driver Osita would drive us all the way from Lagos to Mbaise. On reaching their family home, we were serenaded by native dancers performing the Nkwotile dance. They were all clad in colorful outfits and painted faces, as their waists and buttocks moved freely and swiftly in almost circular motion. I didn't feel at home, as I was used to going back to my Grandma's little hut with no fanfare, only being welcomed with a steamy pot of Ofe Oha and wraps of Akpu.
Their family members whispered "Onugo Di? Onye bu onye Ahu?" They were wondering if Amarachukwu had brought home a husband."
Osita would drive both of us round the three parts of Mbaise: Aboh Mbaise, Ahiazu Mbaise and Ezinihitte Mbaise- showing us remarkable buildings, whilst giving us detailed history about the people of Mbaise. On this particular day, We stopped by and joined locals in marking the occasion of Iri Ji Mbaise, which celebrated the yam god Ahanjoku. We would often drive by a tall, white-washed building and Osita would say " I attended that school, MSS (Mbaise High School).
Later, he would stop by at Mama Chiwendu's canteen and buy Okpa for himself and Amy would request for Ugba and Dried Peppered Stock fish. I'd look into Amy's eyes and say: "I humbly do beseech of your pardon, For too much loving you." She'd hold my palms and reply "Shakespeare, Othello Act 3 Scene 3".
"Those were one of her last words".
"I don't understand, whose last words?" I asked, puzzled.
"My daughter, her last words were that Shakespeare excerpt you just recited as you woke up from your trance". The woman at the record office replied, as she dropped her pen.
"It was one of my favorite quotes to whisper into my girlfriend's ear. What happened to your daughter, ma?" I asked curiously.

"
She breathed her last, two years ago". The woman said adjusting in her chair, before looking down at her table as if to prevent revisiting the thoughts. She later added: "She drank rat poison, and later passed on at the hospital."
She looked up at me, before glancing at a handwritten quote on her wall that read:
"Color me purple, so I can be the velvet rope that wraps round your heart, colour me blue, so I can be your ocean, color me yellow so I can be your sunshine, color me red, the color of your heart.
I quickly responded saying: "I wrote that! That was our…"
"Yes, and at the end of the poem, she'll always say your name: Simeon Okeke". She cut me off abruptly.

 I began to imagine how Amy's last days were. Maybe she spent them reading our favorite quotes out and singing Lana Del Rey's "Ride" and pretending to rest her head on my shoulders. Or maybe she bought our favorite Mr Biggs snacks and waited for me to finish mine first before eating hers.
"Why did you leave her?" Amy's mother asked sternly, inching closer.
"I… I never left… I'll still never leave Amy.."
I responded.
But you travelled and never contacted her as you promised, why?"
"It was your husband. He threatened to kill me and paid me off to study abroad".
Amy's mother began to shed tears as she held on to her chest and breathed heavily".

"Ewo! So he killed our daughter? No wonder he has never been the same ever since". She spoke amidst the tears.
"Please don't cry Ma! I still saw Amy yesterday, she visited me. She sat by my bed and recited Color Me Purple, she played Aretha Franklin's "Natural Woman" and we made love till this morning.
Amy's mother sunk in her seat and appeared lifeless as she managed to mutter: "What are you saying? You made love to a dead person?"

It was long until security hounded me and I found myself outside the senate building.
I got up, dusted myself and headed for my car. I was going home and surely Amy was going to visit again. She visited three times a week, as I'll hear her footsteps on my wooden staircase- her dainty, majestic footsteps. I'll see her pint sized shadow as she approaches my door, already ajar as I'd be expecting her. I'll lay on my bed, wearing her favorite pink colored briefs she gifted me on our 2nd anniversary.
She'll walk in and speak slowly in her sweet, caramel voice:
"But then one suffers from not loving.
Therefore, to love is to suffer; not to love is to suffer;
to suffer is to suffer. To be happy is to love.
And I'll reply : "That's from our favorite movie "Love and Death!" 
She'd nod her head as if to say yes and fall into my arms; the only place she'd rather be.
Photo Credit: Alberto Jorrin Rodriguez | Dreamstime.com