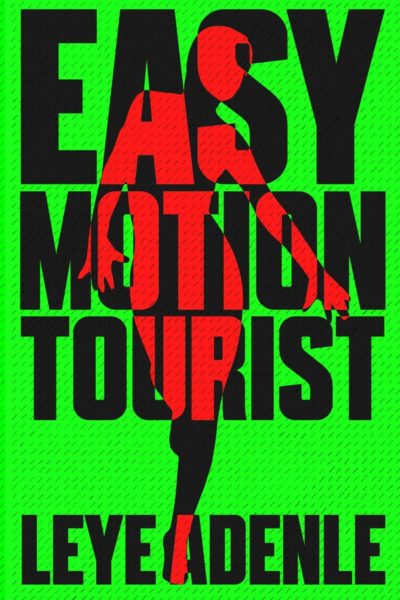 There is a general notion about "The African Story" and what a "well-written book from an African author" should contain. We are not unmindful of the themes that are most appealing to Western audiences and critics: war, squalor, gender inequality, racial discrimination, sexual rights activism et al.
Now and then however, someone rises up, waves a middle finger in the face of convention, and scribbles a body of work that is entirely different from the norm. Whether such a mindset is inspired by location is a debate for another day, but a piece of art which lies at variance with the usual narratives is difficult to ignore.
Leye Adenle is a Nigerian writer, who has written a number of short stories and flash fiction pieces. Leye has also appeared on stage in London in plays including Ola Rotimi's "Our Husband Has Gone Mad Again". He comes from a family of writers, the most famous of whom was his grandfather, Oba Adeleye Adenle I, a former king of Oshogbo in South West Nigeria. He lives in London.
It is one thing to write, and it is another to deliver writing in a voice that has the power to draw people in. Believe it or not, literary reading is a skill which could determine the degree to which a writer's work is received. I didn't know what to make of Leye Adenle's "Easy Motion Tourist" at the 2016 edition of the Ake festival, but when I listened to him read out a few excerpts of the book at the Rele Art Gallery a week later, I knew I was going to part with a few naira notes for it.
The title of the novel is drawn from a 1970s/1980s song recorded by the Harbours, a band led by highlife legend Fatai Rolling Dollar. The song, inspired by an incident where a member of the band was locked out of his house after a gig, talks about a night out in the city. (This fact is highlighted at a later point in the novel.)
The novel itself, set in contemporary Lagos, witnesses various characters whose lives are forced to collide after the discovery of a prostitute's mutilated body outside a nightclub. There is Guy Collins, an English lawyer-turned-journalist who comes in from London to cover the presidential elections and savours the chance to visit the home country of his ex-girlfriend; Amaka, a lady with a privileged childhood, who runs a charity organisation committed to ensuring the safety of commercial sex workers while slowly trying to get them off the streets; Inspector Ibrahim, a police officer eager to save his head and earn the respect of his superiors; Hot-Temper, a no-nonsense law enforcement agent who hates the idea of diplomatic tactics in crime fighting; and Chief Amadi, the billionaire whose source of wealth is unknown.
One major danger in scribbling third person narratives is the tendency to overlook the perspectives of characters other than the protagonists. Leye Adenle rides out this danger successfully, treating us to a rich insight into the back stories of the various individuals that make up the novel, while at the same time avoiding the trap of muddling up the plot with too many characters. Everyone relevant to the story, from heroine to henchmen, gets their character graced with some narrative flesh.
Easy Motion Tourist takes our eyes on a journey through the heart of Lagos, albeit with a different twist: it's not just about the sight and sounds now, the novel deals with the humanity of the city, from the ones who trade their bodies to get by each day, to the spoilt rich inhabitants of the more developed areas. Leye's description of the city lights is not bad either, and for someone who lives outside the country, his portrayal of areas like Obalende and venues like Bogobiri are pretty spot on.
Leye also uses his narrative prowess to highlight a few teething problems that plague the city's residents, and equally mirror a number of societal challenges. He sheds light on prostitution, as well as the complex web of organised crime, effectively juxtaposing the scourge of ritual killings with something more complex and less talked about – organ hawking. The attitude of the Nigerian Police Force is brought to the fore as well, and the portrayal of our "friends" as an effectively functioning unit may get some eyes rolling, it is fun to see that not everyone sees them as the cowardly individuals who love to extort civilians.
Leye's 327-page piece offers something fresh in describing the modus operandi of criminal gangs in Nigeria. We don't really get much from the Crime Report sections of national dailies, so it is cool to see Nigerians crouch, roll, stack sophisticated weapons and get into shootouts, similar to the stories we hear about Mexican drug cartels.
The novel, although excellently scribbled, has a few glitches. First off, the idea of portraying a white man as a hero in a Nigerian story will ruffle a few feathers among "woke" Nigerian readers. This is 2017, not 1884 or even 1956. The idea of one Caucasian stepping in to save the day is stuff of H. Rider-Haggard's "King Solomon's Mines". It whips up racial tensions in modern times, and even if Leye may have crafted it like that to appeal to his U.K audience, we down here do not really want to see stuff like that.
The ending of the novel is a bit cheesy too. We see the typical "good guy kicks bad guy's ass, then saves the girl, then girl falls in love." It is too Hollywood Box Office-esque, too U.K – tilting, too non-Nigerian. That's not how we roll here. African emotions are wired differently. In any case, it would be interesting to see how Guy and Amaka kick it. In an intimate interview, Leye hinted at a sequel to this novel, and I would like to see what he pulls off, with Malik in the mix too.
"Easy Motion Tourist" may not win a Booker, or an Orange, or any of the other conventional literary awards, but that's because, to borrow the words of one of Nigeria's current viral sensations, it "is not regular". The book is a crime thriller worth reading, a modern and better-woven form of "Akpan and The Smugglers". Leye may have just fallen short of churning out a classic, but he lays down an example for other Nigerian writers to explore diverse themes.
Rating: 6.9/10
***
Want an e-copy of Easy Motion Tourist? It's available here on the OkadaBooks Store. Happy reading!
Jerry Chiemeke is a lawyer who resides in Lagos. His works have been featured on The Kalahari Review, Brittle Paper and Elsie Isy.  His editorials have also appeared on True Nollywood Stories and he is currently a book reviewer on literary blog Bagus Mutendi. He recently published his first book, "The Colours In These Leaves".