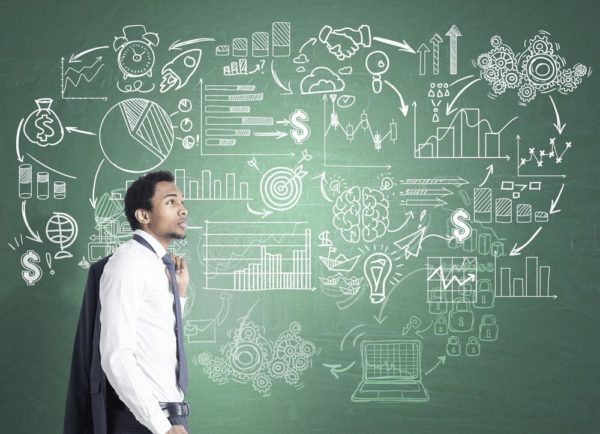 I am confident that most of us had goals for 2017 and particularly sure that topped the list, was to have multiple streams of income with a target before the end of the year.
Last year, the word 'recession' was all over our lips with everyone creatively generating several coping mechanism to reduce cost whilst navigating the limited income streams available.
However, with the 3rd quarter of 2017 slowly creeping to an end, it is important to do some evaluation, considering the fact that we are only few months away from the beginning of another year – 2018.
How is that going so far? Have you been able to meet your target income for 2017? Did you successfully explore other sources of income besides your main income stream? Have you been able to meet your target income for 2017?
In any case, I hope you were able to partake of the boom in the Nigerian Stock Exchange (NSE).
The NSE All Share Index (ASI) appreciated by 35.13% from a low of 26,874.62 at the beginning of the year to 36,316.58 points as at Aug 17, 2017 (FSDH daily market report). Last year, the NSE performed very bad due to the collapsing value of the Naira, fall in oil price which resulted to depleting foreign reserves and extremely high demand for the Dollar (USD). The NSE ASI picked up in the 2nd quarter of 2017 and is now said to be one of the best performing stock exchanges year to date.
This positive turn-around can be attributed but not limited to:
The establishment of a CBN investors and exporters window gave rise to increase in the supply of Dollar.
As a result of the aforementioned, more investors gained confidence and this resulted to significant inflow from foreign investors. Inflow from foreign investor now account for about 46% of daily market turnover.
Some of the stock prices were trading at a low price.
Below are some of the best performing stocks from the year to date (17/8/2017):
S/N    Stock                    Year low (NGN)      Year High (NGN)    YTD Change (%)
1        May & Baker                             0.85                      5.52                             213.83%
2        StanbicIBTC Holding           15.00                     38.50                            146.67%
3        Dangote Sugar                          5.71                      14.91                             112.77%
4        UBA                                            4.49                      10.41                             106.67%
Source: FSDH daily market report
Scenario 1
Imagine Nengi bought 50,000units of Dangote Sugar at N7 and sold at N12. Nengi would have a realized gain of N250,000 including Securities and Exchange Commision (SEC) charges, between when she bought the stock and when it was sold.
Please note that this sort of investments are high risk return, and as such, expert advice would be required before embarking on them.
Scenario 2
What if Nengi is averse to risks and cannot handle investing in the stock market because of its volatility? The stock market may be heading North today and South tomorrow and this could lead to a loss of the principal invested. Nengi can instead, decide to let an investment outlet secure her principal whilst also giving her additional income in form of treasury bills.
Treasury bills are short term debt instruments issued by the government through the Central Bank to provide short term funding for the government. The Primary Market Auction (PMA) is scheduled fortnightly with maturity time ranging from 91, 182 and 364 days. As at 2/8/2017, rates were ranging from 13.42%p.a, 17.40%p.a  and 17-18% p.a. respectively.
This type of investment would  help secure her principal whilst giving her interest upfront. As such, if she decides to invest in the 182 days treasury bills, she would get a real return greater than 13.42% because we have factored in the upfront interest.
Although the Federal Government has increased the minimum investment amount for the primary market to N50,000,000.01, Nengi can speak with her bankers to partake in the secondary market treasury bills investment if she has less than is required for the primary market.
If she decides to invest N5m in the 182 days treasury bills offering an interest rate of say 16%p.a, it would result in an Up Front Interest (UFI) of N398,904.10. Nengi would have successfully received an additional income of N398,904.10 Upfront.
Folks, I hope the scenarios painted above explain why your money should be working for you and not sitting idle. Like I always say, saving is good but investing is better.
Have you been able to generate multiple streams of income? Was it worthwhile?
Please share your experience(s).
Photo Credit: Denisismagilov | Dreamstime