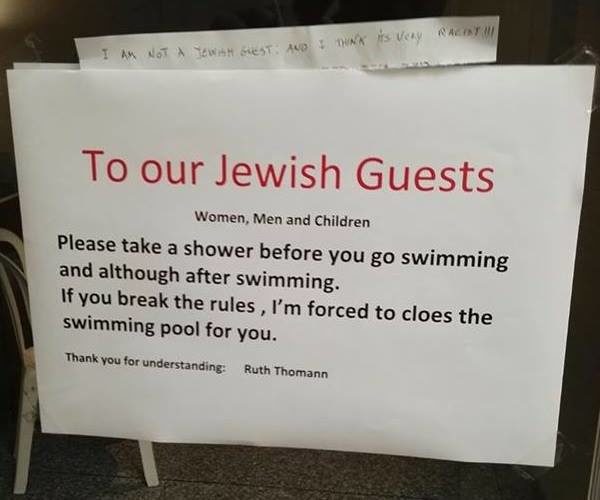 A hotel in Switzerland – Aparthaus Paradies, has been accused of anti-Semitism after a photo of a notice asking Jewish guests to take a shower circulated on social media.
"To our Jewish guests: Please take a shower before you go swimming and although after swimming. If you break the rules, I'm forced to close the swimming pool for you," the notice read.
According to Independent, the Times of Israel reported that another sign plastered on a refrigerator read:
For our Jewish guests: You may access the refrigerator only in the following hours:10-11am and 4.30-5.30pm. I hope you understand that our team does not like being disturbed all the time.
A photo of the pool sign was posted on Facebook, drawing outrage from people around the world.
Israel's deputy Foreign Minister Tzipi Hotovely called the notice "an anti-Semitic act of the worst and ugliest kind." She said:
Unfortunately, anti-Semitism in Europe is still a reality, and we must make sure that the punishment for incidents such as these will serve as deterrents for those who still harbor the germ of anti-Semitism.
Ruth Thomann, the hotel manager who signed the notice, said it was simply a misunderstanding, and that there was no anti-Semitic intent.
According to her, the eastern Switzerland hotel is very popular among orthodox Jewish clients, and other guests of the hotel had complained that they do not use the shower before coming for a swim.
She said she realized her mistake, as she should have addressed all guests with the notice, and added that she "wrote something naive on that poster."
Israel's Foreign Ministry sent an official complaint, and Hotovely said she had spoken with Israel's ambassador to Switzerland, Jacob Keidar, who confirmed the signs had been removed.