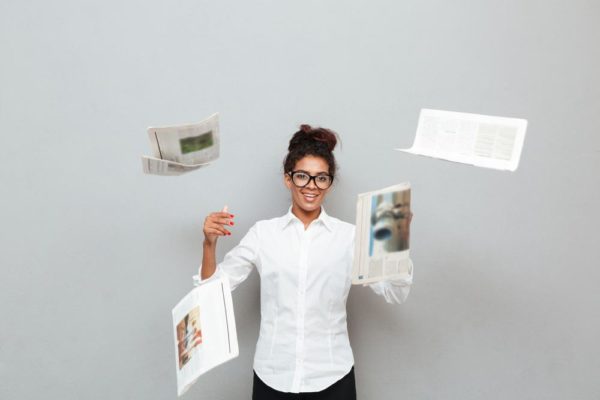 The organization where I work is in the process of moving to their building. Having stayed in this current location for over ten years, a lot of materials and equipment have been accumulated. We are days away from getting into the new building and it is that time to pack. Putting together all the documents can be a hectic and tasking job but thankfully it is a joint effort.
As a senior colleague began browsing through the reports and separating relevant from the irrelevant, the irrelevant ones amounted to over a hundred documents containing thousands of pages. Now, you have to understand that we have several departments and units, so imagine the amount of documents that will be left behind, thrown in the trash or shredded upon leaving. If I am to give an estimate of the number of documents that would be left behind, it would range from five hundred to a thousand. Now that's a lot.
Paper, as we know it, is a material derived from wood. Other products gotten from wood are toilet paper, newspaper etc. Wood is one of the most abundant raw materials in the world, but the abundance causes a lot of waste to this material.
Paper is a blessing to the environment because when the trees are grown in the environment, they tend to absorb CO2, and continue to store carbon throughout their lifetime. Studies show that the forests in Europe store approximately 80 billion tonnes of carbon in their biomass, thereby, reducing GHG (Greenhouse Gas) in their region.
Prominent paper companies only grow tress with the intent to cut them down for their business. Paper is produced as a result of bleaching of wood pulp using chlorine. The dioxins released from this chemical is toxic to both humans, animals and the environment. They are known to be carcinogenic and cause several adverse effects to the human health. Another major factor why paper is a curse is because of the amount left un-recycled, especially in this part of the world. Most of the used paper goes to landfill contributing to the amount of waste in the environment. GHG such as sulphur oxides, nitrogen oxides and particulate matter (PM 2.5) which pose as a threat to human health is also released into the environment during production.
Paper production also contributes negatively through particulate matter (PM 2.5) which enters into the nostrils and brings about respiratory diseases. All these factors contribute to climate change. In under developed countries such as Nigeria, when deforestation (felling of trees) occurs, afforestation (planting of trees) is rarely carried out, thereby, leaving the land bare for erosion and leaching to occur.
Facts about paper:
17 trees, 26,500 litres of water and 682.5 gallons of oil is saved when 1 ton of paper is recycled
About 10 litres of water is needed to make a piece of A4 paper
The amount of oxygen produced from every tree, is enough for three people to breathe
25% of landfill waste and 50% of the waste from businesses is paper
The pulp and paper industry is the 3rd or 4th largest industrial polluter
42% of the world's wood harvest is used to produce paper
About 93 million trees are fallen each year for newspaper production
Environmental and Health effect of paper production/usage:
Deforestation
Land pollution
Air pollution
Water pollution
Contributes to global warming
Climate change
Increased risk of lung cancer
Increased risk of respiratory diseases
Going paperless is definitely the future, but for now, it is important we identify ways of reducing paper usage/wastage and preventing the health effects.
A few ways are:
Reduce – Reuse – Recycle
Instead of printing on every page, print on both side of the page.
Any document that doesn't need to be printed should be left as a soft copy stored in your email.
Emails are an effective way of passing across information in offices instead of printing
For every tree removed, at least two more trees should be planted. Plant trees
Use electronic devices instead of paper
Provide reusable towels or air dryers to dry hands after visiting the toilet
Wear a nose mask when using a shredder, to avoid inhaling paper dust
Finally, ladies, avoid using toilet paper every time. Some contain Bisphenol and Formaldehyde, can be toxic to the human body. Try dabbing down there, instead of wiping it.
Photo Credit: Vadymvdrobot | Dreamstime