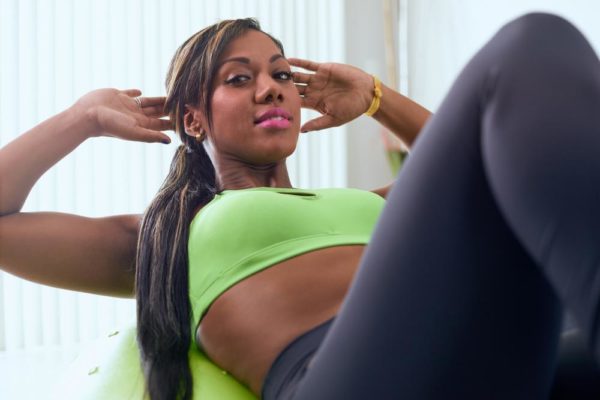 When I have the privilege of getting on the phone with members of The Healthy Boss Ladies Lifestyle Lounge, one of the most common struggles I hear is weight regain. There's nothing fun about putting in the effort to lose weight only to gain it back.
And the reason weight regain happens is that the things that we typically do to lose the weight aren't sustainable.
The truth is you need your actions to be sustainable to keep the weight off. This means that you need to be able to keep up with the habits that helped you lose the weight long-term.
The most common word for this is – consistency. Consistency in how you eat, how you move, and your overall healthy habits.
This is why I think dieting is so hard for a lot of us because a lot of the things we do on a diet are things we would never do after the diet is over.
That's why one question that I would suggest to use to vet your weight loss plans is: can you see yourself doing that for the rest of your life?
This doesn't mean that you'll never challenge yourself, but there's challenge within reason and there's challenge that's unnecessary.
Here are some examples of both:
Challenge within reason:
Eating healthy within a structure like VAFs®. It might be challenging to learn at first, but it becomes second nature over time.
Adopting a workout habit that you can sustain within your regular everyday busy schedule. You might skip a few when your busy season hits, but you know you'll be able to get back on track.
Challenge that isn't necessary:
Cutting your carbs down to the bare minimum or cutting out other food groups even when it's not medically necessary
Doing a workout program that you know you'll only be able to stick to for X amount of days. If you can't stick to even a pared down version of it long-term.
Today, the action that I invite you to take is to look at the things that you're doing now and ask yourself – "can I do this for the rest of my life?"
If your answer is "No," you don't have to ditch it altogether. What you can do is have a plan in place to modify it so that you don't find yourself regaining all the weight and right back where you started when you stop.
Sustainability is key. The Healthy Eating Made Easy Cheat Sheet will help you create a way of eating that is doable for the rest of your life.
In this Cheat Sheet, you'll learn about:
the major food types that you need to eat to support your goal of a healthier and lighter body
how to use these food types to get the weight loss results you want
and how to incorporate the indulgences you love so you don't feel deprived
The bottom line is that, with action, you'll start to create a more balanced way of eating using a moderate and sustainable approach to eating healthier… so you can lose weight and keep it off.
And with this cheat sheet you can start doing it as soon as your next meal. Click here to get it for yourself!
Photo Credit: Diego Vito Cervo | Dreamstime