Few Nigerians cared about this last Independence Day. Feel free to disagree if you saw more than ten (huge) flags hanging around town. Remember not to count those ones in front of banks. They're kiss-a** flags. The holiday served more as an opportunity for traffic-weary folk to stay home while the funky, artsy types partied and drank free Jameson Irish Whisky. The majority didn't care that the country had clocked another year. Think I'm exaggerating? Quick! Ask your friend how old Nigeria is.  I can bet a million dollars that they don't know.
With the widespread nonchalance, it finally hit me that a lot of people are indeed tired of this country. Our last iota of patriotism lies in our love for Jollof rice and Twitter feuds with foreigners talking smack about us. There's also that bond that comes when we joke about our plight and say things like 'e go better'. I call what we have a special brand of suffering.
In the spirit of making light of our dark situation, artist, writer, and photographer Victor Ehikhamenor joined thousands of Nigerians writing humorous articles about the motherland. Formerly a columnist for the now-defunct 234Next Newspaper, many of his excellent pieces there (and a few extras from the New York Times) have been made into a collection titled "Excuse Me!"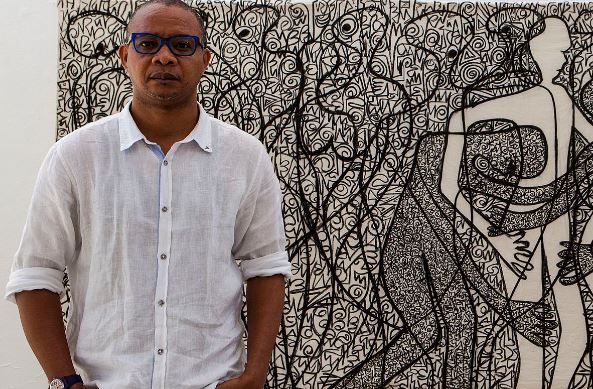 The collection is divided into sections. And the first part, titled The Scent of Pubescence, is dotted with articles about love. We are taken from young love to love for Nigeria, religion, and home (his village). Here, we find light-hearted writing about growing up, as well as events that shaped him and his realization of what it means to be Nigerian.
The middle sections gallivant through time, throwing jabs at military governments and civilian leaders alike. Ehikhamenor's funny and sometimes sarcastic articles serve as a historical see-saw hovering between decrees and senate scuffles from people who are clueless about how to rule a country.
While horsing around, he uses instances like former President Umaru Yar'Adua's constant medical treatments abroad as a lens on the state of the nation's healthcare system. One piece asked if we really expected the then president to use the medical facility near Aso Rock when Nigerians at the border were going abroad (to Togo) for treatment. In another article, Ehikhamenor announces that his vote is for sale and rattles off what a presidential aspirant needs to do to get his vote. There are, of course, other articles on happenings in the corridors of power, and they're presented via a mix of personal experiences and chopped-up news stories.
The articles in the last section (Bonus Articles, he calls them) were first published in the New York Times. They are sombre, heavier—as they should be—because who wants to mock their thatch hut when strangers are around? One article titled "Africa's Voice, Nigeria's Conscience" talks about the great man that was Chinua Achebe and his contributions to not just the literary community but to Nigeria as a whole. The article is tinged with regret, as if the author wishes more people were like the legend, selflessly engaging in nation-building (whether for seceding or semi-solid states) while refusing to "shake the necrotic outstretched hands of corrupt leaders."
In reading Ehikhamenor's "Excuse Me!", I realized that his decision to write lightly about such important issues wasn't borne from the e-go-better syndrome (aka helplessness). His write-ups are a subtle cry rallying Nigerians to seek for change—common man and aristocrats alike—in a language not overshadowed by political crinkum-crankum too difficult to understand. His verbal portraits of the good old days are filled with politically aware and patriotic citizens who did not hide behind status updates, BCs, or e-petitions.
After reading, I marvelled at how we thought things were bad back then. Looking at the present, I have to admit that we're almost at the bottom of the famed slippery slope. Leaders and citizens alike have failed the country. We complain about thieving governors yet say things like, "If I enter government, me sef must thief my own." #Wawu
The bad thing is that my indifference to the country's state of affairs is less about not being patriotic and more about cowardice (great excuse, yes?). If I shout, who will shout with me? I ain't going to Kirikiri Maximum Security Prison alone! Also, the majority whose voices need to be heard have more pressing issues on their minds: think everything on Maslow's Hierarchy of Needs. Sure, they don't realize that many of their issues still boil down to the government's mismanagement of funds, but who are we kidding? Explaining this is almost a waste of time.
When I think of the above situation, I decide that it's better to take several seats and work hard so I can line my pockets with national puff-puff (this is honest fare compared to the cake hoarded for legendary thieves). But deep down, I really do wonder at what point enough will really be enough? Can our Jollof patriotism survive Nigeria's brutal winter?
You know, reading Ehikhamenor's collection might stir your soul and unlock other levels to your patriotism. Or it'll make you want to use its pages to wrap your share of the national cake and puff-puff. Perhaps, you'll read it and wonder why he bothered coming back to Nigeria after many years abroad. But, whatever happens, you'll agree that "Excuse Me!" is an excellent read and you'll get copies for your friends and family.
Want to read "Excuse Me!"? Get an (indestructible) e-copy here on the OkadaBooks store for just N500.
—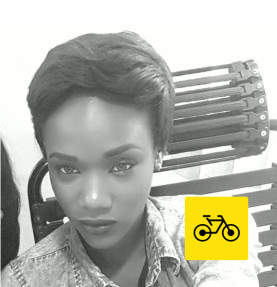 Chiamaka Onu-Okpara is a freelance editor with experience reworking fiction, creative non-fiction, and academic documents. Her stories have been published in Ake Review, Apex Magazine, and The Kalahari Review amongst other places. Her first poem is forthcoming in Strange Horizons.