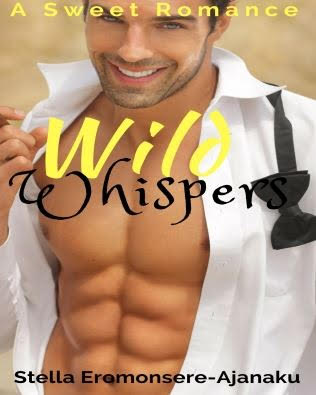 In any sizzling romance, three ingredients are key: a billionaire playboy (like Chuck Bass), a damsel in distress, and a fancy location. These juicy details are so splashed across the blurbs of a million and one romance novels that it's a relief when these stories are approached from another angle.
I'm impressed that in writing Wild Whispers, romance writer Stella Eromonsere-Ajanaku chose an unlikely setting—Dagor in Edo state. Her chief characters are a British guy named Gary, and Adaora, a widower who when her husband died, was accused of killing him and labelled a witch. His death pushed her to seek solitude, and she became something of a hermit.
Gary, on the other hand, is a wildlife photographer whose waking moments are spent touring the world. He comes to Nigeria for the sights, sounds, and wildlife; but, after an attempted robbery on his bus, he manages to escape with other passengers. Some time is spent running as a group before they separate. He ends up in front of Adaora's "cottage". She plays the Good Samaritan, lets him in even though it's night and she has no idea who he is. The rest, as they say, is history.
Adaora and Gary's love has the sweetest, most organic progression. In discovering and learning about themselves, there is almost none of the unnecessarily risqué hullabaloo present in a lot or romance novels. However, it did cross my mind that from the last time I paid any real attention to the romance genre, things might have evolved to include warm, fuzzy stories that have substance and strong characters.
It is interesting that these lovers connect as people, not as white/black-colored folk lugging bags chuck full of societal drama. This is not to say that race was explicitly ignored, but it was not a deciding factor in how these two related. I seriously look forward to when the world will actually work this way. I also love the writer's incorporation of nature as being part of Gary's job, and, of course, part of the scenery. Reading about animals brought back childhood memories of when I wanted to be a NatGeoWild reporter.
Written in answer to a call for a short story anthology, I can understand why this body of work is short; however, I would have liked a longer story as I enjoyed watching Adaora and Gary fall in love. There's no end to the beauty that can be found when you're in love. If you want to feel butterflies in your tummy, Stella Eromonsere-Ajanaku's "Wild Whispers" is the book to read.
Get a copy here on the OkadaBooks store for just N499! Happy reading.
—
Chiamaka Onu-Okpara is a freelance editor with experience reworking fiction, creative non-fiction, and academic documents. Her stories have been published in Ake Review, Apex Magazine, and The Kalahari Review amongst other places. Her first poem is forthcoming in Strange Horizons.