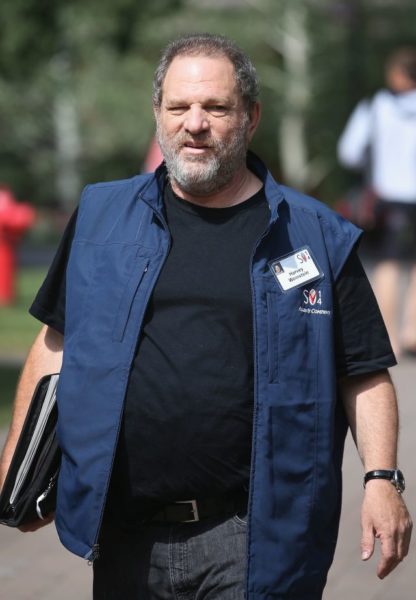 Dear Harvey Weinsteins Of Nigeria
Fear not. The coast is still clear. Forget the recent hype and the fresh wind blowing in Hollywood, exposing the old chicken's butt. That is why they are Hollywood. Too white and therefore too serious. Such a thing cannot happen here in Nigeria. Have they lost their manners?
So sir, go ahead and ask wanabe actresses to come audition privately for you, clad only in their edible negligee. Those ones? They do not know their right from their left.
There is still time to coerce beauty pageant contestants to make sex tapes for your viewing pleasure, and don't forget to threaten to release the tapes if they ever refused to defer to your command. They are too full of fright and desperate to speak up. What about the members of your congregation? Invite the unsuspecting sheep for counseling behind closed doors and get her on her knees to do your bidding. Who dares challenge what you do with the powers of your office? Go ahead. Ask for intercourse before you sign the contract, before you offer the employment, before you award the degree. Do it now that there is still ample time.
Do I need to remind you that your victims may not be as bold as Lupita Nyong'o and Rose McGowan to call you out so eloquently? Girls here are raised with a deep sense of our culture; a culture so accommodating that it embodies respect for the elders to the last letter; a culture that forgives predators providing they are elderly men of substance. In our culture of subservience, we are too busy genuflecting and salaaming to mouth off at elders. You want us to bend over? How low, Sir?
We are too busy washing dirty linens in dank closets and if those girls dare expose your misdeeds, who will marry them? Your victims cannot risk the reduction of their brideprice; they cannot risk bringing shame to their families.
Even if one gathers the liver to speak up and expose your gross misconduct, all you need to do is arrest both the brazen confessor and the news outlet or blogger that offered her the platform. Lock them in Kirikiri and force them to retract their claims under gunpoint and ask them to whitewash the mud they have dragged your name under.
Don't for a moment fear that your virtuous wife would leave your side when the news of your escapades proliferates the net. She would hop on her social media handles and proclaim your name and your love; she would show all the gifts you have showered her from the first date till the last valentine; she would share videos of how you, without fail, recite Psalm 23 to the kids before you tuck them in bed; then she would proceed to rain diatribes on all the daughters of Jezebel and Delilah who want to ruin the home she had carefully built from scratch for 25 good years.
And since we are a people who are quick to shame women who speak up about the ordeals they have endured in the hands of men like you, the victim and confessor would be dehumanized and mocked to derision and may even be driven to the depths of suicide via social media. She would be called a husband-snatcher who is only speaking up because she did not have her way with your fine man.
So panic not; the odds are never against you here. Before our justice system becomes balanced enough to call men like you to book, you must have died and gone to meet the Lord, thy maker. And here is the good part: those women who you victimized would be first to write your eulogy on Facebook. They would admit you were quite a flawed man but there still was some good in you.
So Honorable Sirs, I say to you, Continue. Your cup is not full yet and may never get full.
Photo Credit:  Scott Olson/Getty Images