Agatha Odigie: Celebrating Chinua Achebe – Our National Treasure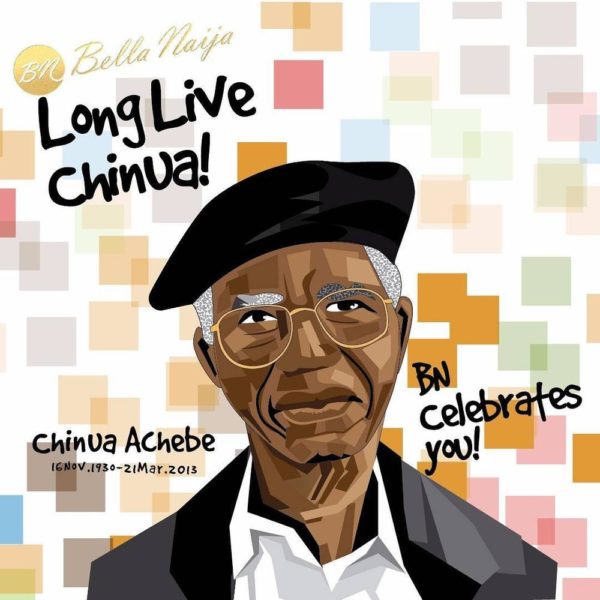 Nigerians felt a deep sense of pride with the Google Doodle of Chinua Achebe, on 16 November 2017. Considered far and wide as the father of modern African literature, Google's celebration of his birthday was in honour of his literary genius and immense contributions to the growth and widespread acceptance of African literature.
Growing up in the culturally rich city of Benin, Edo State, I spent many pleasant sweltering afternoons occupied with books from my father's rich and diverse library. It was obvious to all who came across this library that Chinua Achebe was one of my father's favourite authors, owing to the collection of most of his novels. Achebe's popular titles from the African Writers Series such as "No Longer at Ease", "Man of The People", "Arrow of God" and of course, the beloved all-time classic, "Things Fall Apart" were often my companions.  His books were always easy and delightful to read owing to the simple language and rich usage of  Igbo proverbs usually employed in the narrative. The artist in me always appreciated the manner in which those early editions of his books were interspersed with beautiful illustrations from renowned artists such as Bruce Onobrakpeya.
Then came the television adaptation of "Things Fall Apart" in the late 80s. Now, that was definitely epic! Television viewing just got more exciting for Nigerians! How can one forget those Saturday evenings when the family eagerly gathered in the living room after a delicious meal of fried yam and palm oil fish stew or moin-moin or whatever fare was scheduled for the day which was dependent on our meal time-table! 8-9pm was the time if I recall correctly and the Nigerian Television Authority (NTA) was the station. In my impressionable young mind, life didn't get any better!
I always ensured I was well positioned beside my father or mother depending on whom was topping my love chart for the day, eagerly awaiting the antics of 'Okonkwo' played by the inimitable Pete Edochie at Umuofia. It would seem that Pete Edochie was specifically born for this sole purpose due to his sterling and award winning performance. My elder sisters seldom started the programme from the beginning. You could be sure they would be scurrying about to ensure the completion of their chores to avoid our mother's wrath before joining us. Her justice for our misdemeanours was usually swift. None of us wanted that, so we generally tried to stay in her good books. To the best of naughty children's abilities, that is!
The theme song in the opening montage of the "Things Fall Apart" series is playing vividly in my head as I write this. I actually cringe to remember those voices which in my young estimation then, were plain hideous, sincere apologies to the musicians. Somehow though, they managed to have gifted that era with an evergreen rendition of how "things fall apart", how "the centre cannot hold" and "how mere anarchy is loosed upon our land"! For me, an episode was considered complete only when I heard the deep guttural voice of Okonkwo bellowing "Umuofia Kwenu!!" repeatedly (three times to be exact) when greeting his clan during their numerous village meetings!
In my adulthood, Chinua Achebe was a beacon of hope, and a worthy ambassador of our beloved country. In his characteristic quiet, dogged yet profound manner, he made his voice heard above the din through several articles, interviews and even the rejection of various national honours all in the bid to challenge the government of the day to excellence in the discharge of their duties and responsibilities to the citizenry.
Never one to shy away from controversy if it was for a worthy cause, his last gift to us by way of "There Was A Country: A Personal History of Biafra",  a memoir on the Nigerian Civil War, published in 2012 did raise a lot of dust. It brought to the fore the perennial tribal divide. Most importantly, it started a national discourse of some sorts and got my generation and the younger ones interested in that aspect of our history as a nation and as a people. That book is a collector's item, a crash course on Nigerian history, which I strongly advise every Nigerian millennial to "grab a copy"!
My favourite Chinua Achebe quote is from a 1994 interview:
"There is that great proverb — that until the lions have their own historians, the history of the hunt will always glorify the hunter…..Once I realized that, I had to be a writer. I had to be that historian. It's not one man's job. It's not one person's job. But it is something we have to do, so that the story of the hunt will also reflect the agony, the travail — the bravery, even, of the lions"