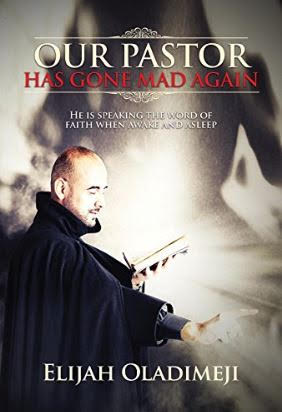 Leading people is never an easy thing to do, and when it comes to religion, it gets a lot more complicated. The lives of clergymen are always under scrutiny, and with the proliferation of gossip blogs, it gets worse. Let a pastor hug a lady too tightly, buy a car that looks too flashy, or even grace the photo of a "slay queen" with the like button, and the Instablog9jas of this world would have a field day. Of course, there is the tithing debate going on,  and you would agree that a pastor's hours are really not his own.
Elijah Oladimeji, the pastor of Mind of Christ Evangelical Church New York, tries to throw light on the state of things with "Our Pastor Has Gone Mad Again". A little less than a hundred pages long, the book tells the fictitious story of a man named Job and his travails as the pastor in charge of Lindenhurst Church of All Graces, New York. Job barely has time for himself, as he must see to the needs of people within and outside his congregation while attending to his personal life.
In about twelve chapters, we see Job play the role of Superman (without his cape) on behalf of a sick child, an illegal immigrant on the verge of deportation, couples on the brink of divorce, disillusioned young men who seek to understand the female folk, and heartbroken ladies who want to know why the men in their lives never stay. He also faces battles to pay the rent, meet his wife's financial expectations, and hold on to his faith as dreams of an expanded ministry are yet to be realised.
The book helps to provide an insight into the struggles of today's clergymen, particularly with dwindling interest in Christianity, media spotlight and the new "coolness" in agnosticism and atheism. Oladimeji's perspective of things, from a church in the civilized west rather than a third world country with strong ties to religion, is interesting too. There are references to immigration, gun laws, moral decadence, diminishing interest in Christianity, failing marriages, and of course, the gospel of prosperity vis-a-vis the message of salvation.
While the structure of Oladimeji's literary offering is not exactly clear, it could be loosely described as a play, given the dialogue and arrangement of events, never mind that plays come in acts and scenes rather than chapters. The dialogue in some parts of this book stretches too long, and some conversations could have been dispensed with. There is a mix-up with tenses in some portions too; the editors could use some talking too. The major drawback of this book, however, is the paucity of emotion perceived in the main character. It gets hard to really connect with the protagonist, and some sub-plots, like the cracking marriages and Job's situation with his wife, are left unresolved as well.
"Our Pastor Has Gone Mad Again" is a catchy title reminiscent of Ola Rotimi's classic, and it presents some relevant ideas, but the execution does not leave me with much to care about. It would definitely resonate with pastors, church leaders, Christian couples and young people inclined to religion, but if the author intends to reach out to a wider audience, he should expect mixed reactions.
Rating: 6/10
Want a copy of Elijah Oladimeji's "Our Pastor Has Gone Mad Again"? Get one here on the OkadaBooks store.
Jerry Chiemeke
 is a lawyer who resides in Lagos. His works have been featured in The Kalahari Review and Brittle Paper. His editorials have also appeared on True Nollywood Stories and he is currently a book reviewer on literary blog Bagus Mutendi. He recently published his first book, "The Colours In These Leaves".