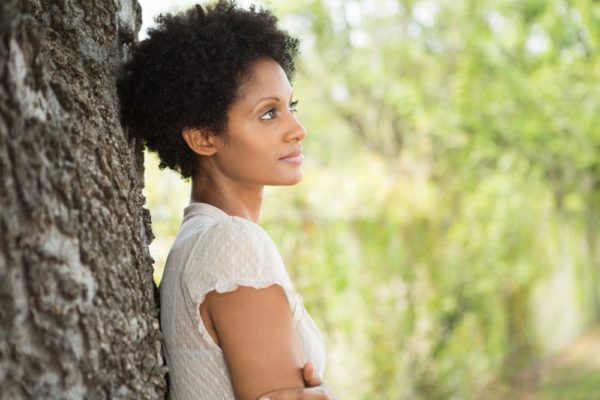 I am right under the green moon staring blankly at you. I am on the plantain trees where you told me witches meet in the wee hours of darkness to suck human marrows. But you are resting your back on the tree. You must have forgotten I'm one of the witches haunting you – throbbing cyclonically at the left side of your lithe neck.
Asake.
I am your scourge; the shadows accompanying your veins when they carry blood up to your heart. I am the thump thump you hear behind the rusted and creaking bedroom door. I am dancing on the walls, laughing in the kitchen plates, jeering on the TV screens. I am pulling out my white tongue while pulling down my lower lids with my index and middle fingers. I am the mocking doll – dancing the epileptic one corner dance at the four corners of your room.
Asakemi, you are running mad!
You are sitting at the middle of this room looking into nothingness. You are rocking forward and backward and I am inside the wall, peering through its cracked lines, and I know you can see my one eye – you are stealing glances at me. You are with a pen and brown paper and you are writing… and whispering incoherently; you are going crazy and I shall tell them why. But wait, since you are writing to BellaNaija, I shall help you. You know I am a good story teller so I shall say it all from the beginning…
When your ink turned the brown paper to a rich shade of blackened blue, you started with Uchenna; you met him at 23. He wasn't your first, but it was he who sucked your brains off your skull. He took you to gym every Saturday and in the garden filled with petals. He pulled off his shirt and flexed his muscles. Your eyes stared wide open, your lips agape, you wondered in awe at how a man could be so beautiful.
Within two weeks of dating, you had done the Buhari – touring every cranny of the world. He bought you diamonds and told you on your wedding day, your gown shall be made of pure gold. He said your matrimonial home shall be made of fine wood, your walls made of majestic marbles and your bed shall have silvery sparkles bouncing off it. You came to my doors in glee; your nostrils flared in excitement. You said to me "I've finally found him".
I didn't know what to say to you Asake, but you knew – you saw it when my face slackened, when I sighed and sighed again, when my lips quivered as I told you it was all a wily subterfuge.
I was scared of one word – jealous – and you said it to my face.
When after another two weeks, you said he asked to get inside you, you were worried; you hadn't done it before and you wondered if the stories you heard about it was true. But how could you refuse someone who had helped you so much? You had told him to be patient – but patience wasn't a word in his dictionary.
So when I rushed to your home on Sunday evening and found you in a pool of thick red liquid, when you told me the story of how he had slapped you hard across the face till your ears became partially deaf and your eyes had rolled in their sockets, it was my turn to stare wide-eyed. My lips only fell apart when lying in the hospital bed, you had told me of how, pulling your nipples too hard, he had dipped two of his very long fingers into your vagina and had ripped apart your clitoris in rage. He had screamed while hitting you repeatedly "do you think all those money and trips are for free?"… And then, my shadow had haunted you.
Asake.
Let me tell them the second story. Gbenro came 3 years after – in white agbada. He was one of those who pressed their noses to the tiled floor to seek the hand of their friend's fiancée in marriage. He had fine features, but that wasn't what attracted you – you had learnt your lesson. Gbenro was good; he was the kind of man women pined for … until he asked you to abort your first pregnancy. When you came to me, I asked you not to. I told you it was better to have a baby even outside wedlock than to flush it off its inner abode, but you had made up your mind.
So at the end of the year, when you broke up with him and I accommodated you in my house. I was petrified when you started hearing the cries of a new born baby at every corner, on the streets, in the mall… and you were going maniac. It was then you told me you had had 8 abortions for Gbenro – within one year.
You told me of how you nearly died the last time, how you drank hot water hours after taking the abortion pills, and then you had nearly become deluged in the alluvion of your blood. Then you had been taken to the hospital and you had watched the chapped body of your baby being brought out of you with irons. Since then, a baby had cried in your ear – until I took you to see a shrink… And my voice had haunted you.
Asake.
This is what I told you when you met Kaigama. You were carrying his baby and he was cheating on you with Baba Isale's daughter. You travelled 16 hours from Lagos to Abuja, got to his house by 11pm and he told you he wanted you to make semo and Egusi soup that night. This is what I said to you; baby, never let yourself go for anyone. When you see the red flag – halt, baby halt – never go ahead. A bad marriage will suck away your soul and drain all beatitudes off you.
I tell her that I saw mama sink into the abyss of resignation. She took each day as it came – eating specks offered her by the virulent sun. Each day licked away her beauty and kicked her strength off her bones.
I saw mama leave; she walked away into the dungeons. She left the seat of the queen and ate crumbs that fell off the table of the masters. She accepted this with both hands. I saw it in her purple eyes and bloodied lips. I saw it in her blank lens. I saw this when she took every ponderous step. I saw mama in Rome, holding tightly to her rosary. Mama walked away – she became quiescent. She wouldn't look into my eye. How can she tell me to be a strong woman? When weakness had squashed her knees.
This is why you are haunted Asake. You never listened. When the roses wilted, when Johnny Drilles' songs were replaced with Terry G, and his heart began to pump out black blood. When your eyes rolled again in their sockets from pummels and your skin became crinkled, and your back became stooped from the avoirdupois of dejection, you heard my voice in every crevice of the walls – haunting you, your conscience, your guilt, your contriteness. Not me.
You are done writing; the brown book has been filled with ink and you will send it to BellaNaija. But, you will think first – is this for Aunty Bella or BN Confession Box?
Asake.
Photo Credit: © Noriko Cooper | Dreamstime