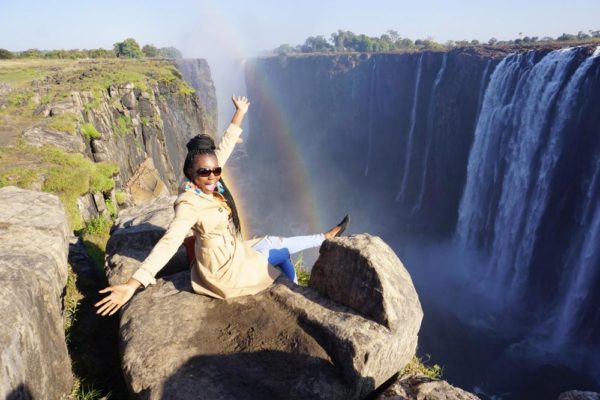 Last time on BellaNaija, I admitted to not having seen most of the African continent. I wrapped up with a commitment to do better in my own way, starting with a 2.5-week trip through three Southern African countries in August.
I travelled solo, through South Africa (Cape Town, Johannesburg, and the Greater Kruger area), Zimbabwe, and Mauritius; staying in accommodation ranging from hostels to luxury accommodation.
I've had some time to digest the experience, and I wanted to share some of the lessons I'm taking away from this trip.
Gosh, we are a Beautiful People and so is the Land
In Cape Town, I received the warmest immigration welcome ever, and you know these officers are usually serious people! I was called 'Sister' and I loved it. I experienced the warmth of strangers throughout my time.
I saw hustle and I respect a good hustle! From the young man proudly showing us his shack (built entirely of cardboard and soft drink caps) in Langa township, to the security guard self-studying at my hostel, to the lady up in the wee hours with her sheep roasting business, to the tour guide giving back to his township by employing vendors, to the owner of the Shebeen making Umqombothi, to the ladies killing it in business and media. How can one not be inspired to go hard?
I observed South African women SLAY: from the outfits, to the accessories, to the hair! Oh the hair, I've never seen our hair styled so boldly and beautifully in so many different ways!
South Africa and Mauritius are incredibly racially diverse, this diversity is beautiful to behold.
Cape Town is easily one of the most beautiful cities I have ever visited, I now understand the hype about it. Jozi (Johannesburg) is alive and has a funky vibe to it that I can get with. Sitting on the edge of Victoria Falls in awe of God, the word that came to mind was MAJESTIC.
Representation Matters
As a black, female, traveler, I'm often one of the few or the only black female at many destinations. While this was not the case in the rest of South Africa, it was the case at my Safari lodge. Lebo, a thirty-year old mother of a six-year-old, was so excited to see me. She had not seen a black guest in her time working at the lodge. She told the rest of the kitchen staff and these ladies all came out to say hello. EVERY single one of them.
I'm NOBODY (to say the least), yet to all those women, my presence represented something. There's something about seeing someone who looks like you (or that has encountered similar challenges as you have) be present in spaces you previously assumed or were told was out of your league. For some, it sparks a fire for some and for others it turns a barely lit candle light into a raging fire. In the end, I was reminded that you just never know what you represent to someone else. It is important not only that we tell our stories, but also that we are physically present.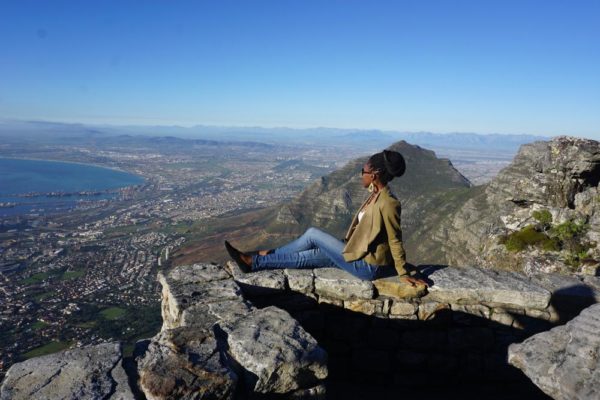 There is Work to be Done
I'd be lying if I said wasn't surprised at the disparity in the allocation of resources in South Africa and the existing racial divide. I knew about apartheid but I have to admit that I was a bit clueless about the extent of the wounds that remain unhealed. I read the news and I knew about the corruption in leadership but still, I missed something. None of the blog or Instagram posts I read in preparing for this trip called this out explicitly. I was surprised to find black Africans holding 95% of lower-skilled jobs in the interactions I had. Every janitor, security guard, driver, and housekeeper that I interacted with was Black.
I know the government is making efforts to reallocate resources, and level the playing field but it will take time. There has to be compromise, sacrifice, and forgiveness on all sides. Since I've been back, I've paid attention more than ever before, but I've also shared a rounded view of my experience because awareness is the first step.
What next, you may ask? Maybe consider being intentional about supporting one or two black/minority owned business when next you're in South Africa. There's so much beauty and potential here, I remain hopeful for all of South Africa.
In Zimbabwe, I connected with well-educated young man who has big dreams, but could not get a job in his field.
Travelling within Africa is still expensive, I was almost discouraged in trying to get to Zimbabwe but I was committed to the cause, so I drank garri to make it happen. We need more low-cost carriers if we want our people to explore our continent. South Africa and East Africa have a few of these, but West Africa continues to struggle here. I hear there's a new one coming to Nigeria soon and I've got my fingers crossed. Until then, can you blame anyone for going to Europe when the airfare is cheaper, comparatively?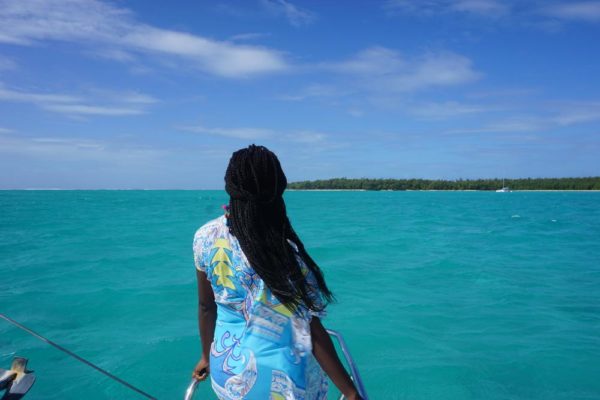 Best Trip Ever!
I've been blessed to travel to over 40 countries, all on my Nigerian passport. Each trip is unique and special in its own way so I usually decline requests to pick a favorite. After all, these experiences are subjective. I'll share most adventurous, my travel mishaps (and there are several of those), best food, best value for money etc. However, without a doubt this trip was my best one to date because of the sum of my experiences.
I accepted the warmth of strangers, and was denied entry into Zambia for no reason. I sat on the edge of 'the smoke that thunders' -Victoria falls -and felt small in the best way possible. I drove/biked the Cape Peninsula and watched the sunset on Table Mountain. I sat at a long wooden table and ate with strangers at a market in Johannesburg. I made new friends and reconnected with old ones. I learned a lot about the countries I visited (history and current affairs). I had a few aha moments as it dawned on me that there's more to a Safari than seeing animals (that's pretty great in itself). I danced to Sega in Mauritius, and I sipped on a colorful drink with an umbrella on it as I looked out onto the Indian Ocean.
This is Africa, our diverse stories are rich, and I have no doubt that despite our struggles, God's hands are on this land! This is Africa, and you have to see it for yourself! For more stories on each stop on my trip, hop on over to my blog! I can't wait until the next adventure and I hope you'll come along!
In the spirit of Christmas and adventure, look out for a no-strings attached travel giveaway (to a destination on the African continent) on Instagram this December on @wellwornheels and @kemionabanjo. May the odds be in your favour!