Awala-Ale Mofe: 4 Tips for Purchasing & Using Highlighters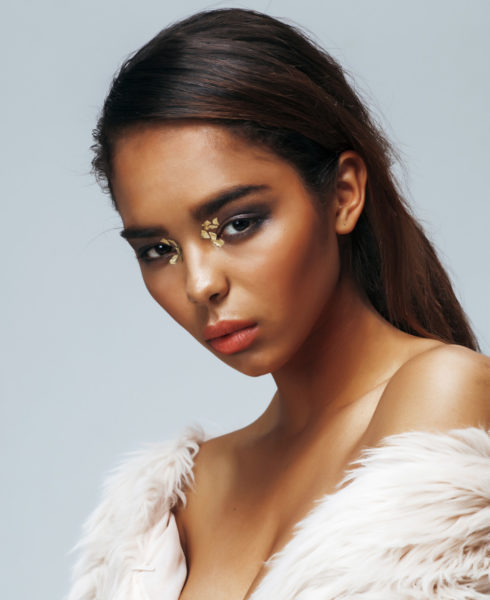 Once, highlighters were not a staple in makeup kits. Now, highlighters are a norm that is popular, thanks to internet-famous personalities and makeup gurus. It would seem that your makeup is incomplete without these shimmery powders.
With the creation of many highlighters and sale of a tremendous number of highlighter palettes, here are my tips for making the best use of highlighters.
Tip 1: Decide if you need a highlighter
It may be something all the professional makeup artists have in their kit, but do you need it? Highlighters have an annoying effect of emphasizing skin imperfection. So, if you have bumpy skin or acne, highlighters may not be the most complimentary products for your use.
If you do want the glow that the highlighter provides without the overemphasis on skin imperfections, you can try applying the highlighter in a less intense manner. Mix a liquid highlighter/illuminator with a little foundation and apply that before using a bit of powder. While the glow will not be as intense, there will be less emphasis on skin imperfections.
Tip 2: You only need one shade
I have learned after using different highlighters that I always use one shade that compliments my skin tone. Your highlighters should work with your skin tone. An example is that I have red undertones and as such, I use gold and bronze highlighters. These shades complement my skin and look like a natural glow when applied lightly. A silver highlighter tends to look ashy on me, so I avoid that. Buy the highlighter that will work with your skin tone every day.
Furthermore, unless you are swirling your brush in your highlighter and bathing your face in it, it is unlikely that you will finish your highlighter quickly. For this reason, I recommend only 1 or 2 shades of highlighters that you can work your way through and finish.
Tip 3: Buy a practical highlighter shade
Tied to the second tip is this one. If you are buying highlighters, stick to practical shades that you can use at any time and with any makeup look. You most likely will never need a blue, pink or black highlighter. While these colors look pretty in the pan, most of the time they are used as eye shadows instead. Stick to basic highlighter shades like gold, rose gold, silver and bronze especially if you are on a budget.
Tip 4: Learn multi-purpose uses for your highlighter
To make use of your highlighter to its fullest potential, learn how to use it for other makeup applications other than for a glow.
I have learned that highlighters are usually milled finely, sometimes even better/finer than eyeshadows. So, if you want, you can use your highlighter as an eyeshadow with a great primer underneath.
For an unconventional eyeliner look, you can apply your highlighter on top a strip of glitter glue or mix it with some eyeliner mixing liquid.
If you are unafraid to put a dent in your highlighter, a little highlighter mixed in with your foundation provides an illuminating or glowy finish (If your highlighter is chunky in texture or you have oily skin, you may not appreciate this tip).Use these tips to guide your highlighter purchases and make the most of your highlighter without breaking the bank.
Photo Credit: Dreamstime