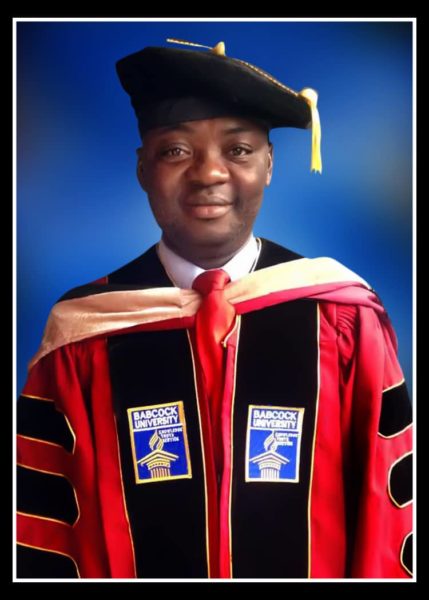 In July 2018, the BellaNaija Features team decided to take a closer look at academia in Nigeria. We recognize that the current state of our educational system leaves a lot to be desired. However, in spite of all the difficulties, Nigerians still go through the system and manage to excel in their field of studies. Even more commendable are Nigerians who go over and beyond graduate level, by attempting and completing post graduate degrees. It is for this reason that we decided to specially recognize and celebrate people who completed their PhDs in Nigeria. Naija Doctorate & Proud is a celebration of Nigerians who have obtained their doctorate degrees from Nigerian universities.
Today, Dr. Godwin Emmanuel Oyedokun has kindly offered to share his Naija Doctorate experience with us. Godwin is a multidisciplinary professional scholar. He is currently the Executive Secretary at International Centre for Tax Research and Development (ICTRD), a Senior Lecturer in the Department of Accounting at Nasarawa State University, a visiting Associate Professor of Accounting & Finance at Saint Monica University, Buea Cameroon, and Associate Professor of Accounting & Finance at Charisma University, Turks & Caicos Island, West Indies, UK., an adjunct/visiting Lecturer at Babcock University, Ajayi Crowther University, McPherson University and Caleb University.
It is no mean feat to obtain a Doctorate any where in the world, and to do it in Nigeria means you rock! Enjoy our chat with Dr. Oyedokun.
**
Tell us about yourself and your educational background
I attended Osun State College of Technology Esa- Oke Osun State of Nigeria for my National Diploma (ND) in Financial Studies and Higher National Diploma (HND) in Accountancy. Also, I hold B.Sc. in Accounting Education of the University of Ado- Ekiti, (now Ekiti State University) Nigeria and a B.Sc in Accounting & Finance (First Class) of Saint Monica University of Saint Monica University, Cameroon. I bagged my MBA in Finance & Accounting and M.Sc Business & Applied Economics (Finance) at Olabisi Onabanjo University and M.Sc. & PhD Accounting from Babcock University.
I am a board member of Covenant Capital Business School of the Covenant Christian Centre, Lagos and a board member of Audit, Investigation and Forensic Accounting Faculty of the Institute of Chartered Accountants of Nigeria (ICAN). I am the Chairman, Audit Committee of Osun State College of Technology Alumni Association.
I have attended several local and international conferences in the last 25 years with a number of professional and academic articles to my credit and contributed to more than 10 textbooks and has 5 books to my credit.
I have been a titled Chief (Otun Mayegun of Apomu Land of Owu Kingdom) since the year 2013 and happily married to Chief Mrs Oluwabunmi Esther with children (Michael, Philip, Esther and Emmanuel).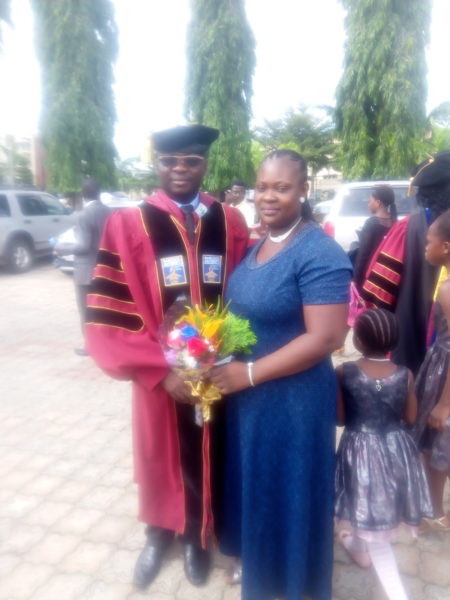 Impressive. So what inspired the choice of your field of research?
I chose my field of research because of my quest to link accountancy, taxation and forensic accounting – which people believed would be too difficult to achieve. PhD is not about going through an easy way. Doing so afforded my research work respect, and extension of the frontiers of knowledge in the field. I did a similar research for my MSc Accounting where I linked Forensic Accounting with Internal Control and quality of Financial Statement.
Now the big question, why did you do your PhD in Nigeria?
This is my country, people believe we cannot get it right and done within the required number of years for PhD, my University (Babcock University) proved them wrong. We wanted to solve Nigeria's problem, but the solution in foreign countries cannot work for us in Nigeria. We are peculiar people of God and we understand our ways of life. I had the opportunity of studying overseas but I chose to do my PhD Accounting in Nigeria. My target population was Nigeria. The outcome of my research is to resolve peculiar problems in Nigerian, but with global adaptability.
I wanted a PhD when I realized that I had so many things to offer, most especially in the educational sector. I love teaching and I had taught at all levels of education. I was stopped at a point because I did not possess teaching qualifications. This prompted me to go back for another Master Degree which is academic in nature having previously bagged a Master of Business Administration Major in Accounting & Finance. I was told that the MBA is a professional Masters and I could not proceed to PhD with it, even when some had enjoyed this in the time past. So I went for my MSc Accounting and later MSc Business & Applied Economic with Finance Major to afford me the opportunity to proceed with my PhD programme.
What was the cost implication of this academic endeavour? Please share how much it cost to complete the PhD
Actually, this is not what I want to remember. At first, I thought I couldn't make it, but glory is to God, I did it without borrowing money. The tuition fee in a private University in Nigeria is known to all. I spent 3 years in my PhD Accounting programme and each session's tuition is N650,000. (Total- N1,950, 0000) Other direct costs are put at N500,000. Indirect expenses such as travelling to other countries for seminars, a subsidiary study on modelling for accounting and research & data collection expenses stood at about N1,000,000. I spent this much because my research demanded that I collected both secondary and primary data. The primary data took me round major cities in Nigeria including far North. Some of my colleagues may not have spent up to this or spent above. It all depends on the nature of research. The school fees and some direct payments in fulfilment of the award the degree are fixed.
Please walk us through the process – from picking a research topic to find a supervisor, the methodology and thesis
I searched for a responsible University in Nigeria that can offer PhD programme in Accounting, with adequate faculties and facilities. I attended so many entrance interviews and written so many PhD admission tests. I was given admission by more than two Federal Universities. Two State Universities and 3 Private Universities were ready to admit me before my HOD, Professor Ishola Rufus Akintoye put a call to me that NUC had finally granted their request to mount PhD Accounting programme in Babcock University and that my colleagues and I that did our MSc in the Department should go ahead and obtain the PhD Accounting admission form.
Without rejecting the other offers, I did a SWOT analysis of each University that offered me admission in terms of the number of Senior Academics available, facilities and antecedents, seriousness & willingness to produce PhD graduates. I noticed some of them had not graduated PhD Accounting for the past 5 years; where they did, it was maybe one or two.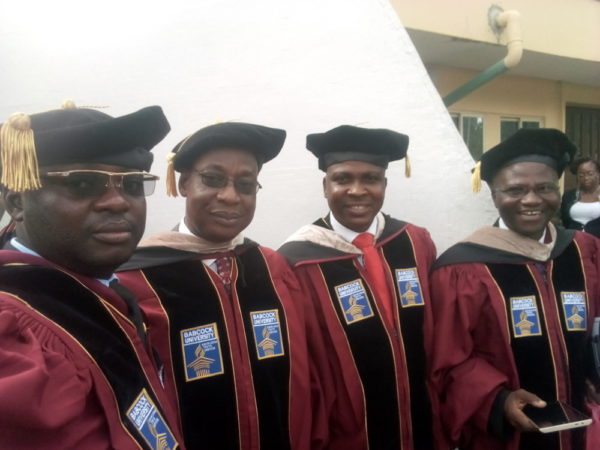 Trusting the culture of Babcock University where both lecturers and students would be queried for not making progress and no lecturer can harass, assault or maliciously delay you (unless the candidate is not serious or lack sense of focus) I then finally chose Babcock University. Covenant University would have been my option if NUC had not granted Babcock University permission to run PhD Accounting. We were the first set of the PhD Accounting in Babcock University and I can confirm to you that all accounting courses were returned to us as course works with so many life-changing university courses.
Before Babcock University admits you for PhD in any programme, you must apply and fill in prescribed forms. The most difficult part of this form is the requirement to attach your research proposal. Chai! This a summary of what your expected thesis' chapter 1-3 should contain. I was invited for an interview and the problem started with my topics, so many diverse opinions but, I thank God I passed the interview.
Course works took us just two semesters, and we had our various seminars where my HOD must invite scholars to listen to you and the grading was actually from these scholars, so no internal lecturers can victimize you. The grading is open to all.
At a point, I wanted to opt out to public university as I knew their course works may not be more than 5 or 6 with low tuition fee, but, no one asked me to go for PhD. In fact some of my professional colleagues saw it as a waste of time and money having been a Chartered Accountant of more than 10 years. However, all professors that taught us made the teaching-learning experience worthwhile. I lost more than two high paying jobs on the account that I had to go to school every Friday, and also had to do some research work. My employers then considered it was affecting my timing at work. I took steps to resign at these two instances and face my PhD Programme.
I have no regrets.
In terms of challenges, I remember I had to defend my PhD Thesis title so many times to convince the Professors that I knew what I was researching. Many times, my topic (Forensic Accounting Techniques, Tax Justice and Federally Collected Tax Revenue in Nigeria) generated issues among the professors while presenting my seminars. I enjoyed this, as I always used the period of their argument to save my breath and think of when next to say to defend my position, while harvesting their comments.
The height of it all was when I presented my field report (Post – Field), some invited professors had to introduce new technicalities into my work which would make me go back to the literature. (My Department has this policy of inviting not less than 20 Professors from both public and private to critic our work before approving the work for final VIVA)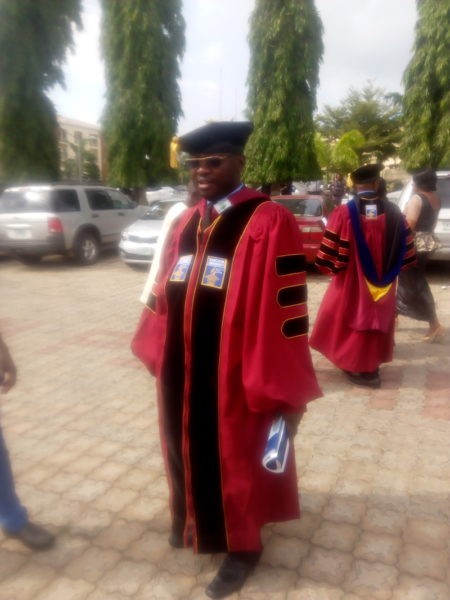 Yes, I was able to surmount the technicalities and what followed was dealing with my Abstract. At some point this was rejected, and my mates were able to move on, but I thank all my Professors who took it to open themselves to guide me.  I finally made it to VIVA stage.
An erudite scholar, an expert in my Field was invited as my External Examiner (Professor Kabiru Isa Dandago, Professor of Accounting at Bayero University and the immediate past Commissioner of Finance of Kano State). He is full of wisdom and examined me for about 5 hours where I was 'sweating my blood' out under serious tension of not failing the examination.
YES! I was pronounced Doctor of Philosophy in Accounting on April 16, 2018 (a day to my 40th Birthday, I was sure the panel never knew about my birthday). I couldn't celebrate this birthday because my HOD (Professor Ishola Rufu Akintoye) remained on campus to make some necessary corrections, so I could meet up with the convocation which was slated for June 3, 2018
Because I was so sure of the quality of research, supervision and the originality of my thesis, 20 extra copies were produced, signed and distributed as follows: ANAN, CITN, ICAN, FIRS, LIRS, CBN, NBS, Nigerian Senate President, Nigerian Speaker of House of Representative, Federal Ministry of Finance, Chairmen of House Committees on Finance of both Senate and House of Representative, all my supervisors, the University's Library and other University's statutory Offices.
In all, only chartered Institute of Taxation of Nigeria acknowledged and congratulated me. The copy sent to the Minister of Finance was rejected for the reason(s) best known to the officer in the Ministry called Clara. I will personally hand it over to her when I see her in any occasion.  I stand to make difference!
It would interest you to note that my other colleagues in the public universities that I decided not to take their offers are still on coursework for the past 3 years. This is not on the basis that they were been delayed for quality work, but for the internal politics in these public universities.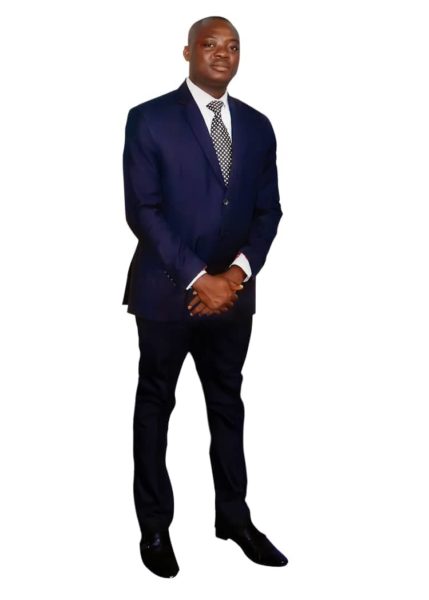 Do you currently work in academia? please provide details of your industry
Yes, though I have my consultancy outfit in Lagos called OGE Professional Service, but I found favour of in the sight of God through one of my Professors, Muhammad Akaro Mainoma. He employed me as a Senior Lecturer in the Department of Accounting of the University where I am covering Accounting, Banking & Finance and Taxation Departments.
However, I have been a visiting Associate Professor of Accounting & Finance at Saint Monica University, Buea Cameroon, and at Charisma University, Turks & Caicos Island, West Indies, UK,  an adjunct/visiting Lecturer at Babcock University, Ajayi Crowther University, South Western University, McPherson University and Caleb University at one point or the other
Well done. It's amazing that you're  teaching in so many places. What would you say are some of the advantages of your PhD?
My international recognition is second to none. Opportunities of teaching at all levels of university education and supervising of quality Research Projects/Dissertations/Thesis. More importantly, it is enhancing my value. In a lighter mood, it is now difficult for people to call me without put Dr. before my name. PhD is the highest qualification.
Yes, Doc. They have to put some 'respek' in your name. Overall, what did you learn from your experience getting a doctorate in Nigeria? Also, do you have any regrets?
Things can be done right in Nigeria including MSc and PhD programmes. Gone are the days Nigerians have to travel and attend University aboard all in the name of MSc and PhD degrees. I pity governments that still sponsor lecturers for MSc and PhD programmes abroad (what a misplaced priority, especially where we have capacities here).
Spending more than 3 years or delaying PhD Candidates who are serious is no longer fashionable, but shared wickedness on the part of the concerned Supervisors. I learnt that both students and Supervisors now take the glory of successful PhD programme unlike before that Supervisors saw it as new scholars coming taking their jobs.
Professors' Inaugural lectures are not complete without mentioning the number of successful supervised Masters and PhD Dissertations/Theses. Imagine, some professors retired without producing any PhD Candidates in their lives.
I do not have any regrets; every aspect of my professional and academic journey worked out to be what I loved to be. Even those who had one time or the other served as a clog in my wheel of progress ended up contributing greatly in making me whom I am today.
What advice would you give someone thinking of getting a PhD
PhD programme is 'doable' in Nigeria. We have a good number of private universities with NUC's accreditations to run the programme and a good number of public universities with a good sense of responsibilities and focus in producing capacity for national development. Do your research by asking questions on these universities. It's not about the location in Nigeria, name or year of establishment of such universities, but their productivity and seriousness.
Be ready to read wide, attend conferences and PhD seminars in different Universities.
What advice would you give people in the Nigerian academic stratosphere on how to improve the quality of the education?
Apart from general funding of education sector in Nigeria that should be the major responsibility of our government at various levels, the rest is on the shoulders of those charged with the management of our Academic Institutions, including the lecturers. We all should see human capital development as a win-win situation, produce quality students on time and your value is enhanced. Whether we like it or not, our time will pass and who takes over from us will now be the question.
Lecturers should not take workload above their personal development. Have time to attend to research students as they see you are mentors. Your attitude during your encounter with your students last in their memories for life.
Any final thoughts
Having PhD is sweet; having it in Nigeria is honourable and makes one be bold and stand before Kings and not mere men.
I charge Universities' Management in Nigeria to have a policy and attach high value to the number of students well supervised at Postgraduate level for the purpose of promotion, research grants or salary increment. Nigeria will earn more from students coming from other countries to study in Nigeria.
Thank you so much for your time and very detailed responses, Dr. Oyedokun. We trust that our readers gained a lot of insight from your experience. BellaNaijarians, if you enjoyed reading this, please share with your friends. If you obtained your PhD from a Nigerian University, we'd love to share your story. Please click HERE to find out how to reach us.