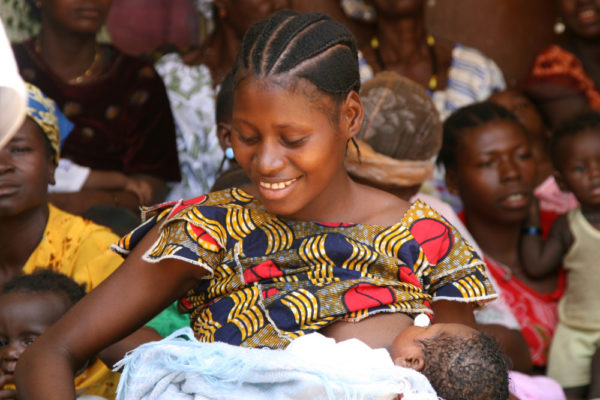 Exclusive breastfeeding is the optimal way of feeding infants for the first 6 months. After 6 months, you may introduce complementary foods with continued breastfeeding up to 2 years of age or beyond. Why? Because exclusive breastfeeding reduces infant diseases and death. Newborns are prone to common illnesses such as respiratory tract infections, diarrhoea, etc. Breastfeeding your newborn provides protection against these.
Most of the actions we take at the beginning of breastfeeding play a huge role in how breastfeeding turns out. Here are five breastfeeding tips to help nursing mothers.
Start early
Prepare for breastfeeding while pregnant. Learn the hand-expression technique. Within the first hour after birth, start skin to skin and let baby latch on and have the first feed. Mother and baby should be together always and not separated, except for short intervals. Having an interventional delivery causes a delay in milk coming in. It's advisable to start as soon as you are alert.
It is normal to get nipple soreness at the beginning, this naturally subsides by 2 weeks. An all-purpose nipple cream is handy for this. Any severe latch pain that lasts more than 30 seconds should be investigated. It takes about 2-3 days for milk to come in after delivery. This could be longer in some mums due to the type of delivery, retained placenta, medical history, etc.
Do it as often as possible
Breastfeed on demand or at least every 2 to 3 hours. Because this is a new territory, I find that many first-time mums don't put the baby to the breast as often as they should. After delivery and detachment of the placenta, the pregnancy hormones drop and the breastfeeding hormones are ready to kick off milk production. The two breastfeeding hormones prolactin and oxytocin are stimulated by the baby's suckling or pumping. An adequate demand on the breast helps with breast milk production.
Practice skin to skin contact
Skin to skin is when a mother lays her naked baby between her bare breasts and covers the baby's back to keep warm. It is not easy for babies to transition from the womb to the outside world. So they need this sense of security. All newborn babies, both premature and full-term, benefit greatly from the skin-to-skin contact.
Mummy needs this skin-to-skin contact as well. It's beneficial and is also a moment for mummy to relax and bond with her baby. It stimulates the breastfeeding hormone oxytocin which helps in breastmilk letdown. It regulates the baby's body temperature, breathing and heart rate, as well as stabilizing blood sugar levels. This means there will be a reduced risk of the baby being admitted to NICU which will directly affect the demand on the breast. It helps the baby's skin and gut to colonize with healthy bacteria which reduces the risk of illness that could prevent baby from sucking as needed.
Take care of yourself
Literally, every breastfeeding mother is a milk factory. Producing breastmilk consumes 25% of your body's energy, while the brain only uses 20%. It is normal to notice an increased appetite. Have healthy food options that will also increase your breast milk supply such as carrot, sweet potatoes, oats, beetroot, pawpaw, lactation products, etc. Stay hydrated. It's common to get distracted when an urge for thirst occurs. You need to squeeze in that sleep. Try to nap when the baby is napping. Take advantage of nursing positions that can allow you to snooze for a bit, positions like back-lying and side-lying.
Have a great support system
Breastfeeding is not a walk in the park. Don't let anyone tell you otherwise. Having a great support system is of great essence. You need a support system to get you through the tough phase. This can be your spouse, mother, friend, etc. When choosing who to be your support, make sure they are well informed about breastfeeding. Choose your support system while pregnant, don't wait until later.
Their role is to help you with chores, help with the baby and keep encouraging you through all the stages of your breastfeeding journey.
Having worked with thousands of mothers, it's evident that lack of appropriate information is the reason for early weaning of breastfed babies. Can you think of any other tips for breastfeeding? Please share.
Photo Credit: Dreamstime