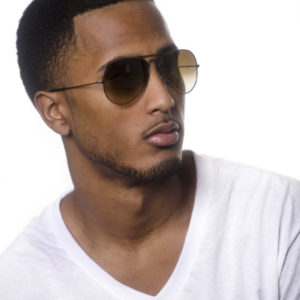 Read the previous episodes of the Eko Heist series HERE.
***
Saturday Morning, 1 AM.
Kunle, the getaway driver from Ajah Market, tore past buildings at lightning speed. Uduak, in the back seat, held on to the grab handle for dear life. The police were gaining on them, sirens blaring, horns piercing the silence of the night. People were peering out of their windows to know what the ruckus was about.
"Jesus! I never see police chase person like this before oh! Guy drive! Drive!" Frankie barked, hitting the imaginary gas pedal in the passenger seat. He could not let the police catch him. He could not fathom losing his money, a fight and his freedom all in one night. Suddenly, he remembered the gun.
"You!" He said, turning to Uduak. "Where's that gun?"
It took Uduak a second to understand. "Err, I leave am for the house."
It was impossible for Frankie to be more frustrated. He had never felt so powerless in his life, and the only person he could think to blame was Eghosa. He could not understand why Eghosa would turn on him so sharply. It seemed like he was possessed, his bloodshot eyes that looked like there was no line to hard to cross. He could see it in his eyes that he would have killed him had he gotten the chance. How had he never seen Eghosa fight before? Some of the guys even called him "Gentle Giant" because of how docile and non-violent he was. Frankie refused to make any excuses for Eghosa. He would have to pay for what he did.
"Look here, if these people catch us, you better tell them say na Eghosa make you do this thing. Na im force you, threaten you sef," he said.
"Oga, dem dey front ooh!" Uduak screamed. There were bigger issues than deciding on a fall guy.
"Shut up!" Frankie barked. He had just noticed that there were police cars coming at them from the front as well. He had to think fast.
"Turn right here! Don't trafficate! You bi fool?" Frankie hissed.
Kunle did as he was told. He wasn't a man of many words, or maybe he was channelling all his strength toward not getting caught. He made a sharp bend to the right and the sirens followed. He made another to the left and the sirens followed even faster. The adrenaline was at an all-time high, that was why when the police started shooting and a bullet took out the right wing mirror, Frankie did not notice a shard of glass had pierced his arm.
"Guy drive na!" He shouted. It was all he could do to stop from feeling so helpless.
"Frankie, blood dey your shirt. Ahh, glass enter your body!" Uduak screamed. She had to use her thumb and index finger to pin her mouth closed to prevent the crying noises from escaping. This was much more than she bargained for. She knew it would kill her mother if she ended up in jail. All she had wanted was some extra money.
The sound of shattering glass interrupted her thoughts. Another bullet had ripped through and taken down the rear windshield of the car. She quivered and screamed as glass came pouring down around her. She lay flat at the back seat shivering with her eyes wide open. Kunle was resilient through it all, he only stopped driving when the police took out his two rear tyres and the car swerved violently off the road and stopped just two metres short of a ditch.
Frankie made a last attempt to run. The police officer that caught and pinned him to the ground laughed and recognized his effort as he handcuffed him.
"You don try my brother. Me sef salute your hustle."
***
Saturday Morning, 8:30 AM.
Eghosa had tried to call Frankie at least ten times that morning. His phones were off and no one seemed to know where he was. He had woken up earlier that morning in the driver's seat of his car. His knuckles were bloodied and bruised but he could not remember why. The last thing he remembered was walking with Uduak into the room with the vault at Chief's house, but nothing after then.
He had even asked Ngozi, when she was done screaming about his staying out all night without giving a heads up, to tell him what happened the night before and she had no information to volunteer. He knew that he occasionally had blackouts when his dissociative identity disorder manifested, but he usually had some control over how long the switch lasted and would remember flashes of what happened.
While he was pondering and redialling Frankie's number, the door burst open and four policemen walked into the house. Eghosa could not hide his shock and for a second couldn't find his voice.
"Are you Eghosa Ogbebor?" Inspector Garba asked with a grimace.
"Yes. What a-are you doing in my house?" Eghosa's machismo betrayed him.
"Sir, you're under arrest for the robbery of Chief Tom-George's residence."
"Me? I didn't rob anything!" He stuttered.
One of the policemen attempted to forcefully handcuff him. Eghosa tried to fight them off and during the squabble switched to Odinaka. The fight with the police suddenly went from a mild resistance to life-threatening. He threw jabs at anyone who came close, grunting and throwing anything within reach. The fight moved from the living room to the car park and only got more violent. During the struggle, Eghosa shoved one of the policemen against Ngozi's car. She heard the sound and came rushing out.
"Officers, what is it?"She screamed.
"Madam, go inside. This man is a thief!" Garba bellowed. "Cuff the bastard!" He shouted from a safe distance.
Ngozi was surprised by the suddenness of the arrest, she thought it would be at least a day or two before Frankie broke and confessed Eghosa's involvement. Wasn't the saying as thick as thieves?
The sound of Eghosa breaking the side mirror of her car with the policeman's head brought her out of her reverie. In shock, she used the superpower without thinking.
"Odinaka, Come here!" She screamed.
The policemen watched in utter amazement as the grown man about to break someone's arm suddenly dropped everything in his hand and walked briskly to Ngozi's side like he was under her spell. Blinded by the anger from seeing her car damaged, she didn't quite realize what she was doing when she smacked Odinaka three times on his arm again and he fell unconscious. Inspector Garba's jaw dropped.
As Ngozi made to return inside the house, they all cocked their guns at once.
"Stop there! You're coming with us!"
Photo Credit: Dreamstime