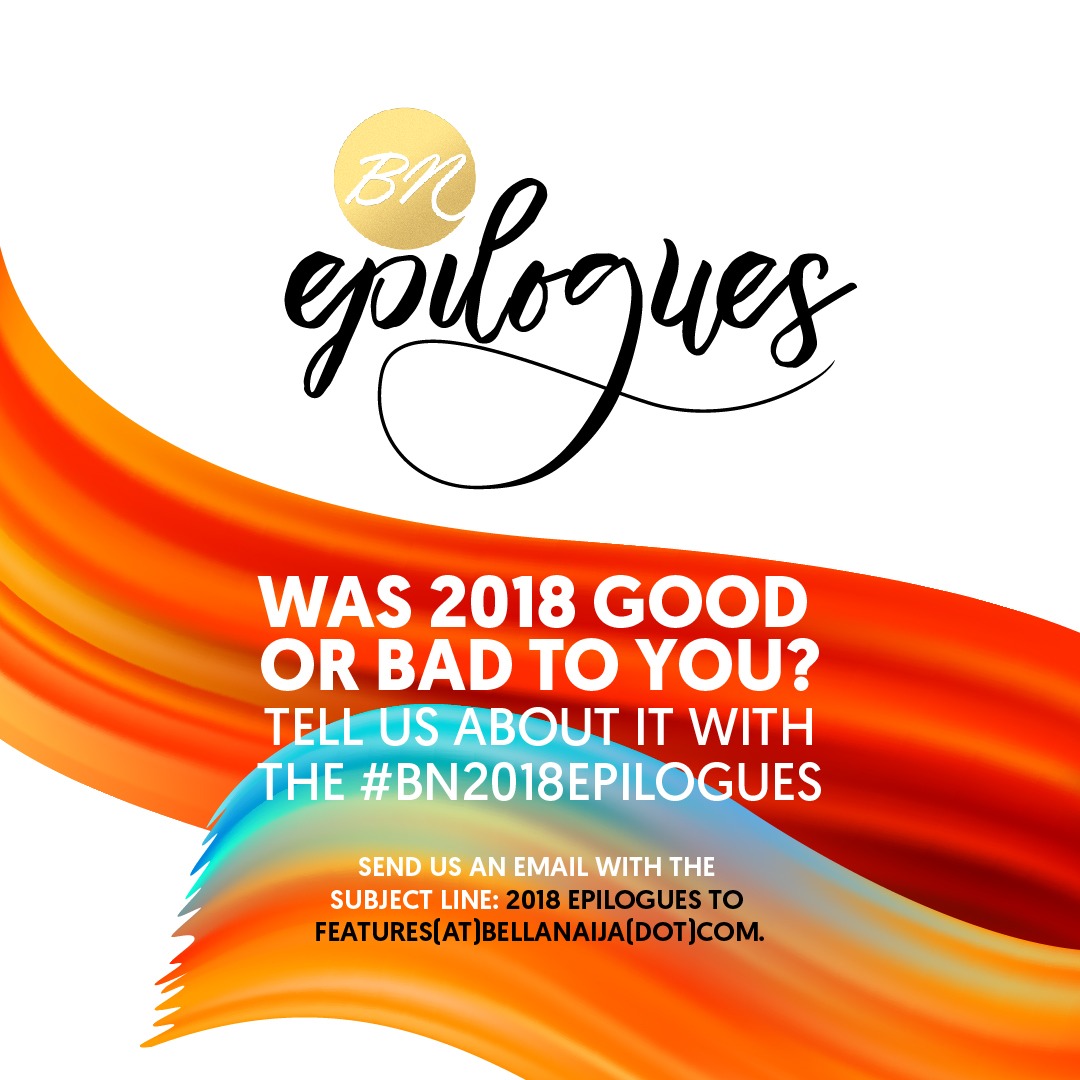 Remember when we asked you to send in essays discussing how 2018 was for you? Because, you know, writing can be the best therapy. And sharing your joy and pain and all the emotions you've felt through the year can only be a good thing.
This entry was sent in by Precious Gaffa for whom 2018 was a mixed bag. You know how life can stretch you out, and from it, instead of breaking, you grow? That was 2018 for Precious.
***
Hi guys,
I was doing my normal routine of strolling through the streets of BellaNaija when I saw that BN Epilogues was back. I doubt if it was done last year because I really look forward to reading peoples stories at the end of the year. And I always said there would come a time when I'd send my entry too and I'm super excited that I summoned courage and typed out my epilogue.
2018 has been a tough year but, at the same time, a great year, too. Sounds contrasting, yeah? It's been one hell of a ride, guys. I'll divide my year into sections.
January – March
The year started with uncertainty, to be honest. I graduated early the previous year, and my school was bent on keeping us home for a year before finally going for NYSC. I was home and tired of almost everything. I had given up hope of serving, actually (this was late last year). So when 2018 started I had made up my mind to leave home and move to another location to find something to do. After all, my life isn't dependent on whether I serve or not.
After New Year, I moved to another state and began applying for anything and everything. Mehn, it was tough, truth be told (all those private schools you thought you could go teach at for the time being, their security men won't even let you through the gates with ya brown envelope). All the days of frustration and hunger, until finally Baba God picked up my call and I was selected for a paid internship. I was excited the future was finally becoming clear and bright. Love also came during the frustration. God be praised!
April – June
After I was just beginning to settle and enjoy my internship and all the benefits that came with it, my village people decided to arrange the sense of my school people and voila! We were mobilized. I was like, mogbe! Can the service just wait? I was honestly contemplating going. I did one or two consultations and finally decided to go. I las las sorted things out with my internship people and I given time off.
Camp was one helluva place! I had only NCCF memories (yes, I can be anti-social sometimes). Camp was over and I redeployed to where I was before (and before you come for my neck, I was posted to Borno, so I didn't go. Tenz). I continued with my internship and, honestly, God made a way for me. That's just the summary of how my posting and after-camp experience went. During this time, I met amazing mentors who have helped push me in one way or the other.
June – Now
This scheme get as e be sha, buh we de do am (we go dey alright). It's been stressful: work at PPA, home, trying to juggle all of these and still have a balanced social life. Plus, remember I said, "love happened." So it's been a roller coaster. I have been exposed at all levels and I'm grateful and happy with what I have and where I am.
The summary is 2018 has been beautiful. I love where I am now. I'm happy with the people around me. I'm improving (I haven't lied in ages) and I love God better.
2018 was beautiful and I'm looking forward to 2019 and all the good things it's coming with.
P.S I lost a lot of weight in 2018. It's not one of the things I planned, but it happened. I remember joking about having snatched waists in 2018, and yeah, as of yesterday, za sister's waist is indeed snatched. I didn't work out, please. I didn't take anything either. I was just stressed and hungry. Hahaha.
Grace and peace, people!
Happy New Year.
---
Read up on previous editions of BN 2018 Epilogues here and send in your essays to features(at)bellanaija(dot)com. Let us know all the twists and turns and successes 2018 came with. Send your mail with the title "2018 Epilogues."