It's only the third month into the year and the social calendar for 2010 is promising to be a full one! Fashion shows, magazine and album launches, weddings, birthday parties, naming ceremonies, beach parties….the list is endless. If you are anything like me, you want to make sure you are looking your absolute best at every occasion.
So as a special treat to our wonderful BN readers, we have solicited the make up expertise of none other than the founder of ShoMya, Elaine Edozien.
Former investment analyst turned make up artist, Elaine's transition into the make up world has been nothing short of perfect. Her well timed exit from the financial sector to follow her passion has gained her instant respect among many make up greats. In a short while after establishing ShoMya, Elaine has worked with a list of clients, events and industry headliners others only dream about. From wedding couture guru Kosibah(Yemi Osunkoya), stylist extraordinnaire, Arieta Mujay, talented designer, Toju Foyeh and the online african fashion storehouse My Asho to International photographers such as, Tim Wheeler, Jide Alakija and Ade Okelarin, amongst many others. In addition, ShoMya was also one of the leading make-up artists at the Young Africa Fashion Week (YAFW) which was featured in the september issue of PRIDE Magazine 2009. ShoMya is indeed poised to become a reckoning force within the world of beauty both in Nigeria and abroad.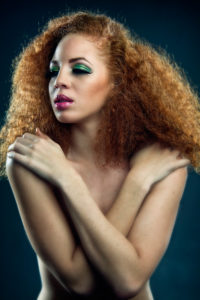 We have selected 4 of our favourite ShoMya looks, however you can find many more stunning images of ShoMya clients and events on their web and facebook page. See details below.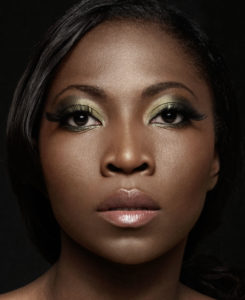 Dramatic Eyes: The False Lash Effect
Its all about the eyes with this model and the particular type of false lashes used. To recreate this look try the following tips
Select the appropriate false lashes for your occasion. The lashes used on runway models for an elaborate fashion show will of course be very different from those worn by a bride.
Look for lash adhesives that dry clear. The last thing you want is to have perfectly made up eyes and ruin them with the adhesive from your lashes!
If unlike our lucky model here, your eyelids 'disappear' when you open your eyes, apply the eye shadow underneath your eye also. That way, you still have colour 'popping' even though your eyelids can't be seen.
Remember to keep the lips subtle in order to keep attention on the eyes!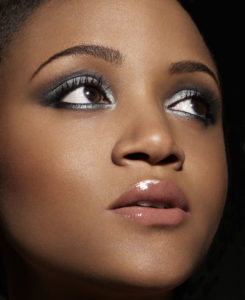 The Classic Smokey Eye: A signature look for every occasion
Prep your eyes lips with a primer. You don't want oily lids that will ruin your makeup.
In the inner corner of the eye, apply a light silver colour, taking it to about half way across the eye.
Then take a medium grey colour and apply that from the centre of the eye towards the end of the eye. Be sure to blend the point where the 2 colours meet. This creates a more professional look!
Then take a dark grey colour (and a hint of black shadow as well) and apply that in the outer corner of the eye. Blend it in with the medium grey and extend towards the crease of the eye. Using a blender brush, continue in a backward and forward motion in the crease of the eye, gently blending the colors.
Smokey eyes don't always have to be silver/grey and black. Spice it up with rich colours, especially over the spring and summer seasons. Try blending a soft gold base with deep rich purple, or champagne with bright blue, or peach with green?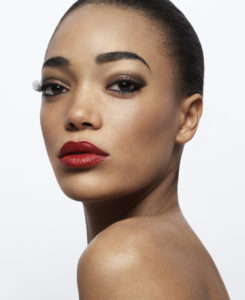 Red is Beautiful: The Classic Red Pout
Firstly, line your lips with an appropriate lip pencil. Choose a colour that matches the lip stick or gloss you are about to wear.
Blend, blend, blend! Blend that lip liner into your lip even before you apply the lip stick.
Take care when applying red lipstick. Mind the outside of your lips as the colour may stain. Always remember to take off any excess lip stick…you don't want any on your teeth!
Also remember that there are different shades of red so be sure to find the one that suits you!
With this look try to keep your eyes subtle and let your lips do the talking-literally.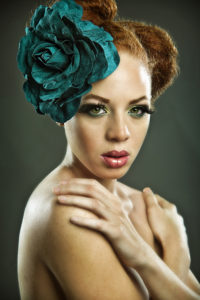 Enhance your look: Blush those cheeks!
Remember using the right blusher helps add dimension to your face. Here are a few tips to help
1. Using the right brush, apply the blusher to your cheekbones, across the full cheek.
2. Start from the apples of your cheeks, brush backwards towards the centre of your ear. Remember to soften blunt edges. You can achieve this with a makeup sponge.
3. Blend in excess blusher with your powder blush
Please note that all pictures included are from the ShoMya portfolio and are actual representations of the work done by ShoMya
For more expert makeup advice or services, pls contact Shomya via:
Website: www.shomya.com
Email: [email protected]
Tel: 07821 980 705
Facebook: http://www.facebook.com/home.php?#!/group.php?gid=157581478093&ref=ts