Born on the 21st of April 1984, Esther Kelechi Agbarakwe has been to over twelve countries across the globe talking about climate change and actively discussing policy issues around a theme that is probably one the most vital concerns of the 21st century. A 2009 Dekeyser & Friends Foundation Fellow, her work on educating school children and other young people across the country about their role in global warming and environmental sustainability won her an award at the 7th LEAP Africa Annual Nigerian Youth Leadership Award in 2010. In this interview with BN Editorial Assistant, Gbenga Awomodu, she shares about her journey to environmental activism, why Nigeria has to pass the climate change Bill, and her aspirations.
Please, tell us about yourself.
I am Esther Agbarakwe, my friends call me "Estherclimate". I was raised in Calabar and hold a B.Sc (Hons) in Chemistry Education from the University of Calabar. I love outdoor adventure and I live close to some beautiful hills in Abuja. I am a vegetarian and am very passionate about the environment and the role the people can play toward environmentally sustainable growth. I have been to over twelve countries and am very inspired by the Earth Charter, which is a set of values and principles to promote sustainable development with "Care for the Community of Life" as my watch word. I have an RV status: Registered Voter.
How did you venture into climate change activism?
At 10, I was already a child rights activist. I spoke at events and raised awareness on the plight of Nigerian children, especially during the Children's Day celebrations on May 27. I ventured into climate change activism in 2007 because I cared. I care for the community of life, of young people who will bear the consequences of the actions of older generations, the inaction of our Government to stop gas flaring and environmental pollution in the Niger-Delta. My Climate activism began when I became part of the Earth Charter Initiative, a diverse global network of people and institutions that promote values and the principle of sustainable development. I have been trained and linked to a great mentor, Mr Odigha Odigha, who is currently the head of the Cross River Forestry Commission. I received a grant from the Earth Charter under the Youth Special Project to do a peace and environmental sustainability project in the Niger-Delta. The project had workshops and capacity building sessions for participants and was aimed at behavioral change among participants. In 2008, the project won me in an opportunity to attend a UN high-level meeting on sustainable development where I had the rare opportunity to address the Opening Session on behalf of the World Youth and Children.
In two minutes, convince the average Nigerian that attention to global climate change is important.
Climate change is caused by global warming and it has serious implications on human comfort, biodiversity and water resources. The earth is warming up and there is now overwhelming scientific consensus to back up the fact that it is happening and that it is human-induced. With global warming on the increase whilst species and their habitats are on the decrease, chances for ecosystems to adapt naturally are diminishing. Climate change has become a very serious new reality in Nigeria, with disastrous effects: changes in the rainfall and seasonal cycle. Agriculture, food production and water supply are all adversely affected. With all these changes and the continued use of petroleum as well as increasing number of cars being acquired daily in Nigeria, climate change is bound to accelerate. Climate change also leads to rise in sea-level with its attendant consequences such as floods, increased frequency and intensity of storms, droughts, poverty, malnutrition and series of health and socio-economic problems. Remember the floods in Sokoto and Ikorodu (Lagos) in 2010? This year, the Nigerian Meteorological agency (NIMET) has predicted the there will be heavy rainfall, which will most likely translate to more floods. Nigerians must take climate change seriously and learn how to mitigate and adapt when disaster comes.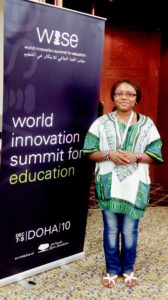 What are your major concerns about the climate change phenomenon, and the immediate impact(s) on Nigeria and Nigerians?
My major concern is that many Nigerians do not fully understand what Climate Change is and how their actions and/or inaction can contribute to the effects/impact of climate change. Yes some have heard the term "climate change" on TV and Radio but still they are yet to fully understand the concept. We feel the impact of climate change so much everyday in our daily lives; with the high temperature leading to excessive heat, car radiators running with cost implication, and ground water and rivers drying up. When the rains begin fully this year, with the prediction that it will be excessive, we need now to have an effective flood control program and disaster risk reduction program. I am very concern that our Nigerian local farmers do not have the incentives to protect their crops and farmland from flood; most of them do not fully understand the impact of climate change on agriculture. We need more climate change education in rural areas.
Is the Nigerian government doing enough, and in what (major) ways are we lagging behind compared to other countries in the world?
The Nigerian Government is not doing enough, compared to some countries, though the government has begun to show some promising actions by beginning the process to develop the National Appropriate Mitigation Actions (NAMA) and Reducing Emissions by reducing Deforestation and Forest degradation (REDD+) frameworks under the United Nations Framework Convention on Climate Change (UNFCCC). The Government has not stopped gas flaring and is also yet to sign the Climate Change bill still at the National Assembly and finalize the Second National Communication to the United Nations Framework Convention on Climate Change (UNFCCC). We have a lot to do. We need a concrete legislation on climate change and the involvement of all Line Ministries. For Nigeria to magnify her regional voice and influence in the international negotiations to come, Nigeria must create the Climate Change Commission which will help to bring together different strands of analysis and policies that affect climate issues in Nigeria.
How has your organisation and similar initiatives been of help in mitigating the immediate and likely fall-outs of the global climate change phenomenon?
Created on June 6th 2009 during the Dialogue with the Elders' Forum on Intergenerational Partnership for sustainability (IPS) and World environment Day 2009 commemoration, the Nigerian Youth Climate Coalition (NYCC) aims to inspire, empower and unite ordinary young people around a vision of a cleaner and fairer future. We are part of the International Youth Climate Movement, which works in over 30 countries, and we are all young volunteers residing across the country. Our organization has primarily worked towards raising climate change awareness and education among young people, and engaged in Policy advocacy. With Funding from The Building Nigeria's Response on Climate Change (BNRCC), we implemented the "Engaging Nigeria Youth on Climate Change Project", a climate change youth communication project that involved using Peer Education Methodology to build youth leadership capacity as climate actors and established climate change school clubs in Imo, Delta and Ondo States. Another Initiative we have embarked on is the use of social media like Facebook and Twitter to mobilize and raise awareness. For instance, earlier this year, in collaboration with some organizations and individuals such as GreenActs Group, Earth Reformers Foundation, Global African Dialogue, Ukraine, Olumide Idowu and Taiwo Adewole, we had a "LIVE TWEET-CHAT" on Youths and Climate Change in Nigeria on January 14th, 2011 which attracted over 70 participants from 11 countries with Nnimmo Bassey, Chair, Friends of The Earth (FoE) as guest presenter. We have taken action on mitigation by organizing Paper Recycling workshops for youth in Abuja, and that was supported by Dekeyser & Friends Foundation, Geneva. We will be embarking on a Biodiversity conservation education among young professionals this year.
How do you educate the young people in schools and communities that you work with?
Our work with young people in school are in Rural and Semi-urban areas is very creative and organic, so we use local languages and folk tales to educate young people in rural areas, while in suburban areas, we use the English language and ICT tools.
What have been your major achievements since you started working on climate change?
Yes, we have been able to mobilize and sensitized over two thousand youths in Nigeria from 2009 to 2011 and we are still counting. Our second major achievement was working with other youth organizations to organize a Live Tweet-Chat (Twitter Conference) on Jan. 14th 2011 via Twitter [#ccnigeria] where over 70 Participants from 11 Countries participated. It was the first from an African Country and we won the LEAP Africa Nigerian Youth Leadership Award 2010, with a grant of N100, 000. All these have inspired us to continue to inspire others.
How do you measure your success?
We measure our success periodically through online survey among our youth network and do post-event evaluation. We have data of all the youth we have mobilized since inception till date.
What challenges have you faced thus far, and how have you tackled them?
Our major challenge is funding, and low man power capacity. Some volunteers are unemployed and when engaging them, you need to facilitate their engagement and that requires some kind of funding. We are not so blessed with having International organizations supporting youth work on environmental sustainability compared to countries like Kenya and South Africa. Few have supported us like ActionAid Nigeria and some local organizations. On the International level, our government has not really supported youth work, but have supported youth participation in international governance processes. We tackled this by seeking in-kind and cash support and donations from organizations and individuals.
You have represented Nigeria at international conferences and other programmes across the globe; what has your advocacy experience been like?
My Advocacy experience has been filled with responsibility and humility. It has been that of learning and sharing local experiences, actions and initiatives with others. I have had to lobby during high-level meetings. I used our local actions as examples that can be supported around the world. While I was in Doha, Qatar, for the World Innovation Summit on Education, my focus was on advocating that education can be a response to climate change and it was echoed by UNESCO during the forum. I had the rare privilege of addressing the UN on sustainable developments at the UN Headquarters in New York and at the Regional Office in Addis Ababa.
Do you have any political aspirations for the future? If yes, how do you hope to get there?
Hmm… It won't be bad to become the Hon. Minister of Environment in the future. Only if it is God's will.
How did you feel winning the LEAP Africa Youth Leadership Award in 2010?
It was awesome, the encouragement from the speakers, the organizers and everyone present – my family and friends. I was filled with a deep sense of humility and greater responsibility. It was the same night I left for London to attend the Commonwealth Youth Climate Fellowship Programme, so my Award was also presented to my co-Fellows in London the next Morning.
Ten years from now, how would you describe yourself?
In ten years, I see myself as a Nigerian, an advocate for environmentally sustainable growth.
Any other thing(s) you want to tell young Nigerians out there?
Be the change you want to see. Select, Vote and Protect your Vote come April 2011. Join the Climate change Movement.
Esther Agbarakwe blogs on estheragbarakwe.blogspot.com and nigerianyouthclimatecoalition.blogspot.com
__________________________________________________________________________________________________
Gbenga Awomodu is an Editorial Assistant at Bainstone Ltd./BellaNaija.com. When he is not reading or writing, Gbenga is listening to good music or playing the piano. He believes in the inspirational power of words and pictures, which he explores in helping to make the world a better place. He blogs at Gbenga's Notebook (www.gbengaawomodu.com).