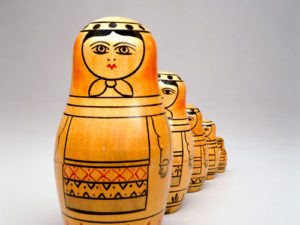 When I was a little girl, I couldn't wait to grow older. I thought that being a woman would afford me the freedom that I desired. I couldn't wait to start making my own decisions and doing things for myself instead of having to answer to my parents for everything. Now that I'm a 31-year-old woman, I often forget that I'm not the little girl I used to be… isn't that strange? I'm older, with a job, a fuller life, and responsibilities, and now many see me and conclude that a woman such as myself should be addressed as "ma" out of respect! Oddly, this is one aspect of growing up that I don't appreciate.
I had always thought that my mum and her friends were the ones deserving of the "ma". I never really longed to own that title. Yes, I'm older and life is better for me with each passing year, thank God. I'm more mature, more in control, and most of all, I'm glad to be alive. So with all of this, I wonder why it bothers me when people refer to me as "ma". As a happy thirty-something year old, who enjoys every other bit of growing up, why does this particular issue irk me?
The first time someone referred to me as "ma", I was upset. Then this continued to happen over and over and I really wondered why? Am I really that old? Do I look old? Is it because of my designation at work? Could it be because of what I was wearing at that particular time – maybe if I was wearing my hot pair of jeans they'd realize I was 31 and not 60!
When I couldn't stop people from crowning me with this "horrid" title, I would refer to them as "sir" or "ma" in return. To me, that was my silent way of getting them back– maybe in this instance, one bad turn deserved another!
However, on one Sunday afternoon, I had had enough of this horrible title. After Sunday service, I spotted the cute guy who had said hello to me a few times in church. I'd been wondering when he'd work up enough nerves to start an actual conversation when all of a sudden he walked up to me and said "sorry ma, I see you'll be a little inconvenienced because someone has parked his car right across yours". I almost jumped out of my skin! I was so shocked that I couldn't even pay him back by saying something as silly and vindictive as "thank you for the information sir"! I went home really worried and confused – why was this happening? Was I overreacting or was there something on my face that made me look much older than I really was? I could have sworn that this guy was either my age or even older!
I spoke to my cousin about this and he said that people refer to him as "sir" all the time and it isn't a big deal. Well, he is a man so how can he possibly understand what I am going through. But when I related the same tale to a female friend of mine, she referred to the issue as trivial!
So please my dear Bellanaija.com readers, is this issue really trivial? I know Nigerians are big on respect but I honestly, do not want or deserve this "ma" title! I can't help but picture an aged / bent over woman with grey hair, no teeth, and a walking stick each time people call me "ma".
I'll be honest, I have spent time reflecting on the issue and even though it doesn't bother me as much as it used to, I still would like to know what you all think. I realize that I am no longer 13 but a woman who people look up to and perhaps call me "ma" out of respect. However, I can't help but begrudge nature, a little, for signing me up for the "ma" title without my permission!
Growing up and growing old is inevitable. The only other way to be remembered as a little girl (or boy) always is when one dies before growing up and God forbid that happens. Since we are alive and this can't be stopped, lets all embrace it – "ma" or not! Being an adult is beautiful!
However, if your like me and the "ma" thing still gets to you sometimes, the next time someone makes you feel older than you really are by referring to you as "ma", call them "ma" or "sir" (as applicable) in return. You'll get a kick out of it, I promise.
Photo Credit: www.canstockphoto.com