Sent From My BlackBerry: The Nollywood Yoruba Edition
Anyone who knows me or is on my BlackBerry will assume I am a big fan of the Yoruba section of Nollywood. It's fine, I don't begrudge that. This is because more often than not, my BBM display picture is one snapshot of a Yoruba scene or the other.
You see, the real story is that I am usually an innocent bystander. How do I mean? I am not a BIG TV person – I do not have so much time on my hands, so keeping up with shows is a hassle. Since no one cares that I watch Nollywood movies by association, I'll just move right along.
Dear friends, a long while ago, Yoruba movies were safe (repeat after me, SAFE) — in the time of Koto Orun, Ori Ade, Larinloodu and the like. Then someone chose to go 'international' by adding sub-titles to Yoruba movies.
While I am a big fan of thinking out of the box, I always advocate for keeping it simple. You first crawl as a baby before you start to fly at night, I always say.
In any case, I never used to look at the sub-titles, because I have no problems with my ears. Until one day a particular subtitle literally jumped out at me, something like this:
YES, I was STUNNED. LI-TER-ALLY. I froze. I couldn't bring myself to watch the rest of the movie. Of course, I thought it was a singular occurence. So I shared it with a couple of my friends over bbm, this was how I got inducted into the 'academy'. Here's my own way of introducing you as well.
and here:
In my head, every time I see this particular one, I imagine that an ominous soundtrack (Something like GHEN-GHEN) plays right after she says her bit:
Shout-out to Seyi Omisore for this one:
Another shout-out to Motunrayo Otun for sharing this one with me:
These ones I captured myself.
This last one still has me confused and totally bummed on where to start with is. Maybe you can help me.
You will note however, that I don't go out of my way to 'find' these heart-wrenching blunders. They come to me. Like they literally stand out.
In case you're looking for where to get such movies asides watching them on Africa Magic Yoruba. You can rent here: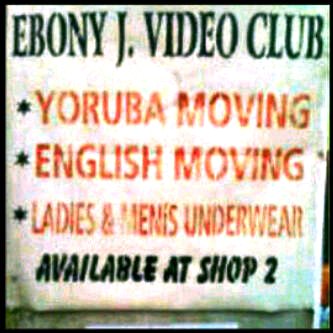 Looks like you can also rent/buy underwear, should you ever fall short of such.
On that note dear friends, I'm saying, A bien tot!
Happy New Month! And catch y'all in the next one
Song Of The Month: Kanye West Feat. PHCN All Stars – OFF ALL THE LIGHTS