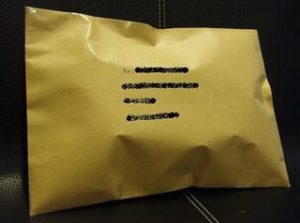 The telephone rings and you pick it up. It is Owolabi , communications director for Mex investment bank.
 "Ms Ogbeche, good evening, I hear you have a story on us."   His voice is raspy, and underneath that croakiness, you can tell there is an air of jest bubbling.
 "We have both been in this business long enough to know we can't let that story see the light of day".  
It's true. You have been in this business long enough to know that a story about one of the biggest investment banks involved in money laundering won't be your lead investigative story. It would be relegated to a little square box in the financial insert. You will get a quote emailed to you and position it carefully in a way that it negates all suspicious activity going on at Mex.
He tells you to send him a revised story for copy approval. Owolabi is an educated man. He didn't just go to school, he knows his stuff. He is like you, smart, and dexterous with language. He can sniff out ambiguous sentences and covert insinuations from a mile away. You and the others will become like Owolabi soon hopefully, former top editors raking it in as communication and spin gurus.
Mex has taken over a years worth of back page adverts and advertorials which have been masked as real financial stories. So you kill this baby because you are not in control. You run your fingers through plaques and trophies that stand as ornaments on your side table. Guild of Editors, Editor of the Year, Media Merit Journalist of the Year, Super Noodles Hero of the year, and Sona Breweries Outstanding Editor Award.
Your eyes fill with water. You wonder what your father would say. Your father, reporter for the now defunct Concord, who was jailed in Makurdi prison for two years by the dictatorship. He raised you to fight for the things you believed in.  
"You are the fourth estate, the voice of the people" he would say.
His was a time of idealism for you both. You were crusaders. You exposed the tyranny and inadequacies of the system. This job you were given wasn't just a job, it was a calling, a duty, a moral obligation. Then your memory jolts back to his prison days. When no one fought for him, no one fought to get him out. He withered from the thoughts of the people so effortlessly. You remember the only time you were allowed to see him. His spirit was still ferocious and he said to you  
"Don't let any of this faze you, they will do everything to silence you but you can't let them break you".  
It was the kind of thing he would say but you wondered sometimes whether the torture from whipping and burn marks would make him hate his fellow man just a little. It was the last time you would see him because a year later, your mother would get a call to pick up his body. Emaciated, riddled with sores and scabs along with three fingers and two big toes in a yellow and black striped cellophane bag. His heart had been broken by the people and he didn't even know it. You buried him penniless. You had to care for the wife and son he left behind. His bones rot in a grave without a grave stone because you couldn't afford one.  
A decade later, there are new young gunslingers in the business and no one remembers your father's name.
As your cursor hits the send button, a young man dressed in faded jeans and a graffiti shirt with the words "Party hard" in front of it stops at your desk.  
"A package from Mr Owolabi", he says
 You collect the brown envelope and place it in the lower drawer amidst the sea of others.
Photo credit: roarprawn.blogspot.com