In the quest to ensure that all our BellaNaija.com readers obtain the best value for money, we will be publishing information on sales promotions, contests, giveaways and discounts from selected vendors.
Every Wednesday we will publish a group post which will be the place for all the deals, sales and giveaways. Here vendors can give out vouchers through competitions or codes for discounts.
______________________________________________________________________________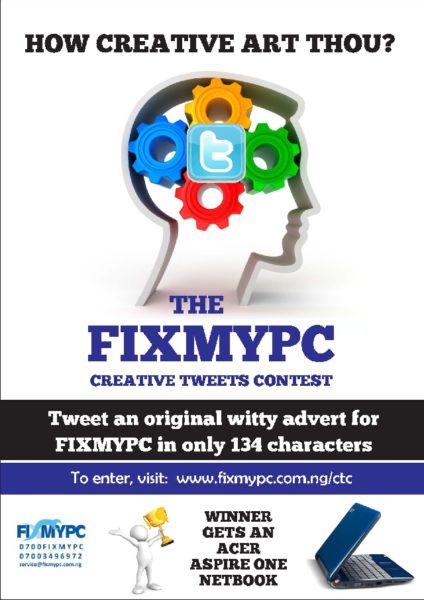 FIXMYPC Creative Tweets Contests
FIXMYPC is a Lagos based small business redefining the face of service delivery in the computer after sales support industry and they are giving out an Acer Computer and two 4GB Flash Drive to 3 BellaNaija.com readers.Do you want to win, find out how below!
The aim of this contest is to create a catchy and impactful tweet that would be used to market the FIXMYPC brand on twitter. The creators of the tweets will also be given credit each time the tweet is used if they so prefer.
The Contest will run from Thursday 18th to Friday 26th August 2011. Selection of the top 3 Tweets will be announced between Saturday 27th – Sunday 28th August 2011, Voting will commence immediately till 12 midnight on the Tuesday 30th August 2011, after which the winners will be announced at 12noon on the Wednesday 31st August 2011.
You can enter the competition with the same twitter ID as many times as possible, only one tweet can and will be selected per candidate. In the event a candidate has more than one tweet shortlisted, they will be contacted to decide on which to enter into the final voting stage.
All you have to do is follow this link  http://www.fixmypc.com.ng/ctc and in 134 characters write a nice Tweet advert for FIXMYPC, you have to have a twitter account to be a part of this contest. During this period, FIXMYPC would also be giving out flash drives and other promotional items.
The winner will get an Acer Aspire One Laptop computer
[ Specifications Below ]
Acer Aspire One AOD255E-13DQkk 25.7 cm (10.1″) LED Netbook
– Atom N455 1.66 GHz
– 1024 x 600 WSVGA Display
– 1 GB RAM
– 250 GB HDD
– Webcam
– Windows 7 Starter
And the two runner ups get one 4GB Flash drive each.
Contact: For more info on the FIXMYPC Creative Tweets Contests log on to  http://www.facebook.com/event.php?eid=245844752104741 | call Lanre Folarin On 08023113876 | 08060030000 | 0700FIXMYPC | e-mail: [email protected]
______________________________________________________________________________

Every Mums Maternity Apparel (E.M.M.A)
E.M.M.A is a provider of maternity clothes, cosmetics and accessories in Nigeria.E.M.M.A will be celebrating its 1st year in business and to commemorate this, they will be giving away some goodies to some lucky BellaNaija.com pregnant women & new mums readers based in Nigeria during that period. Up for grabs are Maternity Support belts which support the tummy, reduce back pain as well as minimize the appearance of stretch marks in pregnancy, Sitz bath bowls, Abdominal binders, Post partum girdles which helps with your post partum tummy bulge and lots more.
Answer the following questions to win one of these fantastic prizes :
Question 1 – When was E.M.M.A founded? (Month & Year)
Ans: August 2010
Question 2 – List 2 of the Belly Bandit® products they carry?
Ans: Any Of these: Belly Wraps( Couture, Bamboo, Bff, Kourtney Kardashian Ltd Edition), Bda pants, Bossom bandit ,Mother tucker
Question 3 – Which international star recently had a baby girl after having 3 boys?(Tip: She was a member of a popular Pop Girl Group and her husband is a famous footballer)
Ans: Victoria Beckham
Question 4- Which Nigerian 'In the Music' musician recently gave birth to a baby girl?
Ans: Omawunmi Megbele
Interested BellaNaija Readers were asked to 'Like' their Facebook page here: www.facebook.com/emmaternitya and type the word 'Maternity' on their wall, then their answers and the list of lucky BellaNaija.com readers that won with their prizes  are:
Yetunde Salami-Adeniyi: Strong support maternity belt
Ngozi Sholotan: Light support maternity girdle
Ezinne Ihebuzor: Sitz bath bowl
Momoh Flurshy Adeola: Sitz bath bowl
Iya 'beji (Ronke): Medium support maternity belt
Chinwe Anucha: Ab binder
Ogonna Tina Ulasi: Ab binder
Shola borisade: Postpartum Girdle
Adanna Eze: Bebe au lait bib
Oluwasayope Jaiyeoba: Topless undershirt
For those that haven't gotten their prizes contact them as soon as possible, winners have to Saturday 10th September 2011
E.M.M.A is the distributor for Belly Bandit® products in Nigeria, Ghana and Cameroon and is in need of Belly Bandit® retailers in these regions. If you are interested in starting a lucrative business or if you already own a maternity store, this could be a great opportunity. Interested parties should please contact them via email at [email protected]
_______________________________________________________________________________
Sponsored Content
Will you like to have bargain to be featured on BN Bargains? Email us via [email protected]