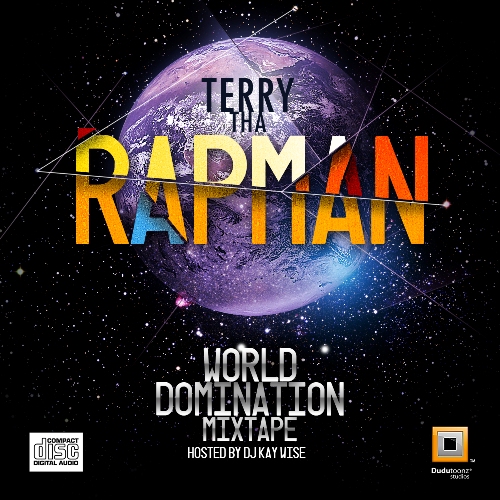 "World Domination is basically about the BANS Movement. The theme World Domination is about doing anything you set your mind to. If you can conceive it, you can achieve it, not by violence not by force but by silent power moves" – Terry Tha Rapman
So, after a long wait, "Zombie" competition, a few singles and viral videos, Terry Tha Rapman's the highly anticipated World Domination mixtape is finally here; a mixtape to show to all and prove to some that he is still one of Nigeria's best rappers.
He dedicates this mixtape to all his fans who have made nothing out of something, which is his own story, the story of #BANS (Boyz Are Not Smiling). "World Domination" is about defining your own life, your own path and your own destiny. It's about #BANS. It's about World Domination.
"World Domination" hosted by DJ Kaywise,features an array of established and up-and-coming artists: Mode 9, Pherowshuz, Blaq Bonez, Boogey, Pope Tha Hitman, Ace Tha Emcee, The Faculty, Olamide, Vector and Zato. Also, production credits go to Pherowshuz, SFX, Ray X, Spellz, Young Dizzy and Night Blaze. 
Terry Tha Rapman has started work in his next album (tentatively "B.A.N.S 2.0") and will be releasing the first official single in a matter of weeks. But, for now, hit "Download". Enjoy!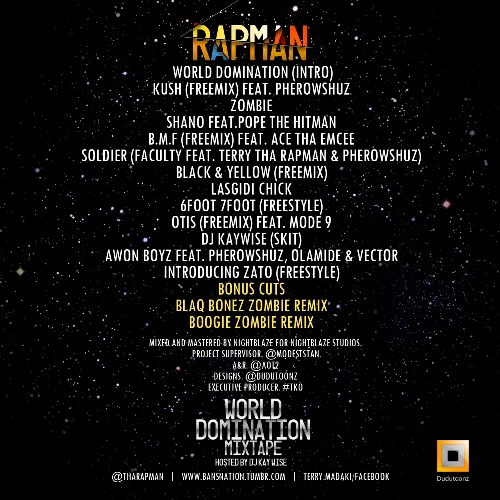 1. World Domination Intro
[audio: https://www.bellanaija.com/wp-content/uploads/2012/04/01-World-Domination-Intro-Produced.mp3]
Download
2. Kush Feat. Pherowshuz
[audio: https://www.bellanaija.com/wp-content/uploads/2012/04/02-Kush-feat-Pherowshuz.mp3]
Download
3. Zombie
[audio: https://www.bellanaija.com/wp-content/uploads/2012/04/03-Zombie-Produced-by-Ray-X.mp3]
Download
4. Shano Feat. Pope Tha Hitman 
[audio: https://www.bellanaija.com/wp-content/uploads/2012/04/04-Shano-feat.-Pope-Tha-Hitman-Prod.mp3]
Download
5. B.M.F (Freemix) Feat. Ace Tha Emcee
[audio: https://www.bellanaija.com/wp-content/uploads/2012/04/05-B.M.F-Freemix-feat.-Ace-tha-Emc.mp3]
Download
6. Soldier – The Faculty Feat. Terry Tha Rapman & Pherowshuz
[audio: https://www.bellanaija.com/wp-content/uploads/2012/04/06-Soldier-The-Faculty-ft-Terry-Th.mp3]
Download
7. Black & Yellow (Freemix)
[audio: https://www.bellanaija.com/wp-content/uploads/2012/04/07-Black-Yellow-Freemix.mp3]
Download
8. Las Gidi Chick
[audio: https://www.bellanaija.com/wp-content/uploads/2012/04/08-Las-Gidi-Chick.mp3]
Download
9. 6′ 7′ Freestyle
[audio: https://www.bellanaija.com/wp-content/uploads/2012/04/09-6-7-Freestyle.mp3]
Download
10. Otis Feat. Mode 9
[audio: https://www.bellanaija.com/wp-content/uploads/2012/04/10-Otis-feat.-Mode-9.mp3]
Download
11. DJ Kaywise Skit
[audio: https://www.bellanaija.com/wp-content/uploads/2012/04/11-DJ-Kaywise-Skit.mp3]
Download
12. Awon Boyz Feat. Pherowshuz, Olamide & Vector 
[audio: https://www.bellanaija.com/wp-content/uploads/2012/04/12-Awon-Boyz-f_-Pherowshuz-Olamide.mp3]
Download
13. Introducing Zato (Freestyle)
[audio: https://www.bellanaija.com/wp-content/uploads/2012/04/13-Introducing-Zato-Freestyle-Pro.mp3]
Download
14. Zombie – Blaq Bonez
[audio: https://www.bellanaija.com/wp-content/uploads/2012/04/14-Zombie-Blaq-Bonez.mp3]
Download
15. Zombie – Boogey
[audio: https://www.bellanaija.com/wp-content/uploads/2012/04/15-Zombie-Boogey.mp3]
Download
Additional Credits: Mixed and Mastered by Night Blaze for Night Blaze Studios | Project Supervisor- @Modeststan | A&R- @AOT2 | Designs- @dudutoonz | Executive Producer- #TKO