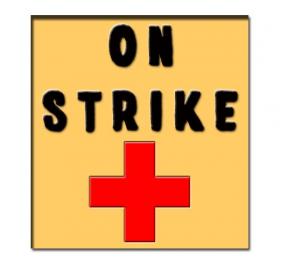 As health care services in Lagos state-owned hospitals take a nose dive with hospitals being shut down over the ongoing indefinite strike, the situation might become even worse as Federal Hospitals not just in Lagos, but the entire country might embark on a nationwide indefinite strike from Monday 7th May, 2012.
Yesterday, members of the Joint Health Sector Unions (JOHESU) announced that if the Federal Government fails to meet their demands, they will embark on a nationwide indefinite strike. Their demands include consultancy and specialist allowance, call shift and other professional allowances, implementation of 2008 Job Evaluation Committee report, re-constitution of Boards of management of teaching and other tertiary hospitals and appointment of ministers of health.
In a letter signed by the acting secretary of the union, Comrade Yusuf Badmus, he noted that members of JOHESU decided to embark on the indefinite strike after it met with its members to deliberate on issues bothering on welfare of members, restructuring of the health sector, National Health Bill and the state of the nation.
The letter entitled "Notice of 15 Days Final Ultimatum" was addressed to the Federal Ministry of Health. Other demands noted were non-skipping of consolidated health salary skill, CONHESS 10; National Health Bill; Presidential committee report on harmony in the health sector and promotion of health professionals from CONHESS 14 to 15.
With state hospitals already on strike, this notice by the staff union of the Federal Hospitals further dampens the state of health care delivery across the country.
It is our urgent plea to the Lagos state government and the Federal government to intervene on the issues raised by the unions and find lasting solutions to their grievances. The situation should not be left to deteriorate even further.
News Source: Vanguard News