On Thursday 17th May 2012, Rudisha Consulting Group launched the first ever Africa International Hair Extravaganza at the Hala Boutique, Bryanston, Johannesburg, South Africa.
Fatima Cele (Director & Owner of Rudisha Consulting Group) who conceptualized the Extravaganza shared her vision with guests not only for the show but also for the future of the hair industry in Africa. She also revealed the first ever Hair Awards which will recognize not just individuals showcasing their talents but brands too and further highlighted the need to empower our continent not just for economical purposes but recognition purposes as well and also stressed the importance of creating an Africa Hair Association to regulate the industry.
The ambassadors for the Hair Extravaganza Campaign from selected African countries were also revealed at the launch. They include Doris Msibi (TV Presenter, Business Woman and Image & Etiquette Coach) from South Africa, Eda Rose (Radio Personality & Actress) and Weza Solange (Actress & Model) from Angola, Kendra Oluchi Etufunwa (Actress & Model) from Nigeria and Petita Mwanza (Model) from Zambia.
All guests at the launch were treated to some delicious finger licking foods and were entertained by sonorous vocalist – Ruby Gold and music act – Blayze. Here are some photos from the launch.
Photos from the Launch
******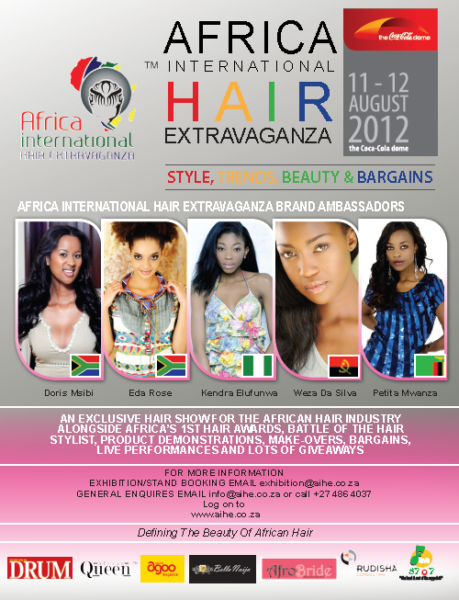 The Africa International Hair Extravaganza will be held on Saturday 11th August – Sunday 12th August 2012 at the Coca Cola Dome, Johannesburg, South Africa. For more info and tickets, log on to www.Aihe.co.za or send and  E-mail  [email protected].
Watch the Africa International Hair Extravaganza Video Ad

___________________________________________________________________________________________________________
BellaNaija.com is an official media sponsor of the first ever Africa International Hair Extravaganza