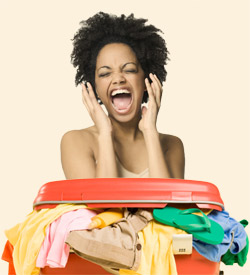 When you're a kid, sleepovers can be fun! My mother never allowed me go anywhere, so the idea of having a friend sleep over was FANTASTIC news! As I grew older (read as more anti-social), the prospect of having people sleep over became more and more tiresome. In my first year at Unilag, I stayed in "Newest Hall". Newest Hall was the "freshman" hall. Each room in Newest Hall was  fitted with 6 double-bunk beds, so there were 12 people originally meant to stay in the little room. Then there's one little factor added to the dynamics… SQUATTERS. 
Not everyone gets accommodation, so if you have a friend who got space allocated to him/her by the school you'd ask nicely if you could stay temporarily till you sort yourself out. Having a squatter has to be one of the most uncomfortable things ever, especially in that kind of of environment.  When they're coming, they say it's "just a place to sleep at night" but it's never JUST!  It's about where they keep their clothes, their bucket of water and where their friends will stay when you just want to catch a quick nap before you head on over to EduAud to read! Suffice to say that I have horrid memories of having a squatter. She never remembered to refill the buckets of water, so I'd go to class in the morning, having told my "any work"  to fill all my buckets and my dear squatter friend would finish the water before I got back. I couldn't wait for her to leave. It was extremely uncomfortable.
Outside the university, I've heard several horror stories of how some friendships have fractured because of sleepovers. Someone told us of how an old friend from secondary school called her up saying she had an interview in Lagos. From one weekend the matter entered five weeks of having a 'tenant at will'. The friend from Onitsha said nothing about her expected departure date and just generally lingered. What made the matter particularly more excruciating was the fact that the girl was really untidy and she crossed all the lines. She didn't bring her own towel so she helped herself to her host's own. It was like having a squatter all over again; I mean what else can you call having to hide your facial scrub and deodorant spray inside YOUR own house?
I've heard stories of people who leave toothpaste all over the sink, soap suds on the wall of the bathroom and urghh… people who drink water directly from the bottle!
Now, I'm not saying that having people stay over is bad because the truth is at some point or the other we might need help with a place to stay. However, it's important to be very sensitive about some things.
Know your host: If your host has a cleaning OCD* like my friend Nengz, please don't go and leave bread crumbs all over the table or leave your plates unwashed in the sink. Know what the person likes and what the person does not like.
Be tidy: This is very very important. It's not your house and as such you can't throw your slippers at the door and leave your soaking wet towel on the bed. If you're not a tidy person naturally, go over and beyond the call of your nature and BE TIDY.
Be sensitive: Don't wait till you're told you've overstayed your welcome. Don't make unreasonable demands like asking for pork from a host whose religion prohibits the consumption of such. When you get home you can have as much pork as you want!
Be responsible: If you're going to be there for a little bit, buy little things to show appreciation to your host. Nobody wants that house guest who specializes in finishing all the orange juice in the fridge and won't come back with at least a pack. If you 'know' how to drink it, you should know how to replace it.
Bring your stuff: Towels, soap, facial scrub, sponge, even flip flops…. bring them. Some of these things can't be shared and you don't want to put your host in an uncomfortable position.
Don't over stay your welcome: Many times staying longer than we planned cannot be avoided. However, it is very important to communicate with your host. You can't come for an interview, wherein you planned to stay for one night, and then you'd stay for 4 weeks without any explanation as to why the stay has become so protracted.
Be appreciative: Even if this person is your bossom buddy from pre-school, when you're leaving don't forget to say "Thank You". It is very important because it may be the only thing standing in the way of your being allowed to stay the next time you come into town.
This is an open-ended list and by no means exhaustive. We might take things for granted saying "please we're Nigerians not oyibo" but being properly behaved and courteous at all times is very important.
*Obsessive Compulsive Disorder
Photo Credit: Getty Images